Seating is limited so register today — Steal This Idea: GOOD Design San Fra...
Description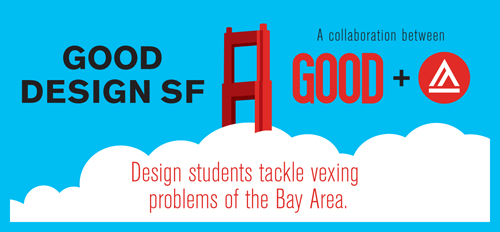 As part of its GOOD Design series, GOOD magazine recently challenged students at the Academy of Art University's School of Graphic Design to identify and to tackle problems that confront the Bay Area. Whether it's unwanted toxins, unwanted traffic or unwanted furniture — persistent problems abound in today's modern metropolis.
On Thursday, May 12th Alissa Walker of GOOD magazine will emcee as students present their ideas in San Francisco's HUB SoMa community space. You are invited to participate in an ongoing dialogue to inspire and to create visions of a more sustainable urban environment. Come tell us what kind of city you want to live in.
What: Steal This Idea: Good Design San Francisco
When: Thursday, May 12th, 2011
Where: HUB SoMa, 925 Mission Street
Time: 6:30 doors open; 7:00-8:30 presentations; 8:30-9:00 wine reception