Seated and Sexy

Multiple Dates
Event Details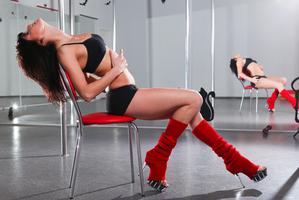 Dancing is a very social activity. Many studies have shown that strong social ties and socializing with friends can contribute to high self-esteem and a positive outlook. Joining a dance class can increase your self-confidence and help build social skills. Because physical activity reduces stress and tension, regular dancing can give you an overall sense of well-being. People are constantly battling work pressure and tension from family, friends and the world. We need to take care of ourselves. One thing we can do for ourselves to stay happy, cheerful and healthy is … dance!
We offer an Exotic Chair Dance classes called Seated and Sexy to help our students get in touch with their sexy side and get a good workout.  You will learn that exotic dance is hot in more ways than one:  deliciously sinful and sweat-inducing.  The class includes a warm-up, chair choreography and a cool down.  It includes a wide range of squats, leg extensions and hip-work which  come together to target common problem areas for women the abdominals, buns  and thighs! Burn fat, increase flexibility, improve coordination and tone muscle through movements and dance combinations. You will gain strength and learn a sexy dance that you can share with a partner or keep to yourself.  We hope to see you soon! You'll never look at a chair the same way again.
Organizer
MyLearning Room
MyLearning Room is what you make it. We offer an array of classes designed so that you can have fun while learning something new. But we also welcome your own classes and events.
Whether you join us for one of our classes or choose our facility for your own class or event, our primary service is hospitality. We want you to enjoy your time at MyLearning Room, and we're committed to doing what it takes to make that happen.