Description
Seat @ the Table seeks to enable conversations and action so more women earn more seats at more tables at every level of management. Men are an important part of accelerating that change, which is why this year we are bringing men into focus. This will be a safe space to discuss how to act, without judgment or finger pointing, and discuss tools that can make us all better. The event will still be an engaging and empowering forum for both men and women, and we will still bring together a range of voices: climbing the ladder, in a position to do something about it, and advocating on others' behalf.
We will have open Q&A, please submit questions on Twitter using the hashtag #HerSeat.
Doors open at 5:00 pm.
Light appetizers and drinks will be served.
Meet the Speakers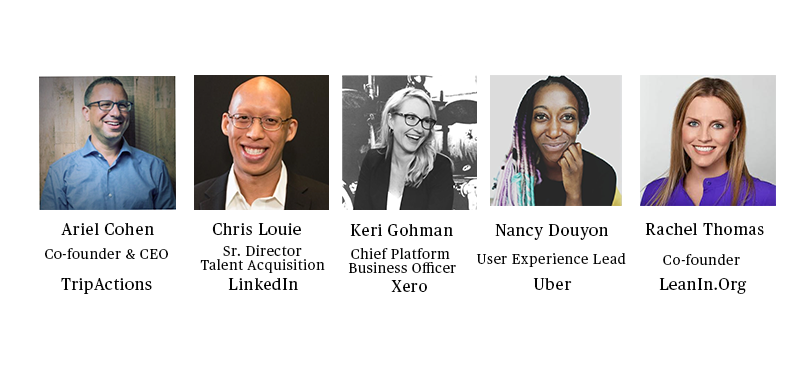 Ariel Cohen, CEO & Co-Founder @ TripActions
Ariel Cohen is the CEO and Co-Founder of TripActions where he's focused on the company's growth. Prior to TripActions, Ariel made his foray into entrepreneurship with streamOnce, a business multimedia integration platform that he co-founded with his current partner and TripActions CTO Ilan Twig. The company was successfully acquired by Jive Software, where Ariel had previously served in a senior position following his time at Hewlett Packard. Ariel graduated from Northwestern's Kellogg School of Management and currently resides in Palo Alto where TripActions is headquartered.
Chris Louie, Sr. Director, Talent Acquisition @ LinkedIn
Chris leads the Innovation & Solutions team within LinkedIn's Talent Acquisition organization, which is responsible for inclusion recruiting, talent attraction, operational excellence, and partnering with LinkedIn's product team to maximize the impact of its talent solutions. Previously, Chris led People Analytics and Talent Acquisition at Nielsen, where he focused on transforming HR into a more performance-driven function, reinvigorating talent marketing, and launching workforce planning. Prior to his time in HR, Chris ran product marketing and strategy for Nielsen's Media business and was a management consultant with McKinsey. @chrislouie
Keri Gohman, Chief Platform Business Officer & President at Xero
Keri leads Xero's global Platform Business Team, which is responsible for building Xero's relationships with financial institutions around the world, supporting the ecosystem of 700+ third-party apps that connect to Xero and finding new ways to help developers and partners innovate with the rich data that flows through Xero. Prior to joining Xero, Keri was Executive Vice President and General Manager of Capital One's Small Business banking division and held senior roles at General Electric Financial Assurance. Keri lives in Colorado with her husband and three children. She also happens to be Lean Six Sigma Master Black Belt holder. @KeriGohman
Martina Lauchengco, Operating Partner @ Costanoa Ventures (Moderator)
Martina spent over 20 years as a marketing and product executive building, branding, and launching market-defining software at Microsoft, Netscape/AOL, and Loudcloud. She's also been on the Advisory Boards of 10+ B2C & B2B startups. Martina is currently an Operating Partner at Costanoa Ventures. She is also the Product Marketing Partner at Silicon Valley Product Group (SVPG) and is a Lecturer on marketing at the UC Berkeley graduate school of engineering. @mavinmartina
Nancy Douyon, User Experience Lead @ Uber
Nancy Douyon is a trailblazer in human experience design with over 15 years of industry experience building user interfaces at Uber, Google, IBM, Cisco, and Intel. She's gained a reputation for delivering big results in a culturally honest and purposeful way with hundreds of products deployed in over 80 countries worldwide. She is currently developing the Douyon Signature Labs, Silicon Valley's first social enterprise research institute focused on bridging the gap between human potential and tech innovations. She is a proud Haitian, has traveled to over 70 countries, speaks fluent sarcasm and is working on a forthcoming book. @NancyDouyon
Rachel Thomas, Co-founder & President @ LeanIn.Org
Rachel Thomas is cofounder and president of the Sheryl Sandberg & Dave Goldberg Family Foundation, the nonprofit organization behind LeanIn.Org and OptionB.Org. Under Thomas's leadership, the foundation supports a community of more than two million women and men in 150 countries and runs public awareness and education programs that reach millions of people each year. Prior to co-founding LeanIn.Org, Thomas co-founded and served on the executive teams of several consumer technology startups. Thomas frequently writes and speaks on issues that affect women and advises several women's advocacy groups. She graduated with honors from Georgetown University and lives in Palo Alto, CA, with her husband, two young children, and two poorly behaved dogs. @RachelSThomas
---
About Costanoa Ventures
Costanoa Ventures backs tenacious and thoughtful founders who change how business gets done. Costanoa seeks to be a long-term partner to entrepreneurs building durable companies leveraging data to solve complex business problems. For more information, please visit www.costanoavc.com.