Actions and Detail Panel
Seat at the Table
Wed, May 10, 2017, 5:30 PM – 7:30 PM PDT
Description
Every day, people look for well-qualified women candidates for management positions in the tech industry and can't find enough of them. What if we could accelerate the learning that helps more women acquire the skills they need to get there?
Seat at the Table is an event open to anyone wanting to help women in technology grow in management positions at every level. The panel of industry rock-stars at all levels of management will share their best advice on how to navigate skills, standards, bias, and career turning-points to help you manage your own path.
Join us and help make a difference in getting more women in tech into management at every level.
#techseatattable
We will have open Q&A, please submit questions on Twitter using the hashtag #techseatattable.
We are currently maintaining a waitlist so please continue to RSVP. We are exploring other venue options to accommodate more people on site and will live stream regardless. In the meantime, continue to spread the word!
---
Meet the Panelists: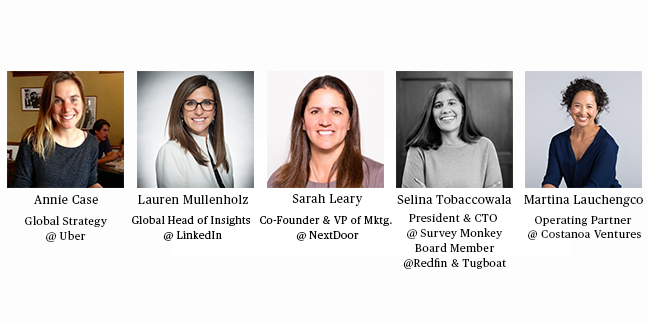 Annie Case is a Global Strategy & Planning Senior Associate at Uber where she collaborates with the top leaders in operations, marketing, and with the strategy group spread across the globe to solve tough problems, set priorities, and analyze the business. Before Uber, Annie worked at Bain & Company as a Senior Associate Consultant. Annie earned her B.A. in Human Biology and M.S in Management Science & Engineering from Stanford University.

Lauren Mullenholz is the Global Head of Insights for the Sales Solutions business at LinkedIn. Her team leverages LinkedIn data to help drive thought leadership in the sales industry, the business's GTM approach, and to shape the product roadmap. Lauren's career at LinkedIn started four years ago in Product Marketing, launching the Sales Navigator product and helping to build-out the third major monetization vertical, Sales Solutions. Before LinkedIn, Lauren deepened her product, marketing, and analytic expertise over the years in various roles in Media and Tech at Apple and The Washington Post.

Sarah Leary is the Co-Founder and Vice President of Marketing and Operations at Nextdoor, the free and private social network for neighborhoods. Leary started her career at Microsoft, where she worked as a product manager on the teams that launched the first three versions of Microsoft Office. In 1997, Leary left Microsoft to attend Harvard Business School and went on to work as an associate at Greylock Partners. She moved on to join Epinions where she served as VP of Product and Marketing, before the company relaunched as Shopping.com. Sarah was the VP of Product at Shopping.com when the company went public in 2004, and was then acquired by eBay. She was an EIR at Benchmark before co-founding the company that became Nextdoor.

Selina is the co-founder of Gixo. She also currently serves on the board of Redfin, and on the advisory board to HubSpot. Previously, she was the President and Chief Technology Officer at SurveyMonkey after joining as VP of product and engineering. Before Survey Monkey, Selina was SVP of Product and Technology at Ticketmaster's Europe division and was VP of Online Product and Technology at Entertainment Publications. Prior to joining Entertainment, Selina founded Evite.com which was sold to Ticketmaster.

Martina spent over 20 years as a marketing and product executive building, branding, and launching market-defining software at Microsoft, Netscape/AOL, and Loudcloud. She's also been on the Advisory Boards of 10+ B2C & B2B startups. Martina is currently an Operating Partner at Costanoa Ventures. She is also the Product Marketing Partner at Silicon Valley Product Group (SVPG) and is a Lecturer on marketing at the UC Berkeley graduate school of engineering.