Season 5 of Tiffany's Red Carpet Week Cannes Fashion Extravaganza
About this Event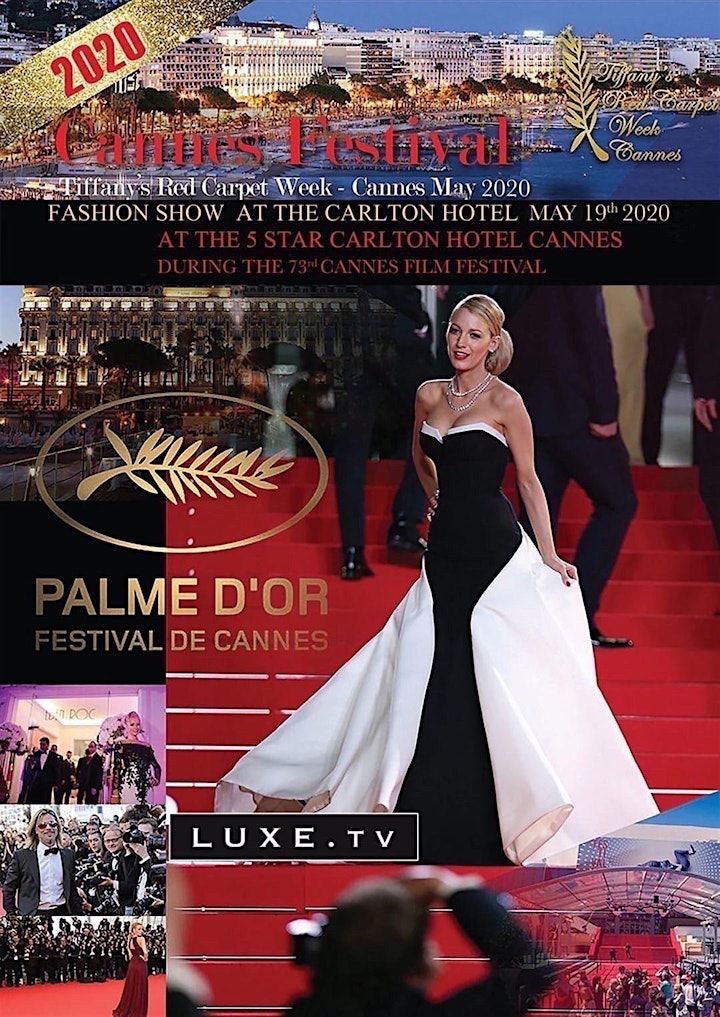 We are more than excited, overjoyed, grateful and delighted to announce to you season 5 of Tiffany's Red Carpet Week Cannes Fashion Show. The event will be held on the 19th May 2020 at 3:00pm to 8:00pm at the 5 Star Carlton Hotel in Cannes, French Rivera.
La belle Super Model Farah Zulaikha to star Fashion Designers like Roberto Cavalli, Versace, Dior and Tiffany & Co will open the show in collaboration with Cinémoi Celebrity TV Channel of Hollywood, Vogue Magazine Germany, Emma Magazine France , Keel Magazine USA, and a host of international press covering her catwalks for our 9 International Designers.
This season we have Designers representing Cap Vert, Cuba, Dubai, UAE, France, Italy, Lebanon, the Philippines, Russia the UK and the USA.
We have some great luxury beauty gift give aways by the Celebrity Brand Madi International of Dubaï and worldwide. Founded in 1991 Madi International specialises in a unique selection multi-brands providing excellent cosmetics, skincare, nail care and hair products used in France, the Middle East and worldwide. Top hair salon, spas and celebrities entrust their beauty and skincare brands to take care of their wellbeing. They will be the exclusive Sponsor and Beauty Partner this season.
Tiffany's Red Carpet Week Cannes Fashion Show was created by Designer/Producer Tiffany McCall of Tiffany McCall Couture in 2015. The mission of the event is to provide a platform and voice for young and established designers from around the world. Moreover, to further develop what Tiffany McCall has created with the Tiffany's Fashion Weeks in Paris, New York and Dubai by popular demand.
The event will join European, Western and Eastern talents, artists and musicians in one of the most innovative cities in the world. Cannes is the perfect location for the Tiffany's Fashion Weeks and our International Designers.
The Designers will present their collections to elite clients, Fashion Buyers, and to the Film and Cinema world while supporting the region with our International Designers, Sponsors and Partners. Come and enjoy a day of Fashion Wonderland with champagne by French Champagne Brand Or Addict Gold 23K of Monaco along with a fun gift give away contest during the event.
Tiffany's Red Carpet Week Cannes at:
http://Tiffanysidb.com
Follow us on Facebook and Instagram
https://www.facebook.com/tiffanysredcarpetweekcannes/ Instagram @tiffanysfashionweekparis