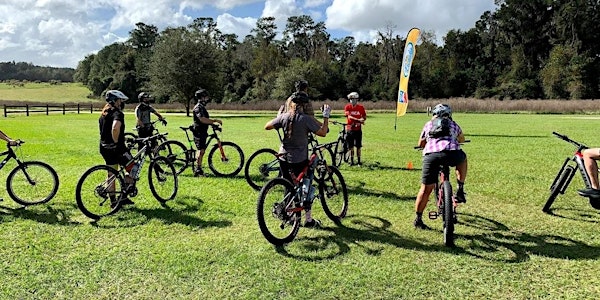 Season 4: On-the-Bike 101 (OTB) , OTB 201 and Adventure Training Schedule
Registration is now open for Season 4 Florida League On-the-Bike (OTB) 101, OTB 201, and Adventure training sessions.
About this event
132 days 4 hours

Mobile eTicket
Select 'Tickets' to choose locations and dates.
Coaches are the backbone of our program, and we are dedicated to ensuring they have the support and education to be successful. The purpose of the NICA Coach License Program is to offer comprehensive training to coaches so that they are equipped to provide quality programming to student-athletes that meet national standards and best practices while developing strong mind, body, and character.
On-the-Bike-Skills training sessions are intended to instruct coaches on the skills, modeling, and teaching of riding skills, allowing the coaches to lead by example.
During OTBS training, participants will be instructed on two primary coach functions:
How to teach student-athletes bike handling skills, development, and refinement.
How to become proficient at teaching student-athletes skills, development, and advancement.
On-the-Bike Skills 101 (a Level 2 requirement) teaches coaches how to teach fundamental mountain bike skills. While On-the-Bike Skills 201 is designed for those coaches who actively teach skills for their team the opportunity to learn how to teach more progressive and advanced skills to their student-athletes. Adventure Training focuses on experiential teaching techniques to meet every learning style. All training opportunities meet the coaches where they are while giving them the confidence and progressive steps to teach fundamentals through advanced mountain biking skills and experiential teaching techniques to accommodate different learning styles and create positive learning environments for young riders. OTBS 101 completion is required for NICA Coach License Levels 2 and 3.
Prerequisites:
Classes are open to coaches (new and returning) affiliated with the Florida Interscholastic Cycling League only.
Pit Zone Registration Must Be Completed prior to attending. To access Pit Zone, contact your Head Coach.
OTB 101 is a prerequisite to register for OTB 201.
REMINDER: These courses include an online module in the Coach Courses section of your PitZone and should be completed before attending the in-person OTBS. Sessions will be held rain or shine. Please bring appropriate riding gear for the weather.
ADVENTURE TRAINING (3 hours) minimum 4 participants
Saturday, November 12, 2022 | 9:00AM | High5, Brandon
Saturday, December 4, 2022 | 9:00AM | Lake Druid Park, Orlando
Sunday, December 11, 2022 | 1:00PM | Tom Brown Park, Tallahassee
Saturday, January 14, 2023 | 1:00PM | Tom Brown Park, Tallahassee
Sunday, January 28, 2023 | 9:00AM | Loyce Harper Park, Lakeland
OTBS 101 (3 hours)
Saturday, October 29, 2022 | 9:00AM | Tiffany Short's home, Valrico
Saturday, November 19, 2022 | 9:00AM | Lake Druid Park, Orlando
Sunday, November 20, 2022 | 10:00AM | Dyer Park, West Palm Beach
Saturday, December 10, 2022 | 9:00AM | Hammock Community Park, Palm Coast
Sunday, December 11, 2022 | 9:00AM | Tom Brown Park, Tallahassee
Saturday, December 17, 2022 | 9:00AM | Caloosahatchee Regional Park, Alva
Sunday, December 18, 2022 | 9:00AM | Loyce Harper Park, Lakeland
Saturday, January 14, 2023 | 9:00AM | Tom Brown Park, Tallahassee
Sunday, January 15, 2022 | 9:00AM | Loyce Harper Park, Lakeland
Sunday, February 19, 2023 | 9:00AM | Caloosahatchee Regional Park, Alva
OTBS 201 (5 hours)
Sunday, January 15, 2023 | 8:00AM | Hanna Park, Jacksonville