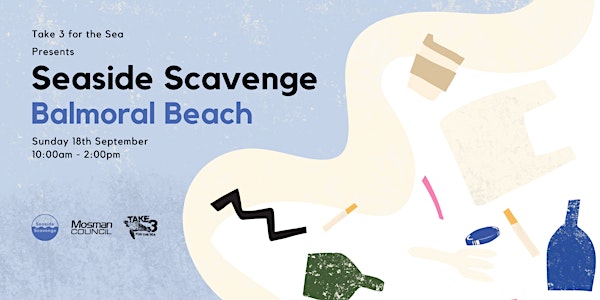 Seaside Scavenge - Mosman
Hey Mosman folks! Seaside Scavenge will be making its way to YOU for a day of eco-education, live music, and activities!
When and where
Location
Balmoral Beach 63 The Esplanade Mosman, NSW 2088 Australia
About this event
Hey Mosman folks!
Take 3 for the Sea's first ever Seaside Scavenge event is coming to you!
At a Scavenge, for every ten pieces of litter that you collect and sort, you are rewarded with one trash token to use at our pop-up market of pre-loved clothes, books, toys and more! PLUS the event will be filled with live music, talks from local eco-change makers, hot tips and tricks on how to live more sustainably and even a bike power blended smoothies! Learn how to close the loop on waste all whilst caring for our oceans and meeting awesome new people. What more could you want? 💚
Take 3's first Seaside Scavenge will be held at Balmoral Beach, Mosman, NSW on Sunday 18 September, from 10 am to 2 pm. Everyone, old and young, is welcome to attend. Registration is free and easy - you can just sign up here!
What to wear:
We recommend that you wear enclosed shoes and comfortable clothing - clean ups can involve getting your hands dirty! A hat and sunscreen never goes astray either. If you want to bring a drink bottle try and think plastic free!
Take 3 CEO, Jacquie Riddell explains why Take 3 is adding the Scavenges to its roster of events: "Seaside Scavenges are family-friendly community events designed to increase public awareness of litter, single-use plastic and waste reduction techniques, specifically how waste impacts the natural environment and how both individuals and groups can be part of the solution. They provide the perfect venue to encourage people to take action to reduce plastic pollution and spread the Take 3 message. We are delighted to be rolling out our first event at Balmoral Beach in Mosman, NSW and we are hoping to run many more Scavenges in the coming months."
Hannah Regan, Take 3's Event Manager is excited to be running Take 3's first Seaside Scavenge:
"We are looking forward to a fantastic day at Balmoral Beach! The event will be hosted by our wonderful Take 3 team and will showcase local waste-wise and environmentally conscious initiatives from Defy Design, Sydney Institute of Marine Science, Friends of Chowder Bay, Zero Emissions North Sydney, Ocean Action Pod. Whilst wandering through the event people will be able to sip a Bike n Blend Juice, get their face painted at Little Footprint Parties, create art with Wildcard Sue and be serenaded by Jye Sharp music - all whilst learning a little more about how they can get involved in protecting the stunning environment around Mosman."