Sales Have Ended
Registrations are closed
Online registration is completed for us. Please join us at the event. Start at our registration table by the Kiosk House. Bring lawn chairs or blanket, sun screen, hat, etc...….. You will also enjoy live music and raffles - many local business items and gift cards in the raffle. For our previous year's Seas the Day Photos, visit: https://cville-seastheday.weebly.com/photos.html
Sales Have Ended
Registrations are closed
Online registration is completed for us. Please join us at the event. Start at our registration table by the Kiosk House. Bring lawn chairs or blanket, sun screen, hat, etc...….. You will also enjoy live music and raffles - many local business items and gift cards in the raffle. For our previous year's Seas the Day Photos, visit: https://cville-seastheday.weebly.com/photos.html
About this Event
Postponed for the foreseeable future until the crisis is over.
This year was to be the fifth annual production of a Veterans Outdoor Event. Put on by several local organizations and veterans groups.
Our goal for this event was to provide a free, fun day for veterans and their families in Charlottesville and surrounding communities. We will have plenty of leisurely outdoor activities, including water activities, bounce house, games for children, demonstrations, 'Touch the Truck' display, and tables with information from organizations that support and provide opportunities to veterans. Please note our change in location this year to Walnut Creek Park. There will be spin and fly-fishing instruction offered; and we encourage anyone wishing to fish, have valid licenses and their own fishing tools to cast a line, while at our event. You are also welcome to bring your own boats to the event, please bring appropriate PFDs. We have live music and local business items and gift cards in our raffles. The event will feature a picnic catered by Mission BBQ. We hope veterans and their families are as excited as we are to have this day of fun and appreciation for our local veterans!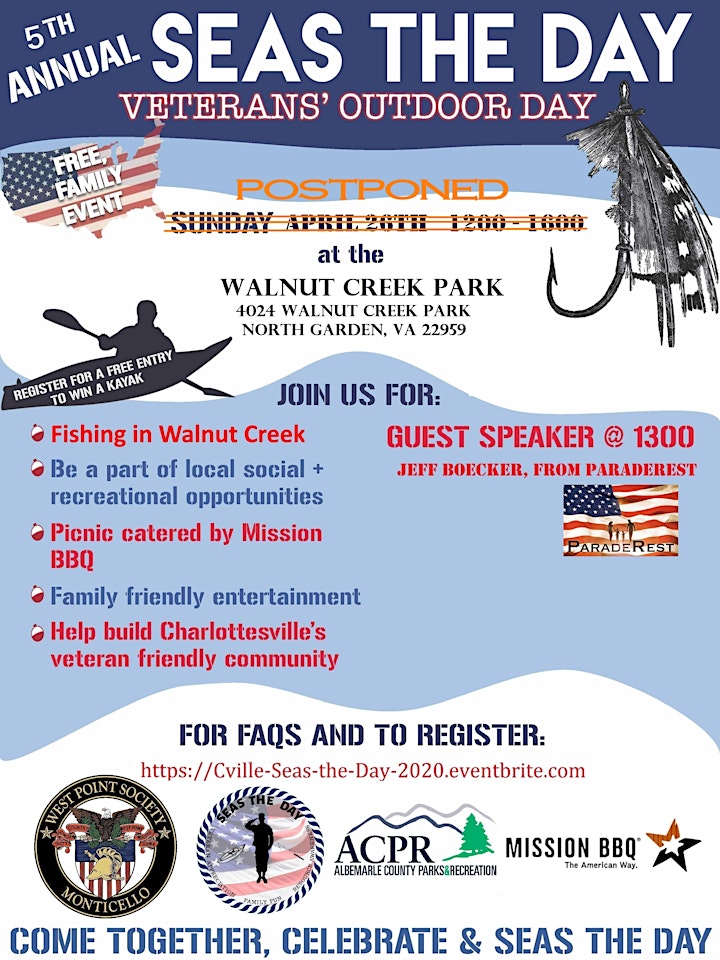 ____ SEAS THE DAY 2020 ____
GROUPS and ORGANIZATIONS TO BE PRESENT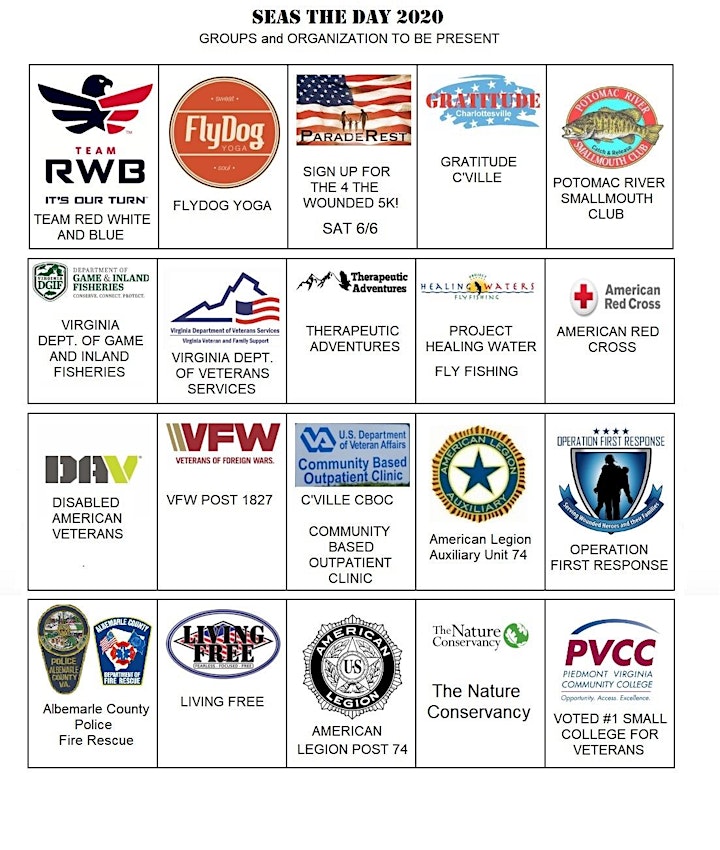 This year we are glad to be partnered with and sponsored by Albemarle County Parks and Recreation Department.