Description
Join Director Phill Branch and Producer Eleanor Earl for a screening and discussion of the film Searching for Shaniqua at the National Black Theater Festival. There are 3 screenings and discussions. All will be held at a/perture cinemas on Aug 3rd, 4th, and 5th.
Watch the trailer HERE.
Festivals:
Martha's Vineyard African-American Film Festival - Winner, HBO Best Documentary
Bronzelens Film Festival
North Carolina Black Film Festival
Harlem International Film Festival
Crew:
Director - Phill Branch
Producers - Phill Branch, Eleanor Earl
Co-Producers - Stephanie Sutton, Joseph Walters
Associate Producers - Maria Simone, Michelle Gipson
Original Score by Kris Johnson and Lauren Johnson
Articles: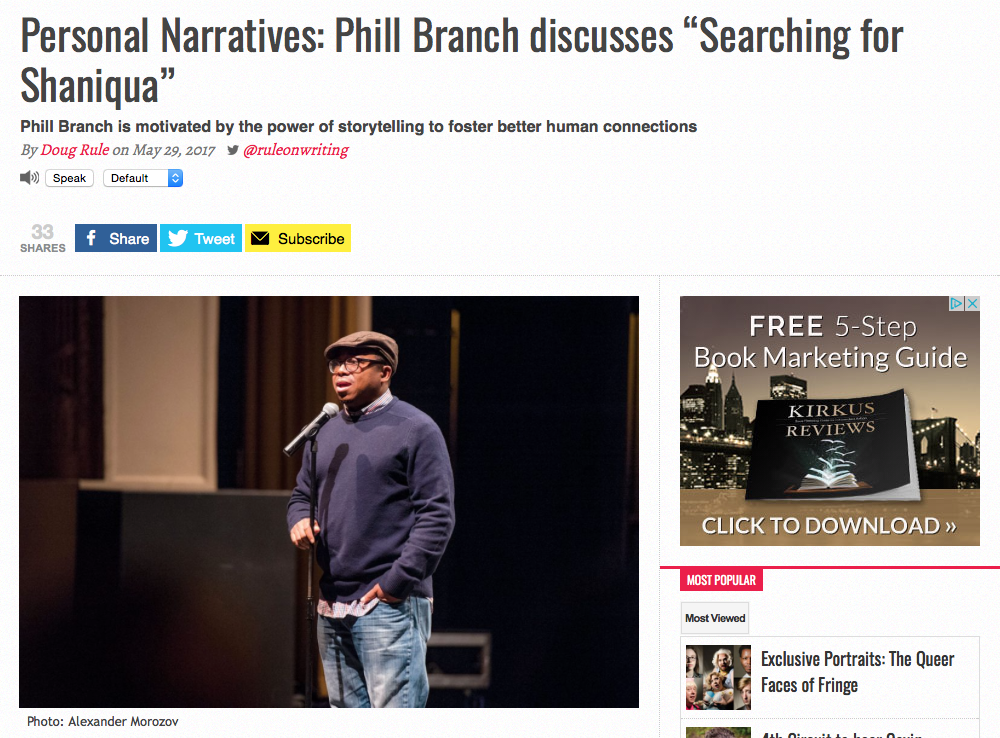 Metro Weekly - http://www.metroweekly.com/2017/05/personal-narratives/
VIBE Magazine - http://www.vibe.com/2016/09/searching-for-shaniqua-documentary/
The Root - http://www.theroot.com/articles/culture/2013/11/phill_branch_s_film_searching_for_shaniqua_looks_at_black_names.html
MIC.com - http://mic.com/articles/109524/your-name-says-more-about-you-than-you-think#.dvYNn1dRl
Baltimore Sun - http://www.baltimoresun.com/news/opinion/oped/bs-ed-raven-symone-20151030-story.html
Virginia Pilot -http://pilotonline.com/news/local/you-re-name-s-shaniqua-how-a-name-can-affect/article_7fd93172-2dc5-5537-b875-3226eb4ab68b.html
Phill Branch Bio:
Phill Branch is a lecturer in the English Department at Howard University and is a teaching artist at Story District, a storytelling and performance arts organization. Prior to Howard, Phill served as an Assistant Professor of English at his undergraduate alma mater, Hampton University. While there he helped establish a Film Studies curriculum.
Phill was awarded a prestigious Lambda Literary Emerging Writers Fellowship in nonfiction. He was featured in the award winning anthology For Colored Boys Who Have Considered Suicide and has performed personal essays in shows across the country.
Phill is a former National Association of Television Program Executives (NATPE) Diversity Producing Fellow and in 2007, he was awarded a Screenwriting Fellowship from the National Association for Multi-Ethnicity in Communications (NAMIC). Phill served as a board member and president of the Los Angeles chapter of the National Association of Black Journalists.
A native of Newark, NJ, Phill currently lives in Baltimore.