Description
NOTE: We currently still plan to hold the workshop on Tuesday, April 14th. If we end up having to cancel the event due to the Conavirus, all registrants will receive a full refund. Thank you.
Please join us for the Search Inside Yourself Leadership Institute (SIYLI) at Consta Costa County Office of Education for a full day of personal and professional development focused on building healthy mental habits for sustained high performance and wellbeing. Our session will incorporate a specific focus on leadership in education at the classroom, school and central office level. Developed at Google and based on the latest in neuroscience research, the Search Inside Yourself (SIY) program teaches attention and mindfulness training that builds the core emotional intelligence skills needed for effective leadership in all contexts.
Curriculum
The SIY curriculum includes:
Neuroscience

Mindfulness

Emotional Intelligence

Leadership
We've implemented our programs in dozens of organizations across industries and around the world using highly practical and scientifically proven methods of mental conditioning and attention training that improve overall emotional intelligence and wellbeing, resilience, creativity, communication, productivity and personal and organizational leadership.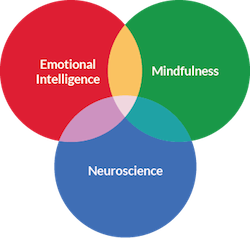 Outcomes
Whether you are coming for personal or professional development or to check out the SIY program for your organization, you will learn foundational skills to:
Enhance mental fitness and clarity

Develop agile and adaptive mindsets

Reduce stress responses

Increase resilience

Improve access to creativity

Develop greater self awareness

Enhance emotion regulation

Improve communication skills

Develop better decision-making skills

Develop greater emotional intelligence

Experience greater overall wellbeing, thrive!
When to Arrive
Doors open at 8:00am. We will start the workshop promptly at 8:30am, so we ask that you arrive a few minutes early to find a seat and settle in and enjoy a light breakfast.
What to bring, meals & break schedule
Please bring a journal and pen for some of the exercises.

We will provide continental breakfast, lunch, healthy snacks; and water and coffee all day.

There will be one ~15 min break around 10:30am; and two 10-15 minute breaks in the afternoon.

The workshop will end by 4:30pm.
LOCATION
Where: 77 Santa Barbara Road, Pleasant Hill, CA 94523
Driving Directions: Click here for Directions

Parking: Ample Parking Available at the Location

Public Transportation: Click here for BART & Bus Options