Learn more about the Search Inside Yourself mindfulness-based emotional intelligence training program in this FREE 45-minute webinar.
About this Event
Learn more about Search Inside Yourself, the program that was originally born at Google and has had a profound impact on thousands of individuals and organizations worldwide.
Discover how the program can help you unlock your full potential by building emotional intelligence and mindfulness skills based on neuroscience.
During this FREE 45-minute online session, you will learn about:
What attending a Search Inside Yourself program is all about.
Practical mindfulness techniques you can use in your day-to-day.
How developing your emotional intelligence skills can help you better understand yourself and work with others.
The benefits of mindfulness and emotional intelligence for work and throughout your life.
Here are some frequently asked questions we receive:
Will I receive a recording of the webinar?
Yes! We will share a recording of the webinar after the program to everyone who registered.
Are there any technical requirements or best practices for this program?
We will be hosting this online session through Zoom, so to join live you'll need an internet connection and be able to use Zoom.
To get the most out of the session, we also recommend that you unplug from other devices and choose a location that's relatively free from distractions.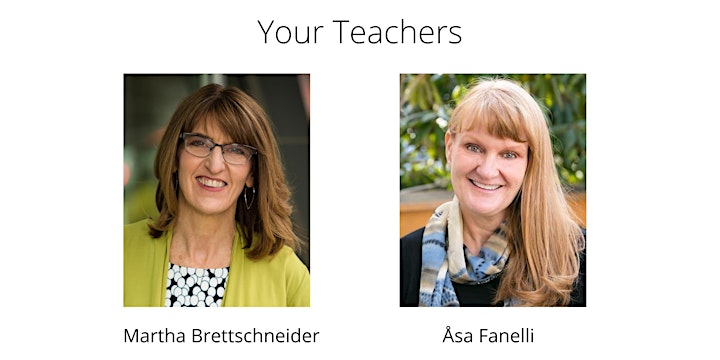 Martha Brettschneider is a Search Inside Yourself Leadership Institute Certified Teacher, author, speaker, and award-winning nature photographer. She founded Damselwings, LLC, to help busy people cultivate daily mindfulness practices and emotional intelligence skills to flourish in all aspects of their lives. Formerly an international economist (U.S. Treasury Department and International Monetary Fund), Martha stumbled upon mindfulness teachings while recovering from breast cancer in 2009. She chronicles her journey in Blooming into Mindfulness: How the Universe Used a Garden, Cancer, and Carpools to Teach Me That Calm Is the New Happy. She has taught SIY and related customized workshops to a wide variety of audiences, among them Sibley Memorial Hospital, United Way, Greater Boston Food Bank, the IMF Family Association, the World Bank Healthy Staff Working Group, and many other organizations. Learn more about her work at damselwings.com.
Åsa Fanelli is the Founder of IdeaLift Group, a boutique strategic consulting firm specializing in leadership development, board governance and strategic planning. Her passion is to support the growth of more effective, compassionate leaders and collaborative and engaged teams to increase overall performance and wellbeing in life and at work. Åsa has over 25 years of leadership experience in the global corporate and nonprofit sectors, having led diverse teams in 35 countries across 5 continents, in highly competitive and complex work environments. Using the most current scientific and evidence-based practices of mindfulness, emotional intelligence and resilience, Åsa offers transformational and innovative trainings, keynotes and consulting engagements to help leaders and organizations develop the capacity to effectively adapt to change, deal more skillfully with difficult emotions, boost creative problem solving, improve communication and employee engagement. She is a Certified Teacher for Search Inside Yourself Leadership Institute and a Journey Meditation Teacher. Åsa serves on the Board of Directors of The Boston Club, Board of Trustees of the Epiphany School, as well as the Newton Health and Human Services Advisory Board. Learn more about her work at idealiftgroup.com.