Seaport Series: Repairing the Rift

Saturday, March 15, 2014 at 11:00 AM (EDT)
Event Details
Seaport Series: Repairing the Rift
THIS EVENT IS SOLD OUT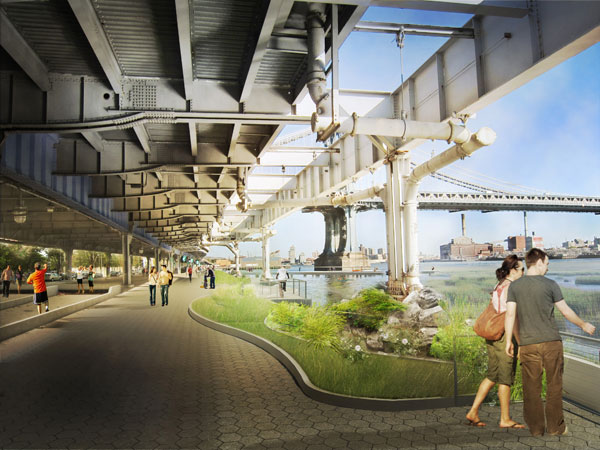 Rendering courtesy of WXY Architecture         
When the elevated highway now known as the FDR cut through the South Street Seaport in 1954, it had a profound impact on the feel and flow of the area. OHNY invites you to join WXY Architecture + Urban Design's Adam Lubinsky and artist and designer Yeju Choi on a walking tour that will explore the proposed site of the Brooklyn Bridge Beach, part of the East River Blueway Plan, and the pop-up participatory installation Catch — & — Release, part of the Design/Relief initiative by AIGA New York, to understand how social and infrastructural strategies for addressing the void created by the FDR can work hand-in-hand to reconnect the neighborhood with its waterfront.
openhousenewyork's Seaport Series explores the past, present, and future of the South Street Seaport as it transforms itself into one of the most architecturally and culturally vibrant neighborhoods in the city.
For more information visit ohny.org
Tickets to this event are non-refundable. Should you not be able to attend, the full price of unused tickets may be treated as a donation to openhouse
newyork
 and is tax deductible to the extent allowed by law.
Organizer
Open House New York
Open House New York (OHNY) is a non-profit 501(c)3 organization. The mission of OHNY is to promote a greater appreciation of the city's built environment; broaden public awareness by exposing diverse audiences to distinctive examples of architecture, engineering and design; educate and inspire discussion of issues of excellence in design, planning and preservation; and showcase outstanding new work as well as structures of historic merit.