Halloween Festival taking place in Seaport Village on October 31, 2021.
About this event
Seaport Fudge presents Halloween Town, taking place in Seaport Villages' "Treatport Village" Halloween Festival on October 31, 2021, featuring treats, food, fun, and entertainment for the family.
Seaport Fudge is proud to bring the Halloween Town Costume Party to Seaport Villages' Treatport Village Halloween Festival. The Halloween party will include themed treats, local food establishment pop-ups, music, live entertainment, and kids & family costume contests presented by Two Give Is Divine Charity.
More details about the event:
When: October 31st, 2021 from 12 pm to 4 pm.
Where: 859 West Harbor Dr, San Diego 92101
Costume Contest Categories: Best overall, Best Family, Scariest, Funniest & more!
Contest Registration Booth open from 11:00 to 12:45pm
Costume Contest Starts @ 1 PM prizes from San Diego Zoo, Sea World, The New Children's Museum tickets, Toys & more!
Free to the public.
Halloween-themed Dessert Bar.
Mr. Moto Pizza Pop-Up.
Safari Animal Collection Toy Shop Pop-Up.
Mike Hess Brewing sponsored Pop-Up 21 & over.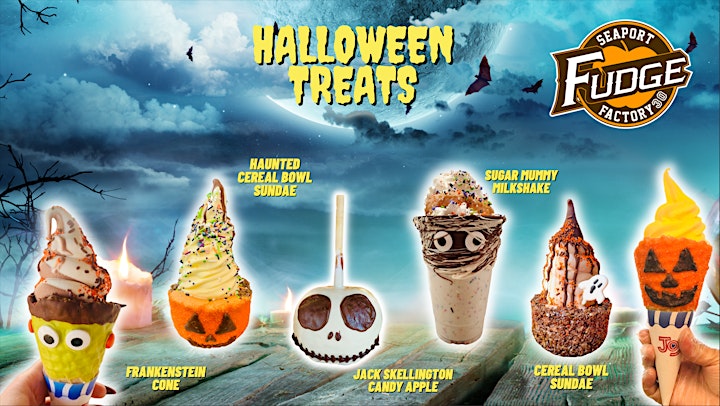 Amazing creative treats of all kinds A MUST go to in San Diego! Do not miss it!
- Kathryn Emery, Guest
Seaport Fudge Factory, Inc., celebrating its 30th anniversary in 2021, is located in Seaport Village, and is one of the most unique handcrafted dessert shops in San Diego. Creating traditional confections, from fudge and caramel apples to sundaes, soft serves, frozen treats, milkshakes, baked goods, coffees, and more. For 30 years Seaport Fudge Factory has been committed to serving locals and tourists alike some of the funnest, delicious desserts in the city. Daily operations include takeout, delivery, and catering. Visit www.seaportfudge.com for more information. Visit for more info