Sean Watkins & The Bee Eaters
About this event
Singer, songwriter and multi-instrumentalist Sean Watkins has long been known for his work as one-third of the Grammy Award-winning Nickel Creek and, more recently, for helming, with sister Sara, the itinerant, genre-hopping Watkins Family Hour ensemble. But in the last year he has more assertively – and impressively – taken on the role of solo artist. What To Fear is a follow-up to 2014's acclaimed All I Do Is Lie, which had been Watkins' first solo effort in nearly a decade, ten years that had been jammed with collaborative projects and a herculean amount of touring. On his own, Watkins displays tremendous warmth and soulfulness as a singer, a refreshing candor and humor as a lyricist, and prodigious skill as an arranger. And he doesn't merely stick with the familiar: On What To Fear, he bolsters an acoustic lineup with a rock rhythm section, bringing drama and drive to these new tracks while keeping intact the emotional intimacy of all the stories he is telling.
As a writer, Watkins deftly juggles the observational and the autobiographical, convincingly taking on the personalities of others – a stalker, a preacher, a cynical newscaster – and then juxtaposing them with a voice that is clearly his own. Watkins' singing unites disparate narrative threads; he's disarmingly honest and sympathetic, no matter whom the character he is channeling might be. Similarly, he has managed to take the work of his acoustic collaborators – -the gifted young Northern Californian trio, Bee Eaters – with the robust bass and drums combo of Matt Chamberlain and Mike Elizondo.
Watkins began composing these new songs as he toured in support of All I Do Is Lie and prepared to hit the road for the first time with Watkins Family Hour, a project that until then had mostly stayed rooted at Largo, the group's favored venue in Los Angeles. Watkins initially envisioned the album as an acoustic string-band session and reached out to the Bee Eaters, a trio he'd become acquainted with after participating in bluegrass camps they conducted in Northern California. Bee Eaters are led by Tashina Clarridge on violin and her brother Tristan on cello. Simon Chrisman plays hammer dulcimer with them, and his instrument gives both a percussive and melodic underpinning to several of these tracks. But, as Watkins' songs developed further in the writing stage, he realized he also wanted to employ a rhythm section, and called on his friends, bassist Elizondo and drummer Chamberlain, who each boast a lengthy list of credits, from hip hop to rock to jazz. Says Watkins, "It's mind-blowing how good they are."
Watkins' original idea was to cut tracks separately with these two groups of musicians. But he found himself with a few days of studio time and decided to record the same four songs with both lineups and then determine what configuration worked best for each tune. What he discovered was that these two approaches weren't mutually exclusive. By combining elements from each session he came up with a unique sound, one that helped define, in a larger sense, where Watkins himself had arrived as a solo musician. As he explains, "I wanted to highlight where I come from musically, the strings and the solos and I wanted this album to more guitar oriented than my last one. I wanted this record to highlight my musical strengths but without getting to comfortable. I really enjoy music that it is, at once, satisfying and surprising. So this record is my attempt at approaching that balancing point between reaching forward and experimenting musically while also celebrating where I come from with regard to the acoustic, bluegrass side of the spectrum."
Unlike most of his peers, Watkins has been a performer for more than 25 years. He was a mere 12 years old when he played his first gig in Nickel Creek, with sister Sara on fiddle and Chris Thile on mandolin, at a San Diego pizza parlor. The trio's star ascended quickly; within a few years, a progressive bluegrass following grew into a large mainstream audience. Its 2002 album, This Side, garnered a Best Contemporary Folk Album Grammy. Since then, Watkins has released discs with Switchfoot frontman Jon Foreman as the duo Fiction Family and with fellow guitarist Glen Phillips as Works Progress Administration, an eight-piece band featuring a stellar lineup of fellow L.A. session players. He also managed to release three solo efforts along the way. The Watkins Family Hour began as an informal event at Largo, where Sean and Sara could carouse on stage with an ever-changing group of like-minded friends. A core group of musicians became a regular part of the festivities, including pianist Benmont Tench, bassist Sebastian Steinberg and singer Fiona Apple. Together they recorded The Watkins Family Hour disc last year and took their convivial show on the road. What To Fear includes guest-star turns from Sara, as well as Tench, Steinberg and Petra Haden. In fact, the instrumental "Local Honey" was originally written as a kind of Family Hour theme song, for the live show and the group's podcast.
Having friends and family on board has long been a hallmark of every Watkins project. He's also been regularly invited to record and tour with many other musicians, among them Jackson Browne and Lyle Lovett. But What To Fear is all about Sean Watkins himself, front and center, as his songwriting matures and his persona as a solo performer blooms.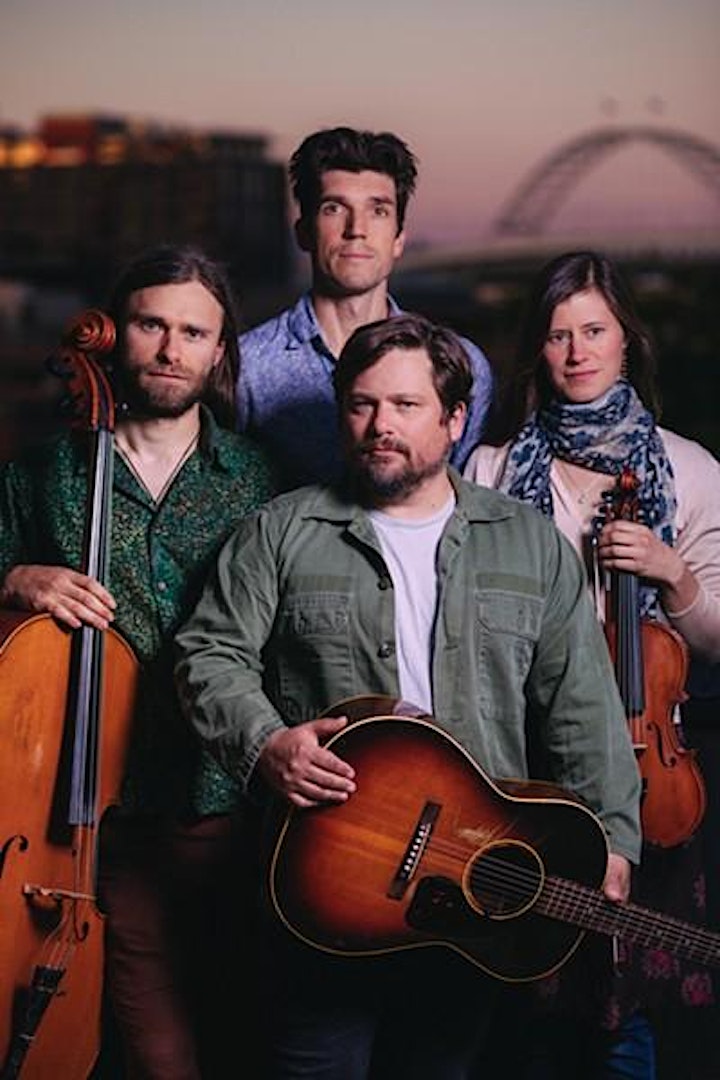 Since their formation in 2008, The Bee Eaters have been on a trajectory of growth, both personal and musical. Recent tours have taken them from Vermont to Hawaii to England and everywhere in between, collaborating with performers such as bluegrass legend Laurie Lewis, Appalachian music master Bruce Molsky, rising-star songstress Aoife O'Donovan (of Crooked Still renown), soulful singer/guitarist Scott Law and writer/ballad singer Jefferson Hamer. Festival highlights include Wintergrass, and the 40th annual Indiana Fiddlers Gathering. The Bee Eaters have collectively taught hundreds of lessons and workshops in communities, schools, and colleges such as the Berklee College of Music, the University of Victoria, Humboldt State University, and many others. Tashina and Tristan co-founded the Mt Shasta Music Summit, now in its 11th year, which unites the highest level of musical masterminds with musicians of all ages and skill levels, for a series of workshops and all-star concerts exploring the connections between musical traditions of the world, in a holistic community environment. The Mt Shasta Music Summit is revered by many as a powerful musical and social melting pot; young students and professional musicians come together to share, driven by a bold vision of strengthening the interwoven connectedness of music, community, and culture.
Listening to the Bee Eaters is like eavesdropping on a spirited, private conversation. As wonderful as their recorded music is, watching The Bee Eaters in live performance is an exercise in safe danger. They parry and thrust, challenging each other at every moment. Their focus on their music and on each other is tight and complete. Their melodic lines and rhythmic phrases dance (and sometimes roil) over, under and around each other. There is sometimes dissonance but always an ultimate harmony.