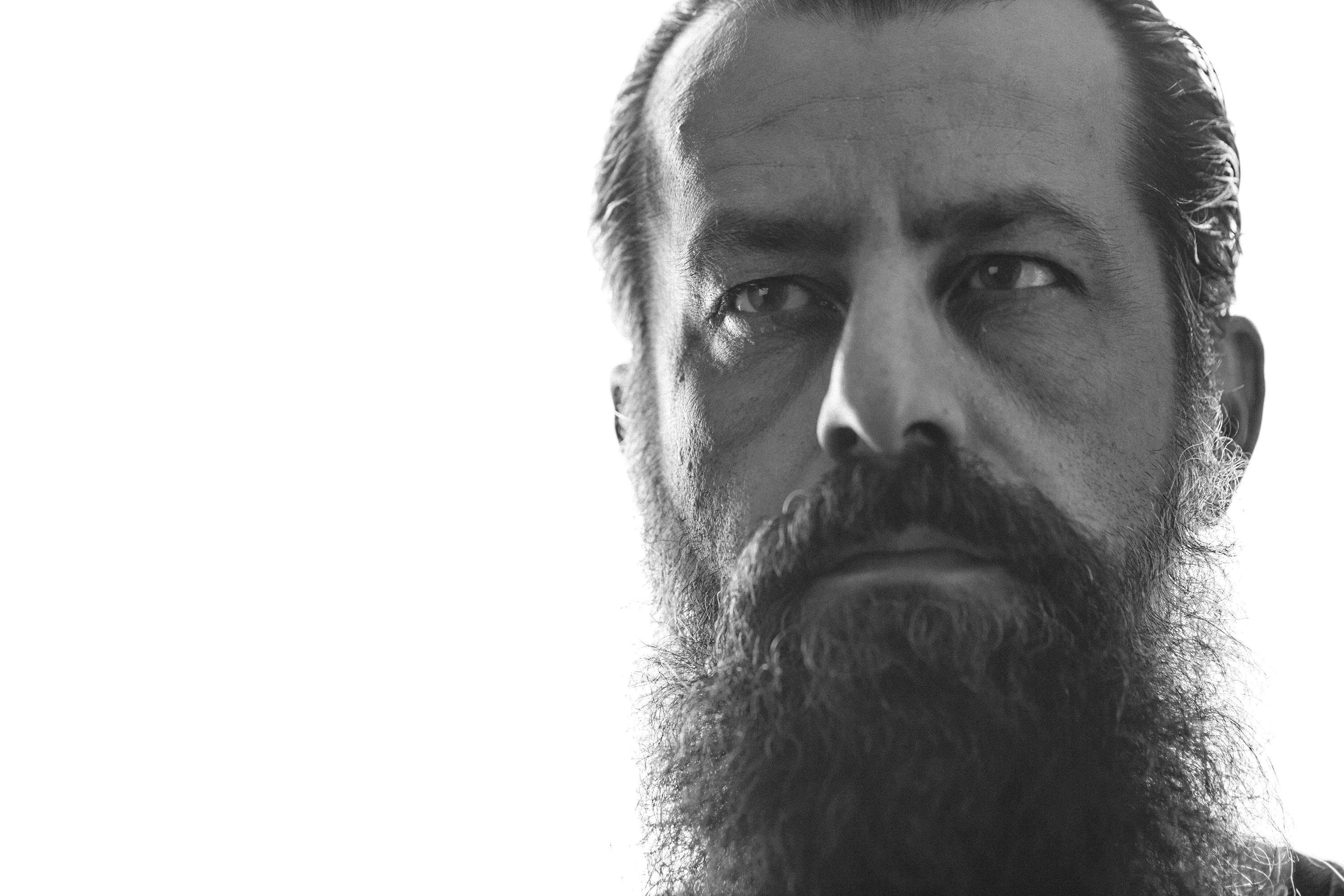 About this Event
Sean Rowe
We are the elders of our minds," sings Sean Rowe on "Gas Station Rose," the track that ushers in his fourth album, New Lore, with plaintive plucks of guitar and steady drips of piano that fall in like rain. It's a sparse and beautiful moment, anchored by Rowe's unparalleled voice – so full of gravely soul, aged and edged by years on the road, as a father and husband, as a creative force always looking for the next rhyme. And, so integral to the man that he is, one that is constantly absorbing nature. It wasn't the easiest journey to get to the ten vulnerable songs that comprise New Lore (out April 7th care of Anti-) – it took a label change, a trip to Memphis and some support from unexpected places – but what resulted is a roadmap for a gentle heart in modern times, in a world where the best oracle isn't within a computer, but within ourselves.
Though Rowe has often made his hometown of Troy, New York and its surrounding areas his creative base, New Lore brought a new environment, and a new producer. Appropriate to his love of folk-blues legends like Howlin' Wolf, he ventured to Sam Phillips Recording studio in Memphis to work with Matt Ross-Spang (Jason Isbell, Margo Price). They tapped into the history of the legendary space to hone a sound that is at once rich and stark, putting Rowe's deep and dynamic rage at the forefront. Because if high notes can shatter windows, Rowe's low and guttural ones can meld sand into glass.
"I was looking for a specific sound and part of that was the rawness, the element of risk that Sam Phillips took with his artists," Rowe says. "Since I was a kid I was really drawn to that music. I wasn't really listening to music my peers were: I was really into old soul music, and music coming out of Memphis. It's been in my work maybe in more subtle ways than now, but it's always been in there."
The songs on New Lore were often built to let Rowe's voice come through in its most stirring capacity: from the wrenching ode to parenthood "I'll Follow Your Trail" to the naturalistic "The Very First Snow," instrumentals are layered carefully and artfully over the vocals, finding footing in Rowe's sly and idiosyncratic guitar style. Much of what came was a result of Rowe going into the studio with a more relaxed approach – no preproduction was done, no demos finished. Rowe and Ross-Spang embraced an organic style that is so representative of how the singer-songwriter leads his life, and that is one of always fighting to flow gently with the earth, not against it.
"We were looking for perfect imperfection," Rowe says. "If we fucked up and it was cool, then I wanted that in there. You let it happen and you don't polish it too much."
New Lore also ushered in a career shift – this time, after several years on Anti-, Rowe launched his own label, Three Rivers Records, and will release his LP as a collaboration with the Anti- family. He also embraced a new way of funding his work, using a wildly successful Kickstarter campaign to make the Memphis dreams a reality, and embarked on a series of house shows to reconnect with his fans at the most basic, intimate level.
"I kept asking myself, 'What would be cool? What would be something different?,'" Rowe says. "That's what led me to house shows, and to the Kickstarter and to just take chances. Those chances are what led me to early rock and roll in the first place – that's all about taking chances. I had no idea what to expect, but I could tell as it got more momentum that people really wanted to see it happen."
Rowe also found himself on another unexpected wave – his unreleased song "To Leave Something Behind" found life in Ben Affleck's film The Accountant, exposing the mystique of his music to an even wider audience. Written five years ago in London, it echoes some of the themes that half a decade later surfaced again in New Lore: the things in life we pass down to our children, the ideas we learn from our elders, the shadows we leave behind when we are gone. The first single, "Gas Station Rose," is about two people trying to navigate that together. "That's the conflict to the story," Rowe says. "They want to stick it out, but they know it's incredibly hard to keep shit together. Conflict makes for a great song."
So does opening yourself up to vulnerability: New Lore is formed from that tenderness, exposed like an open wound but one asking for healing, not to linger in pain. Like "Promise of You," with a gospel swing inspired by Ketty Lester's classic "Love Letters" and the piano-driven "I Can't Make a Living From Holding You," Rowe speaks to the reality of loving and leaving, a constant dilemma for a man who builds half of himself on tour playing to strangers and half of himself tucking his children in at night. Home is process, not a destination, and New Lore is a roadmap there – perfectly imperfect, raw and real.
"My music isn't glossy or shiny," Rowe says. "But it's true."
Angelo de Augustine
Swim Inside the Moon is a record by 24-year-old Angelo De Augustine. This second full-length of Angelo's career captures a sound he's been looking for since he started playing music a decade ago.
Shortly after the 2015 release of Spirals of Silence, his first record, Angelo toured extensively but caught whooping cough on the last show of the tour. The illness debilitated Angelo for months. He feared he might permanently lose his voice, or if it came back, it wouldn't sound the same.
Unable to sing or sometimes even speak, Angelo instead focused on songwriting. "I wasn't thinking much about making a record," says Angelo.
This gave Angelo a lot time to focus on songwriting and sound. Although Angelo had previously recorded in studios, he felt like that environment didn't capture the ambience he wanted for his music.
Angelo's voice did recover, and this time he set-up his equipment by himself, in his home. In his bathtub.
Recording in a bathroom might sound odd, but it's nothing new really; supposedly Jim Morrison recorded vocals for "L.A. Woman" in a bathroom and even took The Doors (lolz) off the hinges so he could talk to bandmates while he played, and The Beatles recorded some of their earliest work in bathrooms. In the 1940s, producer Bill Putnam engineered the first intentionally recorded reverb for a Harmonicats take of "Peg o' My Heart" by putting the microphone and loudspeaker in a bathroom.
Angelo's setup was similarly simple: a Shure SM57 microphone next to the wall of the shower and a cable back to an analog reel-to-reel in his nearby bedroom. He'd hit record, then run quickly to the bathroom with his guitar and sit on the edge of the tub and play and sing. For some songs, he played his mother's 100-year-old piano in the living room, and on others he added synth and electric guitar. He kept it simple.
Recording the nine songs on Swim Inside the Moon took several months. Because Angelo was using an analog reel-to-reel machine with very little overdubbing, he was always recording live. If something didn't go as planned, he'd start from scratch each time.
Some of the songs took only a few takes. But others took weeks; if a song wasn't working on a particular day, Angelo would return to it the next day. Sometimes there were other interruptions: "Occasionally my dogs would bark on a really good take," says Angelo. Other times Angelo kept recording anyway."You might be able to hear them in the background," he says.
The reverb, analog as it is, gives Angelo's music a strong sense of place: this music existed as a soundwave that bounced off walls in Angelo's bathroom, and then traveled over wires to the listener. The reverb amplifies Angelo's songwriting, echoing a sense of heartache, loss, but also of joy and hope, and the comfort of home.
This freedom allowed Angelo to find the sound he was looking for: "A sound behind the voice," he says. "I noticed that when you sing off a reflective surface you hear two voices. One is the representation of yourself and the other is similar to a shadow that follows the sound. I was compelled to isolate that voice and bring it more to the front of the songs because in many ways I feel more connected to and comforted by that voice following me."
Besides a distinct sense of place and time, listeners might also hear Nick Drake's intricate arpeggiated guitar parts, Elliott Smith's pure vocals, or, at times, a likeness to the soulfulness of artists such as Vashti Bunyan, Judee Sill, Joanna Newsom, and Jose Gonzalez.
But it's worth noting that these artists are fairly new to Angelo, whose musical inspiration comes more from his mom than from a playlist. "Because my mom's career was singing, she would never listen to music when she wasn't working," Angelo explains. "The music that I did hear the most were her songs that she wrote at home."
As to what these songs mean, well, that's harder to say. "I couldn't tell you," says Angelo, though it sounds like he wished he could. He compares his songwriting to waking up after a vivid dream: "I get into this place, and then I wake up with a song instead of a dream," says Angelo, "Maybe I'll know what it's about later. Or maybe I knew, and I've forgotten."
Angelo De Augustine writes and records music in Thousand Oaks, California — a suburb north of Los Angeles, where he grew up. His self-released debut album, Spirals of Silence, and 3-song EP follow-up, How Past Begins, earned praise from The FADER, Stereogum, Vogue, My Old Kentucky Blog, and more.
"The sonic equivalent of a cracked porcelain plate—broken, but beautiful in its ruin." – Vogue
"Crystalline and otherworldly… matching warm guitar figures with chilling whispers" – Stereogum
"Stunning is used quite a bit to describe music, but in this instance it rings true." – My Old Kentucky Blog
Lisa Azzolino
San Francisco native Lisa Azzolino is a singer-songwriter, guitarist and performer known for her heart- wrenching performances. Her confessional lyrics, combined with her commanding, powerhouse vocals, forge a compelling act of vulnerability and raw strength.
Azzolino has shared the stage with Alejandro Escovedo at 2 sold-out shows, Megan Slankard, and has performed at SF Bay Area venues including her sold-out headlining show at The Lost Church, Brick & Mortar Music Hall, HopMonk Tavern, Club Fox, Doc's Lab & more.
In late 2016, after a successful Kickstarter campaign, Azzolino recorded her debut EP, Pride & Infatuation, at Hyde Street Studios in San Francisco, with producer Scott McDowell (The Head & the Heart, The Stone Foxes). The 5-song EP features local musicians Kendra McKinley with Jonathan Kirchner and Andrew Laubacher of Con Brio.
'Pride & Infatuation' was released on Dec 14, 2017. Available on iTunes, Spotify, Bandcamp & more.