Sean Altman & the GrooveBarbers Holiday Show

Sunday, December 17, 2017 at 3:00 PM (EST)
Event Details
Sean Altman and the GrooveBarbers
The A'Cappella Holiday Show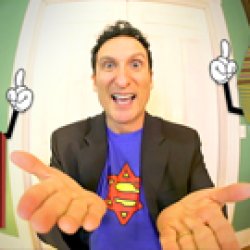 A SUNDAY AFTERNOON, family-friendly, Holiday Music Extravaganza featuring the zany A Cappella group, the Groove Barbers, lead by the king of A Cappella, Sean Altman himself!
*******
This will be Pot Luck Affair!
 Pot Luck   'Hors d'oeuvres and Desserts'
 Please arrive at 3:00 PM to share in food and conversation followed by the concert, which starts at 4:00 PM. Coffee will be on hand, but please participate in the potluck by bring something awesome to share with the group, like Food, Wine, Beer, dessert, etc.
Get your tickets now. We can only seat 50 of you!
Important!  The actual street address will be shared by email a few days before the concert.
*******
Remember the Astelin Nasal Spray commercial with the a'cappella singers? Well, that was the GrooveBarbers and they will be at the house, singing in perfect four-part harmony along with lots of silliness between the songs!

Check out their Fabulous Promo Video
Sean Altman is considered "the father of the modern a'cappella". For eleven years, he was a lead singer, arranger and composer for the pioneering group Rockapella, with whom he released nine CDs and starred in the five-year PBS-TV series Where In The World Is Carmen Sandiego? Sean composed the ubiquitous "Carmen Sandiego" theme song, which continues to get international airplay.
An a'cappella supergroup? Sounds paradoxical, absurd, perhaps even dangerous; indeed, The GrooveBarbers is all these things. Each member of this all-vocal powerhouse quartet is a bona fide star in his own right: Sean Altman, Charlie Evett and Steve Keyes are former founding members of the pioneering group Rockapella, and Westfield native Kevin Weist is a renowned bald vocal guru and acclaimed TV writer. Collectively they have established themselves as the "go to" vocal group for rock, doo-wop, jazz and even (no way!) barbershop!
As mentioned above, the GrooveBarbers were featured in not one but two national TV commercials as The Astelins, the deliriously suave vocal group that offers Astelin nasal spray to seasonal allergy sufferers. Watch the commercial HERE! Now they will cure *your* suffering with their family-friendly harmonizing and offbeat performance!
This show is Family Friendly.
When & Where

Evergreen House Concerts
Evergreen Avenue
Plainfield, NJ 07060


Sunday, December 17, 2017 at 3:00 PM (EST)
Add to my calendar
Organizer
Ahrre Maros is the owner of Ahrre's Coffee Roastery in Downtown Westfield and Summit (New Jersey), a business he founded in February of 1990. He is also the former Artistic Director and Host of the Coffee With Conscience Concert Series in Westfield, New Jersey, which ran for 15 years until its current Hiatus.
Unable to kick his music addiction, he now presents concerts in his living room and has his guests bring all the food, move his furniture around and pay for the priveledge! He calls this Evergreen House Concerts.

Regardless of what food shows up, the music and coffee are always EXCEPTIONAL!