Seahorse Institute's Dinner In the Dark Experience for Autism Awareness Month

Sunday, May 27, 2018 from 6:00 PM to 8:30 PM (EDT)
Event Details
Seahorse Institute presents "A Dinner In the Dark Experience" 

for Global Autism Awareness Month

Did you know that 1 in 68 children are identified as having an Autism Spectrum Disorder (ASD)? Those with Autism and other special needs have challenges with sensory processing. In honor of Global Autism Awareness month, Seahorse Institute is launching The Bahamas' first ever DINNER IN THE DARK EXPERIENCE. Join us to support children with Autism and have a complete sensory experience that will make you re-evaluate your perception of taste, smell and touch.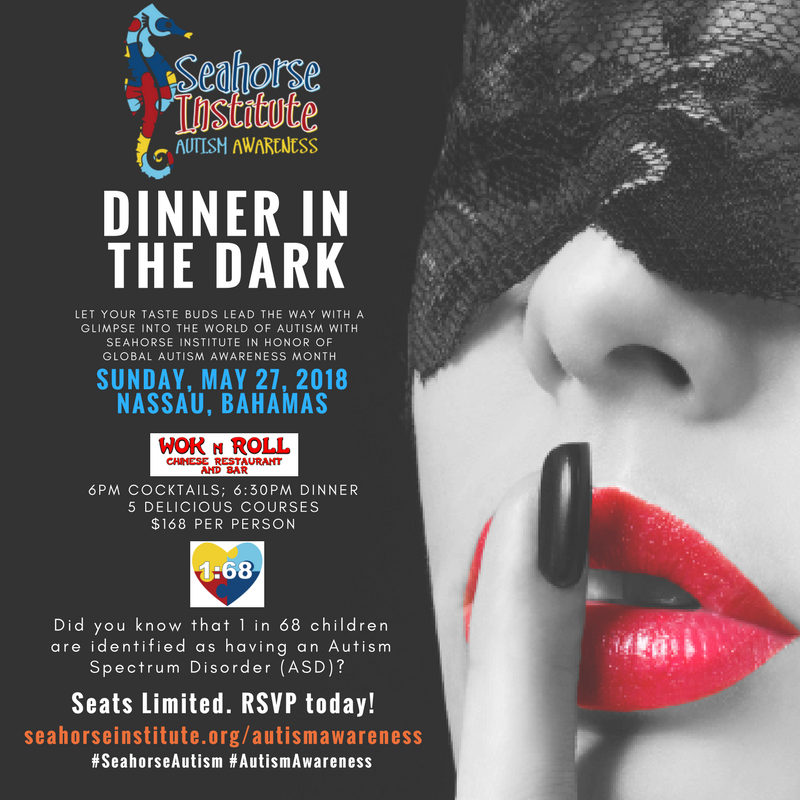 ASD is characterized by social-interaction difficulties, communication challenges and a tendency to engage in repetitive behaviors. However, symptoms and their severity vary widely across these three core areas. Taken together, they may result in relatively mild challenges for someone on the high functioning end of the Autism spectrum. For others, symptoms may be more severe, as when repetitive behaviors and lack of spoken language interfere with everyday life.
At SEAHORSE DINNER IN THE DARK you will have a mysterious, gourmet five-course prix-fixé meal while fully blindfolded and take the most unique, sensory journey you have ever experienced. Without the sense of sight the senses of touch, hearing, taste and smell are heightened, food, drinks and dinner conversation become a brand new adventure. After the SEAHORSE DINING IN THE DARK experience is over, you will have a chance to learn more about the dishes guide will escort you and your party to the lobby.
Be sure to share your experience with friends and family, through social media and by word of mouth. Share your experience on Seahorse Institute's Facebook, Twitter and Instagram tagging Seahorse Institute using the hashtags #SeahorseInstitute #SeahorseAutism #AutismAwareness #SunnyAutism.

DO'S AND DONT'S

Do come with an open mind to have an incredible sensory experience.
Do come prepared not to use your cell phones and other lit devices while you dine.
Do be prepared to give up your sense of sight for a short period of time in order to enhance your other senses.
Don't be concerned about being in a darkened dining room. Our skilled staff is trained to help with all of your needs.
Don't worry about eating in the dark. You will become acquainted with your new environment in no time.
When & Where

Wok n Roll Chinese Restaurant
West Bay Street
Henrea Carlette Plaza
Nassau, NP


Sunday, May 27, 2018 from 6:00 PM to 8:30 PM (EDT)
Add to my calendar
Organizer
Seahorse Institute is a non-profit organization that provides treatment for children, adolescents and adults with Autism and other Developmental delays like Down Syndrome, Intellectual Disabilities, Language Disorders and Learning Disabilities. Seahorse Institute is at the forefront in providing scientific research- based intervention care to unlock the potential of our children. We provide year around programming with a comprehensive curriculum that specializes in the acquisition of language, communication skills, pre-academic and academic independent functioning and socialization skill areas. Individuals treated at the Seahorse Institute can be seen by a variety of healthcare professionals working together in one or more clinical disciplines. These highly trained professionals work to provide coordinated, interdisciplinary care tailored to the special needs of each child. These professionals include Behavior Analysts, Speech and Language Therapists, Occupational Therapists and Educational Specialists. Each child is unique and therefore, every student's program is different. We assess each student's skills on a daily basis to monitor progress and modify teaching strategies as needed. When problems occur, we do not merely identify them, we look for ways to solve them. Progress is tracked and is measurable. As a result of the low staff to student ratio (ratio varies by program), students receive a high level of reinforcement to achieve optimal success.