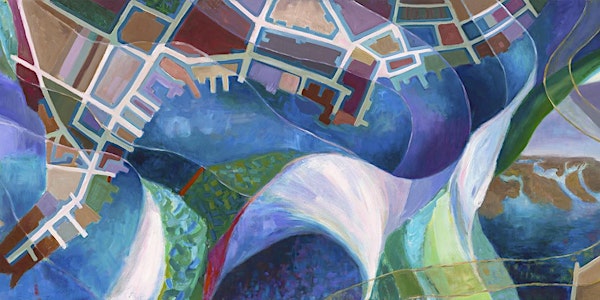 Seagrass: The Untold Story
BioMed Realty is pleased to present Seagrass: The Untold Story, an evening of art, science, and examination of Boston's ecological history.
When and where
Location
Lobby 321 Harrison Avenue Boston, MA 02118
About this event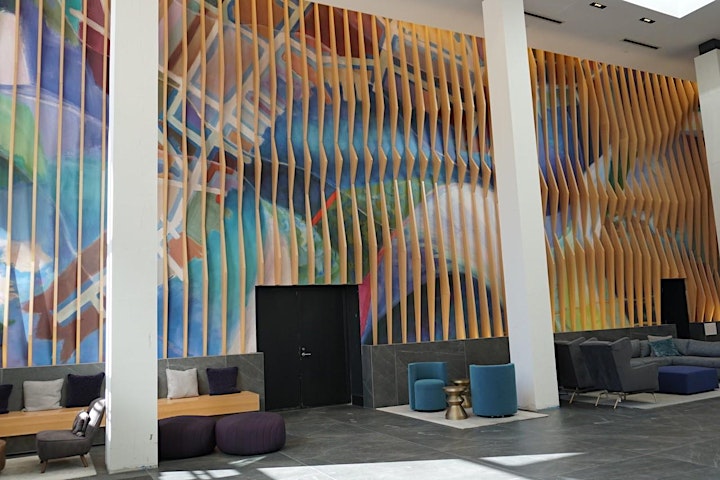 BioMed Realty is pleased to present Seagrass: The Untold Story, an evening of art, science, an examination of Boston's ecological history, and the unveiling of "Sustaining Life," the art installation by artist Nedret Andre on view and open to the public at 321 Harrison Ave, Boston at 6:00PM, November 18th, 2021. Nedret will be joined by marine biologist Phil Colarusso for an inspiring and informative presentation that sheds light on seagrass's critical role in our coastal shorelines.
You will be welcomed by Nedret Andre's "Sustaining Life" installation as you enter the building. This 60-foot long art installation is a collaboration between Nedret Andre and the architecture firm SMMA who commissioned Andre to create a 34" x 88" seagrass-inspired oil painting enlarged for this project. The painting combines three maps of Boston from different historical periods and is woven together with seagrass blades.
"It is a slow visual read," explains Andre. "As the viewer moves through the space, new sections of the image reveal themselves between the vertical wooden lines. "It is a composite painting: several images in one. A type of meditation of seagrass. "As stewards of our oceans, it is important to be aware of our ecological connections with the past, present, and future - and how our actions impact the future."
Marine Biologist Phil Colarusso will discuss the vital role seagrass plays in keeping our shorelines healthy and protected from storms surges. He will also highlight the historical boundaries of seagrass meadows as they have shape-shifted through the last hundred years. Phil received a Ph.D. from Northeastern University studying carbon metabolism of eelgrass and has worked at the US EPA for over 32 years as a marine biologist. As a US EPA certified Scientific Diver and Divemaster, he serves as the alternate Unit Dive Officer for the Region I dive team. Having spent over 600 hours underwater in seagrass meadows, his current research focuses on carbon sequestration by eelgrass and using high-resolution satellite imagery to estimate seagrass abundance. Phil was awarded a Gulf of Maine Visionary award in 2014 for his work in seagrass conservation.
Boston-based artist Nedret Andre is represented by Beacon Gallery, Boston, Sara Nightingale Gallery, NY, and Alpers Gallery, Rockport, MA. She holds a Master's Degree in Studio Arts from Maine College of Art and a BA in Fine Arts from Mass College of Art. Her works are in collections in the US, Switzerland, Egypt, France, Germany, Turkey, and England. Nedret has been the recipient of travel grant to Australia from MECA and a public arts project grant from FPAC. Nedret' paintings are acquired by Mount Auburn Hospital, Cape Cod Hospital, are also part of the deCordova Museum Corporate Art Loan Program. Her seagrass inspired paintings are in a Public Arts Collections including Lasell Village and Sunrise Senior Living in Newton, MA. Nedret's paintings have also been reviewed in Art New England and ArtScope Magazine. In addition, several of her paintings are featured in "Out of the Blue," a UN Environmental Program focused on seagrass.
Music will be provided by a string quartet from Kendall Square Orchestra (K2O), which includes musicians from over 40 local science and technology companies as well as other members of our diverse community. K2O sparks collaboration and innovation through music, inspiring members and audiences alike while supporting causes related to healthcare and STEM education.
The event will take place in the lobby of 321 Harrison Ave, Boston at 6:00PM, November 18th. Wine and hors d'oeuvre will follow the discussion.
Due to COVID-1 9 masks are required.