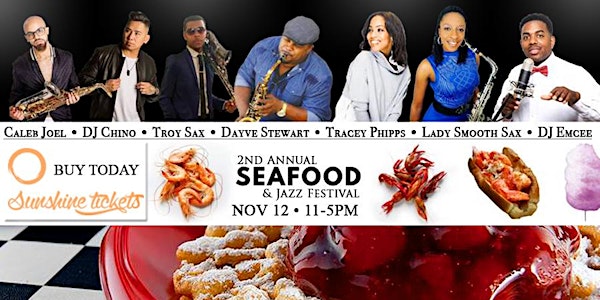 Seafood & Jazz Festival (2nd Annual) SunshineTickets
When and where
Location
Zellwood Sweet Corn Festival Grounds 4253 West Ponkan Road Zellwood, FL 32798
Description

---
This is the LARGEST Seafood and Jazz Festival in the Sunshine State, with thousands of attendees gathered to enjoy all that Florida has to offer. We love that this event exclusively supports successful acts & businesses that represent Florida's wealth of talent in both entertainment and the culinary arts. With renowned DJ's, live Jazz performances, fun for the kids, and delicious seafood prepared by Florida's own certified independent kitchens, you'll definitely want to experience Central Florida's 2nd Annual Seafood & Jazz Festival! Hosted on the same grounds as the famous Sweet Corn Festival in Zellwood, FL. on the 12th of November from 11:00 am to 5:00 pm.
November 12, 2017
11:00am to 5:00pm
Sweet Corn Festival Grounds, Zellwood FL (see map)
---
Activities include:
All Day Performance Lineup of International Saxophonists From The Sunshine State
Award-Winning DJ's Spinning Between Performances
Live Vocalists And Bands You Are Able To Meet and Keep Up With For Future Florida Performances
Gourmet As Well As Casual Style Seafood From Florida's Finest Independent Kitchens
Kids Entertainment And Meals Sized For Kids - Special Pricing See Tickets
Exclusive to Festival Food Menu Items
Above the Sea Menu & Drink Specials
Much More!!!
---
-For a complete list of event details see our FAQ section below.
-To become a sponsor or present your business for consideration, visit https://goo.gl/forms/OHu9GjdFRtcpCpRq2
-For fun content like performer bios, festival updates, event-related topic based posts, visit our Facebook page http://www.facebook.com/sunshinetickets
---

---
FAQs
Who are the featured acts?
DJ Chino - A pioneer in the world of professional DJ'ing and an influencer through his multiple radio & television segments, Caleb Joel - Latin artist and International Performer & musician, Dayve Stewart - Former saxophonist for Al Green and current co-owner of Orlando's "Maximum Entertainment" Studios, DJ Emcee - Traveling celebrity DJ from coast to coast and over the airways, Troy Harris - Central Florida's club saxophonist AKA Troy "Sax Therapist", Lady Smooth Sax - Female cover artist and Internet sensation, Tracey Phipps - Local star fusing 90's r&b with modern elements.
Which kitchens are cooking?
Is this event safe?
You and your family's safety is part of the experience. We understand that happy people want to enjoy themselves in an environment where everyone feels protected. This is why we've hired law enforcement officers and extensively screened our employees AND our volunteer staff members to ensure that your only focus is having fun.
What if I cant make the festival and I've already purchased; Return Policy?
We'd love to see your smiling face but we know things happen. This is why we've made tickets transferrable. Regularly, festivals have a no refund policy with your name on the ticket at a loss to you. If something has come up and you will be unable to attend, then you are more than welcome to transfer the tickets unique number to another person free of penalties. Though there are no refunds, your ticket doesn't have to be a loss.
What is your Privacy Policy?
Your protected buyer information is only stored for the duration of the purchase and for the sole purpose of the transaction. Any offers and/or promotions are strictly opt-in. We do not share or sell information entered with outside advertisers. Data collected through cookies and/or email addresses are only used in relevance to the individuals online profile. For more information, visit Eventbrite's privacy page, PayPal's privacy page, or your credit card provider's privacy page for their full privacy agreements.
Questions? Contact Us.
Event Manager: Willie Carey

Sunshine Tickets is an authorized vendor for the 2nd Annual Seafood & Jazz Festival. Names, logos, trademarks, intellectual property and other content associated with the promotion of this event must be verified by our parent company, Atmos Inc. We are solely responsible for the distribution of admission mediums and event awareness. For any questions regarding your particular purchase, contact the event manager: Willie Carey at this address: SeafoodJazzFestival@gmail.com
Copyright Atmos Inc 2017. Paypal Verified Seller. Privacy Safe Policy.