Description
WE'VE REACHED CAPACITY.
Thank you for your interest. We are no longer accepting registrations.
To stay current on GvG17's latest + greatest, click here!
S.E.A. Wealth Management Lab isn't your typical workshop. Breakthrough growth is driven by a breakthrough mindset. Participants are immersed into one of world's most creative environments to spark insights and inspiration as a foundation for a well-designed action plan. Following the event, two 1:1 Implementation Calls are facilitated to drive accountability and focus on execution. S.E.A. Wealth Management Lab empowers advisors with the tools to create Scale, design Experiences, and drive Advocacy.
Registration includes:
S.E.A. Wealth Management Lab content + materials
Two 1:1 Implementation Calls for accountability on action plan.
C.E.O. Strategic Spotlight Lunch, featuring Dragos Axinte, CEO of Novo Fogo.
Complimentary Parking
Full access ticket to MoPOP exhibits, including Marvel: Universe of Super Heroes
Optional Happy Hour
The S.E.A. Wealth Management Lab is led by Sam Ushio, founder of GvG17. Sam has helped thousands of advisors breakthrough and transform across all channels of financial advice. He brings 20 years' experience in financial services, including: strategy, management consulting, marketing, advertising, management, sales, and leadership.
Capacity is limited. Waitlist will be made available when registration limit is reached.
FAQs
What type of advisor should attend?
Advisors seeking a catalyst for growth. Curriculum is designed to accommodate advisors across all channels.
What book data should I bring to the event?
Participants will benefit from key data, including:
Number of Households
Total AUM
Total Revenue
Client age
Fee schedule
Location
The Museum of Pop Culture/MoPOP (formerly EMP) immerses participants in a one-of-a-kind-setting that fuels creative thinking and drives higher quality decision-making. The event runs 9:00a-4:30p with an optional happy hour from 4:30p-5:30p at Culture Kitchen by Wolfgang Puck. (Located within MoPOP)
Is parking included?
Yes. Parking information will be emailed prior to the event.
Can I bring staff?
Yes. Staff is encouraged to attend and can be added to an advisor ticket for an additional $200. Given room capacity, we can only accomodate a limited number of staff add-ons. Please select ticket option with "+ 1 staff."
What is the CEO Strategic Spotlight?
The S.E.A. Wealth Management Lab features a CEO Strategic Spotlight where Dragos Axinte, CEO of Novo Fogo, will highlight his global spirts company's approach to the three S.E.A. tenets: driving scale, delivering value within the client experience, and creating advocacy. A recent July 24, 2018 Forbes article identified Novo Fogo as "a case study in conscientious capitalism," highlighting the company's commitment to sustainability while producing a high-quality product. Advisors will draw insights into scale, experiences, and advocacy on their parallel quest to balance sustainability and quality.
What is the dress code?
Dress comfortably. No ties. Sneakers encouraged.
What's the early bird policy?
Registrations prior to Wednesday, September 12th receive a $150 discount.
What's the refund policy?
Full refund seven days in advance of the event.
Do I need to know all of the characters from the Avengers movies?
No, but your Nerd Swagger Index will hit all-time highs if you do.
Can I see the agenda?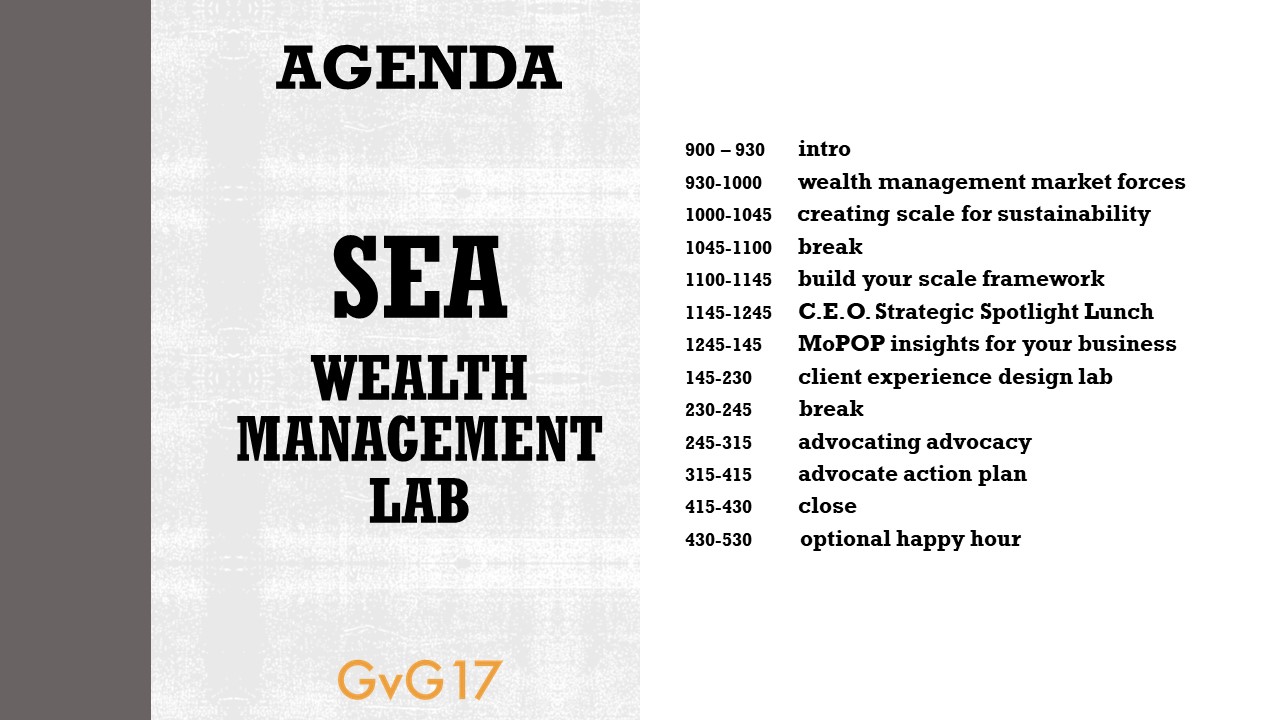 Organizer of S.E.A. Wealth Management Lab