Description

Sea-to-KITCHEN: Seafood Feast with Red's Best
Presented by The Trustees
Celebrate Earth Night on April 22nd with a special Sea-to-KITCHEN Seafood Feast in The KITCHEN at The Boston Public Market! We're teaming up with Red's Best and Chef Michael Rottman to provide a four-course cooking class to highlight sustainable seafood sourced right here in New England.
Get out of your kitchen and into ours with our Farm-to-KITCHEN Cooking Classes (except in this case it's SEA-to-KITCHEN). In this class, you'll experience a variety of recipes highlighting underutilized fish and shellfish species sourced through sustainable and ecological means. These recipes will tantalize your tastebuds and teach you how to cook species that you've never heard of, but which are bountiful in our New England waters.
Sea-to-KITCHEN: Seafood Feast
Saturday, April 22
5:00-8:00 pm
The KITCHEN at The Boston Public Market
100 Hanover Street, Boston
In this combination demo and hands-on cooking class, Chef Rottman will start the night by demonstrating how to make an oyster appetiser, providing tastes along the way, and then will guide you through two recipes that you will cook yourself (with his guidance). He will end the night with a special "shellfish" sweet that will change the way think of dessert forever.
Along the way, enjoy tastes of six different beers (described below) from Foolproof Brewery while you cook, and learn about how to pair certain types of beers with different flavors.
Menu:
Warm Katama Bay Oyster with pickled ginger beurre blanc, toasted nori
Scup/Redfish Crudo with lime, chili, sweet peppers, butter crumbs, extra virgin olive oil
Skate Cheek with lemon and caper butter and roasted vegetables
Lobster Ice Cream: warm corn bread, saffron
Cost: $60 per Trustees Member, $75 per Non-Member.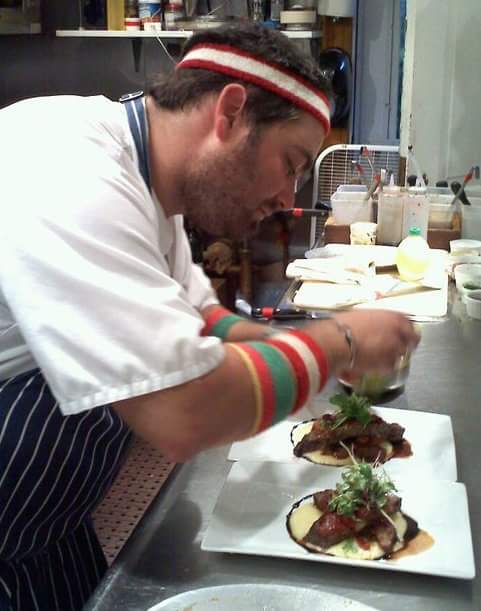 About Michael Rottman
Michael was born in WI but grew up in Canandaigua, NY and Washington, CT. His cooking passion began at the GW Tavern (Washington, CT) and led him to l'etoile (Edgartown, Martha's Vineyard). He is a graduate from Stonehill College with a BS Finance and BA Fine Arts (Painting). After a few years out of college- working in the Boston financial district, he decided that change was in order. Cooking was always in and out of his life since he was young. In 2014 Michael began working for the Menemsha Fish House partnered with Red's Best as the floor manager. The fish house services over 40 restaurants, 4 schools, and offloads more than 200 fishermen during the year. Follow Michael on Instagram: @artfoodlifemv
About Foolproof Brewery
At Foolproof, we think about beer a bit differently. To us, beer is not just an alcoholic beverage but an experience that should be thoroughly savored and enjoyed. That's why when we brew each beer, we think about specific life experiences and what style of beer would be absolutely perfect for that particular occasion. That's how we came up with the concept of "experience-based brewing." Each of our beers serves as a tribute to a sacred beer drinking experience—whether you're watching a baseball game, relaxing at home on a rainy day, or just catching up with friends at the local pub, Foolproof's goal is to create a unique and fulfilling beer experience for you. Cheers!
We'll be sampling six different beers from Foolproof Brewery:
Barstool - American Golden
The Grotto - IPA
Backyahd - IPA
Peanut Butter Raincloud - Peanut Butter Porter
Raincloud - Robust Porter
La Ferme Urbaine (LFU) - Farmhouse/Saison
About The Trustees of Reservations and The KITCHEN
As one of the largest owners of agricultural land and the premier steward of the cultural and natural landscape of Massachusetts, The Trustees extends its leadership to transform the local food system by connecting residents and visitors back to the land and sharing the Commonwealth's collective agrarian heritage through innovative retail and educational experiences at the Boston Public Market in the heart of downtown Boston.
The KITCHEN is a community gathering place, managed by The Trustees, that is restoring the craft of seasonal cooking in Massachusetts, New England, and beyond through hands-on classes and educational experiences that celebrate the farmers and artisans of this region. Partnered with the Boston Public Market, The KITCHEN embraces a whole-food approach to eating and promotes cooking as an essential cornerstone of a sustainable food system.
Join The Trustees and receive 20%-50% off all classes, workshops, and events at The KITCHEN and all Trustees properties.