Sea-to-KITCHEN Cooking Class: Seafood Feast with Red's Best
Description

Sea-to-KITCHEN Cooking Class: Seafood Feast with Red's Best
Presented by The Trustees
Calling all seafood aficionados! This special cooking class is for you. Join us for a Sea-to-KITCHEN hands-on cooking class in The KITCHEN at The Boston Public Market on Tuesday, April 24th! We're teaming up with Red's Best to provide a three-course cooking class and dinner to highlight sustainable seafood sourced right here in New England.
Get out of your kitchen and into ours with our Farm-to-KITCHEN Cooking Classes (except in this case it's SEA-to-KITCHEN). In this class, you'll experience a variety of recipes highlighting underutilized fish and shellfish species sourced through sustainable and ecological means. These recipes will tantalize your taste buds and teach you how to cook species that you've never heard of, but which are bountiful in our New England waters.
Sea-to-KITCHEN Seafood Feast
Tuesday, April 24
6:00-8:00 pm
The KITCHEN at The Boston Public Market
100 Hanover Street, Boston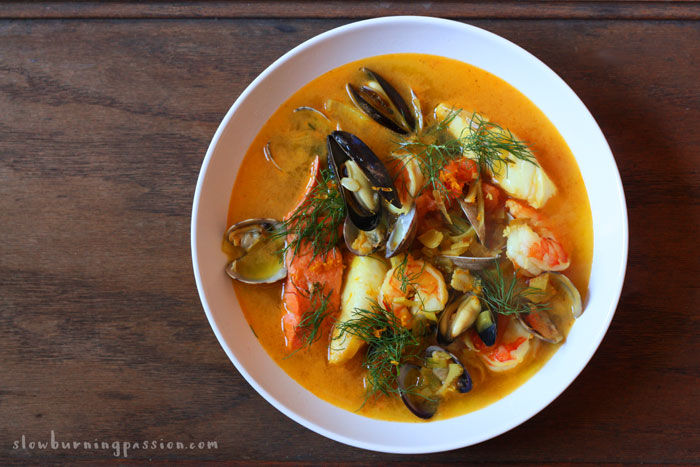 You will learn to prepare a 3 course seafood feast*:
Razor Clams cooked with olive oil, lemon, and garlic

Traditional Bouillabaise with an assortment of fresh catch shellfish and fish and fresh herbs and veggies from Stillman's Farm

Roasted Whole Fish, seasoned to perfection, with a crispy skin, and fresh fall veggies from Stillman's Farm on the side
*may change slightly if certain seafood is unavailable
In this combination demo and hands-on cooking class, Chef Jenny Devivo will demonstrate several dishes guiding you through two recipes that you will cook yourself.
Our hands-on cooking classes are structured as a group learning experience; you'll work with other students to create a seasonal meal led by our professional chef instructors. We focus on learning new cooking styles and techniques to increase your confidence and enjoyment in your own kitchen. Here are a few things to know before booking a class with us:

Each class is centered on the local, seasonal farmers and artisans of the Boston Public Market, so menus may change slightly based on what's available the day of the event.
During each class, you'll learn 2 or 3 recipes, you'll work with between 2 and 4 other students to create each one, and you'll enjoy a plentiful taste of each.
Classes are usually between 2 and 2.5 hours long, unless otherwise noted.
Please be prepared to be on your feet, standing at a table, and cooking for the duration of class.
We recommend comfortable, non-slip, and closed-toe shoes.

About Chef Jenny Devivo
Jenny Devivo is the Head Chef and Cafeteria Director for the Up Island Regional School District on the island of Martha's Vineyard. Since the food program's inception in September of 2011, Jenny has made it her mission to source local food for the school's daily lunches. Part of that dedication is about fostering real relationships with local food purveyors, farmers and fisherman alike. Jenny has pioneered several Farm and Sea to School programs and continues to teach local food driven cooking workshops throughout New England. Through her leadership, she has formed meaningful alliances which enable her to teach students how their food makes it's way in to their delicious lunches.
About The Trustees of Reservations and The KITCHEN
As one of the largest owners of agricultural land and the premier steward of the cultural and natural landscape of Massachusetts, The Trustees extends its leadership to transform the local food system by connecting residents and visitors back to the land and sharing the Commonwealth's collective agrarian heritage through innovative retail and educational experiences at the Boston Public Market in the heart of downtown Boston.
The KITCHEN is a community gathering place, managed by The Trustees, that is restoring the craft of seasonal cooking in Massachusetts, New England, and beyond through hands-on classes and educational experiences that celebrate the farmers and artisans of this region. Partnered with the Boston Public Market, The KITCHEN embraces a whole-food approach to eating and promotes cooking as an essential cornerstone of a sustainable food system.
Join The Trustees and receive 20%-50% off all classes, workshops, and events at The KITCHEN and all Trustees properties.