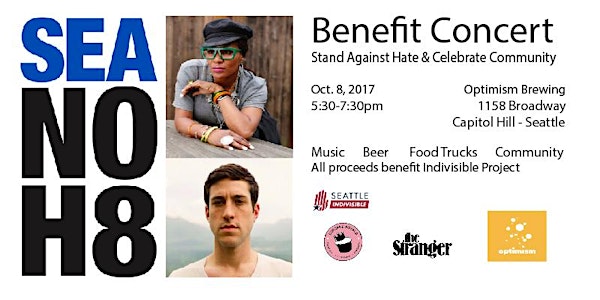 SEA NO H8 Indivisible Benefit Concert
When and where
Location
Optimism Brewing Company 1158 Broadway Seattle, WA 98122
Description
We're throwing a party! Join your Seattle-area neighbors to recharge, stand together against hate-based rhetoric and politics, and celebrate strong social activism in our community, which promotes inclusivity, tolerance and diversity. #Indivisible
All proceeds benefit Indivisible Project.
Tickets $50, $15, $10, or pay what you can.

ROCK OUT TO LIVE MUSIC
Seattle's "soul ambassador," Tiffany Wilson
En Canto, classic Seattle-based Brazilian band & Tae Phoenix, accomplished vocalist & activist
HOSTED by Rich Smith from The Stranger & Blabbermouth podcast ("We're Throwing a Party to Raise Money for Indivisible" by Rich Smith)
ENJOY BEER, CUPCAKES AND FOOD-TRUCK FARE
Enjoy a special Indivisible beer brewed by Optimism Brewing -- an amber ale, "with liberty and justice for all" -- and food truck fare in the Optimism Brewing courtyard, with complimentary cupcakes courtesy of Cupcake Royale (while supplies last)
BE INSPIRED BY SOCIAL JUSTICE LEADERS AND COMMUNITY ACTIVISTS
Including RaShelle Davis, Senior Policy Advisor to Governor Jay Inslee; Colleen Echohawk, Executive Director, Chief Seattle Club, and Guillermo Rogel, Jr., Executive Director, WA Student Association. Social justice organizations will also be tabling at the event to provide information about how you can get involved or continue your good efforts, including MAPS (the Muslim Association of Puget Sound), Planned Parenthood, the Sister District Project, and OneAmerica.

*Surprise guests, announcements, and photo op's, too*
SEA NO H8 Party & Benefit Concert: Sun Oct 8, 5:30-7:30 pm
Optimism Brewing, 1158 Broadway, Seattle, WA 98122 - Capitol Hill (Phone: 206-651-5429)
TICKETS: Suggested donation $15 adults/$10 students, or pay what you can – no questions asked. Everyone is welcome. (Kids and dogs always free admission.)
*Order your SEA NO H8 swag* at Teespring
About Indivisible Project
Indivisible Project was started by former Congressional staffers who posted a Google doc following the 2016 election letting everyday citizens know easy ways to effectively engage with elected officials. The mission of Indivisible is to cultivate and lift up a grassroots movement of locally-led groups to defeat the current administration's agenda, elect progressive leaders, and realize bold progressive policies. To date, the Indivisible Guide has been downloaded more than two million times, www.indivisibleguide.com has been viewed more than 18 million times, by over 3 million unique users from every state, and Indivisible Project has inspired the creation of more than 6,000 Indivisible groups, at least two in every congressional district in the nation.
Why Donate? Indivisible Projects needs our help to provide the 6000 grassroots Indivisible groups across the country with resources, tools, and support to take action. Most of all, we want you to be part of this nationwide movement. https://www.indivisibleguide.com/
Disclosure: Net ticket sales and all contributions will benefit Indivisible Project, a project of The Advocacy Fund, a 501(c)(4), through ActBlue Civics, a registered charitable organization formed to democratize social welfare giving. Donations are not tax-deductible. Obtain a copy of ActBlue Civic's latest financial report by emailing info@actblue.com or calling (617) 517-7600, and for more information contact: Washington State registration #38989 -- Secretary of State, Charities Division, Olympia, WA 98504-0422, 1-800-332-4483. You must be at least 18 years old to buy a ticket or make a contribution, and all ticket purchases and contributions must be made from your own funds. No refunds.