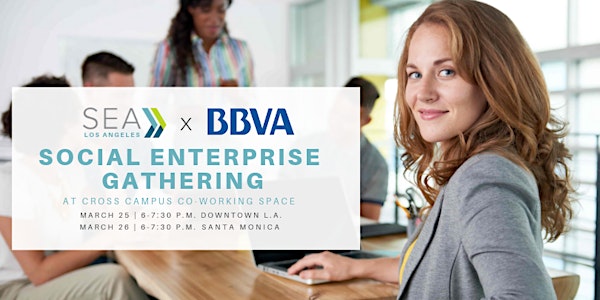 SEA LA x BBVA Present: Social Enterprise Gathering (Santa Monica)
When and where
Location
Cross Campus 929 Colorado Avenue Santa Monica, CA 90401
Description
Join the LA social enterprise community for an evening of networking, learning and opportunity. Hosted in partnership with global bank BBVA, you'll hear from leaders in social enterprise, as well as have an exclusive opportunity to meet the BBVA Momentum team.
Launched in 2011, BBVA Momentum is a five-month intensive for social enterprises that provides online and in-person training, expert mentorship, peer networking, global visibility and cash prizes totaling $175,000. The program application is open to social entrepreneurs in any of the bank's seven state locations. BBVA will choose 35 entrepreneurs to participate in this invaluable program, free of charge. Come to the SEA LA x BBVA event to learn more about the program, meet the selection team and learn how you can put your best foot forward to be selected.
In addition to learning the ins and outs of BBVA Momentum, you'll get to hear from leading social entrepreneurs, Laura Hertz & Jessica Blotter, as they share their journeys in social innovation.
About the Speakers
Laura Hertz, is the co-founder and CEO of Gifts for Good: an innovative, millennial-driven, and socially conscious startup whose mission is to disrupt the world of business gifting. As an agent of change for both large corporations and smaller companies alike, Gifts for Good's digital platform is the only resource in the corporate gifting space that curates premium, posh, and purposeful gifts that give back. She is responsible for overseeing the complete operation of Gifts for Good, including leading sales, marketing, and business development; as well as the creation, communication and implementation of the organization's vision, mission, and overall strategy on a day-to-day basis.
Jessica Blotter is CEO & Co-Founder of Kind Traveler. The moment she discovered that the love of travel can't be separated from the state of the world after witnessing poverty on a trip to Belize in 2012, she wondered how the $7-trillion travel industry could be harnessed to benefit local communities, the environment, and animals. This experience led her and her co-founder to launch KindTraveler.com, a social enterprise that's the first socially-conscious Give + Get hotel booking platform empowering travelers to become a force for good.
This promises to be a fun and inspiring evening! We hope you will join us.
Registration is free, but limited. Please RSVP today to reserve your seat.
If Santa Monica is not the most convenient spot for you, be sure to join us in DTLA instead on Monday, March 25th. Details here.