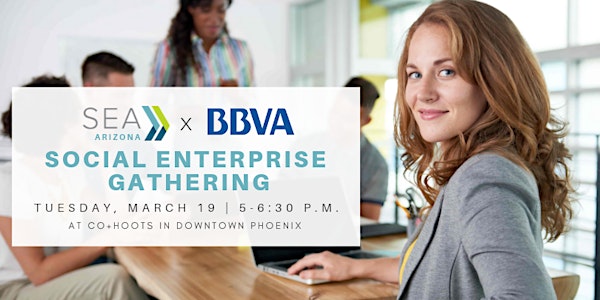 SEA AZ x BBVA: Phoenix Social Enterprise Gathering
When and where
Location
CO+HOOTS 221 East Indianola Avenue Phoenix, AZ 85012
Description
Join the Phoenix social enterprise community for an evening of networking, learning and opportunity. Hosted in partnership with global bank BBVA & CO+HOOTS, you'll hear from leaders in social enterprise, as well as have an exclusive opportunity to meet the BBVA Momentum team.
Launched in 2011, BBVA Momentum is a five-month intensive for social enterprises that provides online and in-person training, expert mentorship, peer networking, global visibility and cash prizes totaling $175,000. The program application, launching February 21st, is open to social entrepreneurs in any of the bank's seven state locations. BBVA will choose 35 entrepreneurs to participate in this invaluable program, free of charge. Come to the SEA AZ x BBVA event to learn more about the program, meet the selection team and learn how you can put your best foot forward to be selected.
In addition to learning the ins and outs of BBVA Momentum, you'll get to hear from leading social entrepreneur, Christy Moore, Founder & Owner of Social Spin Laundromat, as she shares her journey in social innovation.
This promises to be a fun and interesting evening! We hope you will join us.
Registration is free, but limited. Please RSVP today to reserve your seat.