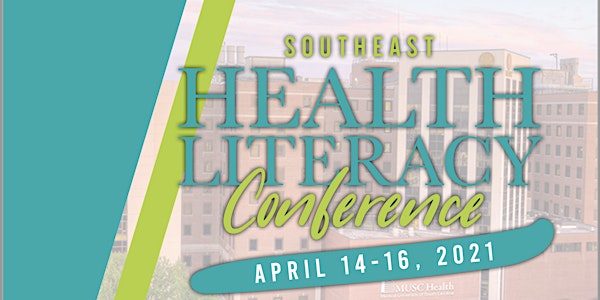 SE Health Literacy Conference
Join us for the Inaugural SE Health Literacy Conference
About this event
The MUSC Libraries and Hands on Health-SC is pleased to announce the Southeast Health Literacy Conference. The event will be held virtually April 14-16, 2021. We have some amazing thought leaders lined up and we are excited to share other details later this week and next week.
This virtual conference will bring together top experts and thought leaders with the knowledge, strategies and best practices to face the challenge of improving health literacy. Our goal is to provide basic and innovative strategies that attendees can implement in their communities and organizations. Select sessions will have an emphasis on the COVID-19 global crisis and rampant spread of online misinformation.
When: April 14-16, 2021;
Program Schedule; all times are EST
Wednesday, April 14, 4:00 - 6:30 pm
Thursday, April 15 - 9:00 am - 1:00 pm on with a special evening session TBA
Friday, April 16 - 1:00 pm-5:30 pm
Hosted by the MUSC Libraries and Hands on Health-SC
This project has been funded in whole or in part with Federal funds from the Department of Health and Human Services, National Institutes of Health, National Library of Medicine, under Grant Number UG4LM012340 with the University of Maryland, Baltimore.
Sponsors and Supporters:
National Conference on Health Disparities
City of Charleston Commission on Women
Third Eye Creative Productions