Description
Aztec Adaptive Sports is thrilled to announce the Aztec Adaptive Sports Showcase, on January 26-27, 2018 at San Diego State University.This first of its kind event is designed to raise awareness towards the powerful impact of establishing a collegiate adaptive sports program at SDSU and the San Diego at-large community. We would like to invite you to the two-day event, where you are guaranteed to have an eye-opening experience of adaptive sports in San Diego.From high-level athletes, including U.S. Paralympic athletes, to some of the country's most influential coaches and directors, you will get to be part of a very special moment in college adaptive sports history in the U.S. and plant "the seeds of hope" in younger generations.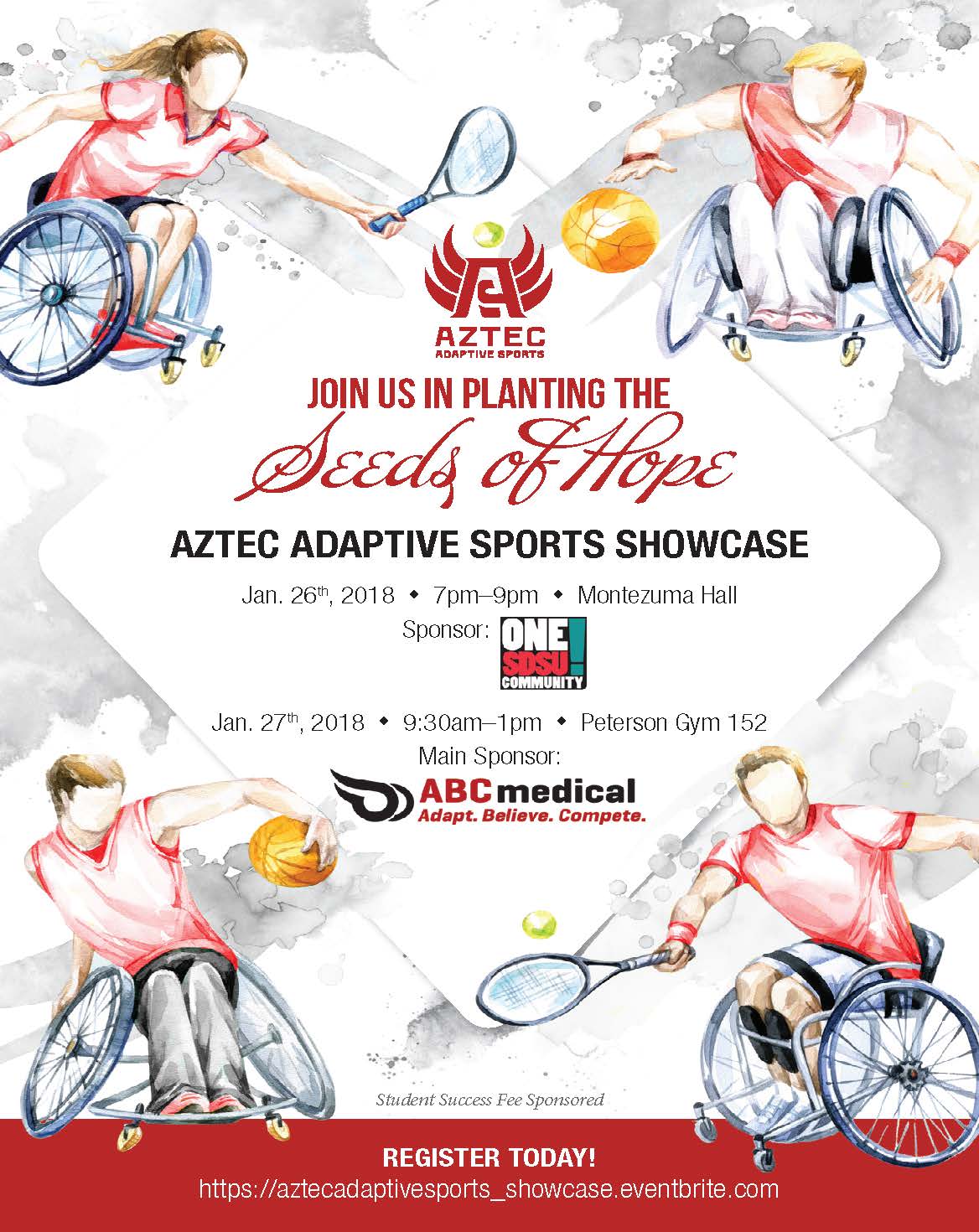 Friday, January 26th - 7:00-9:00 PM @ Montezuma Hall

Performance by The Rollettes, Los Angeles' Wheelchair Dance Troupe
The Rebound Documentary Screening
6-time Paralympian and gold-medalist, Dave Kiley speaks
Surprise Guest Performances!
Saturday, January 27th - 10:00 AM-1:00 PM @ Peterson Gym 152
Doors open at 9:30 AM
Sports demos and high-level adaptive sports competitions
The Aztec Adaptive Sports Showcase is a FREE event, open to everyone.
We invite you to join us for a fantastic time in January 2018!
Register on this page today and mark your calendar for January 26 & January 27, 2018!

---
FAQs
Do I need to register separately for each day?
Nope! Once you register for the event on Eventbrite, you're all set for both days. Can't wait to see you there!
Am I required to register just to check out what the event is all about?
The quick answer to that is, no you don't need to. We would appreciate you registering, even if you are not sure you can attend so we can estimate attendance for planning purposes. However, if you are unable to register today and find you can attend the showcase, either day or both, please come anyway! :)

Can I tell my friends about this event and can they go even if they cannot register?
YES! Tell all your friends and even if it is a last minute decision, encourage them to check out this historic event on campus. (Pro tip to convince them: Great Instagram and Facebook Story opportunity!
Are the events located in different locations?
Yes, they are! On Friday, January 26th, we'll be meeting at Montezuma Hall located on the second floor of the Aztec Studen Union for the screening of The Rebound documentary. On Saturday, January 27th, we'll see you at the Peterson Gym 152!
How can I see the event agenda?
You can visit our event website to see the list of events awaiting you and check out the speakers who will be speaking during the showcase.

What can I bring to the event?
Yourself and friend(s), a good camera or a smartphone, because you'll want to capture every second of what you're about to see, and most importantly a positive attitude. :)
Do I need a student ID to attend?
Since the event is open to the public, student ID is not required. However, for faster check-in, SDSU's students, please bring your Red ID.
Do I need to to stay for the entire time of the event? I want to see what this is about, but I can't stay the entire 2 hours on Friday or 3 hours on Saturday.
No, we totally understand how busy everyone is; we have a lot planned for this event so no matter how long you can attend, you will not be disappointed.
How can I donate to Aztec Adaptive Sports?
We are delighted that you're interested in contributing to our cause to establish an adaptive sports program at SDSU. Please click here to visit our Strive Official Fundraising Page.

How can I contact the organizer with any questions?
Please feel free to email us at rsvpaztecadaptivesports@gmail.com. We'd love to hear from you!

What are my transportation/parking options for getting to and from the event?
BY CAR:
Take the 8 East (5, 805 or 15 Freeways) OR 8 West to San Diego State University
For more details, click here.
*NOTE: Visitors must purchase a parking permit. Parking is $2/hour OR $10/day**
---
BY BUS:
The following bus routes will take you to the SDSU Transit Center: 11, 14, 115, 215, 856, 936, & 955
For more details, click here.
---
BY TROLLEY:
Take the Green Line towards Santee OR 12th & Imperial​
Exit at the SDSU Transit Center & head toward the Street Level
For more details, click here.