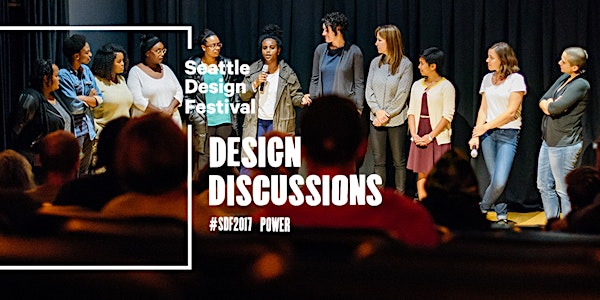 SDF2017 Design Discussion: emPOWERing Communities
When and where
Location
Center for Architecture and Design 1010 Western Avenue Seattle, WA 98104
Description
This discussion and interactive workshop will look at how designers bring human-centered design thinking to foster empathy and provide solutions to people experiencing homelessness, architecture for refugees and poverty alleviation. Panelists with expertise or experience in these areas will explore several aspects of design initiatives aimed at elevating marginalized communities and a thoughtful discussion on the challenges of existing power structures that aim to oppress rather than elevate our most vulnerable citizens. Expect a night filled with inspiring examples of how design thinking works to help emPOWER communities, and an opportunity to apply design thinking yourself.
emPOWERing Communities Panelists:
Rania Qawasma | Architecture for Refugees
Rania is an Arab American architect, She holds bachelor's degree in architecture, and master's in sustainable design. Rania recently founded Architecture for Refugees (US), with a mission to seek better architectural solutions to increase the quality of life for refugees globally and locally.
Jeff Turkelson | Artefact
Jeff is a senior design researcher at Artefact, a product design and innovation studio that believes the role of design is to lead to preferable outcomes. His work includes designing a social platform for MasterCard Foundation Scholars seeking to create social change, and exploring solutions to youth homelessness with the Office of Policy and Innovation within the City of Seattle.
Jordan Monez | Friends of Waterfront Seattle
Jordan Monez is a multi-disiplinary designer focused on creating experiences for people. She currently works as a Public Space Activation Manager for Friends of Waterfront Seattle and is on the board of the Seattle Design Foundation. Jordan received a Master of Landscape Architecture from the University of Washington, a BS in Architecture from the University of Virginia, and studied City, Architecture and Landscape at the Kunstakademiets Arkitektskole in Copenhagen, Denmark.
Erica Loynd | DLR Group
Erica Loynd is an architect specializing in government architecture with a focus on Restorative Justice. Her specific focus on courthouse and detention design focuses on creating spaces that facilitate community involvement, alternative programs, and sustainable strategies to enhance the functionality of the building for human wellness and stress reduction for both public, staff, and incarcerated people.
Moderator: Surya Vanka | AUTHENTIC
Surya Vanka is a global leader in design, best known for his groundbreaking work in user experience and for creating industry leading design practices such Design Swarms & Design Value Scorecard, as an author, and as an educator who has taught design in over 20 countries.
Surya led Microsoft's center of design excellence for several years, and helped to drive the transformation of the company towards an experience-first culture. Prior to that, Surya was a tenured professor of design at the University of Illinois at UrbanaChampaign, a fellow at the prestigious Center for Advanced Study. He is the author two books on design and has won several respected design awards. He is frequently invited to keynote the most prestigious conferences, and has won top speaker awards three times. Surya's work has been featured in numerous publications and news programs, including Form, I.D., Design Council, WIRED, Interactions, TEDx, BBC and National Public Radio. He sits on the advisory boards of Design Management Institute, Seattle Interactive and is president-elect of Seattle Design Festival/Design in Public.
Surya lives in Seattle and leads AUTHENTIC, a design studio that focuses on social innovation and consulting in design strategy, user experience, futures prototyping, service design and interaction design for clients worldwide.