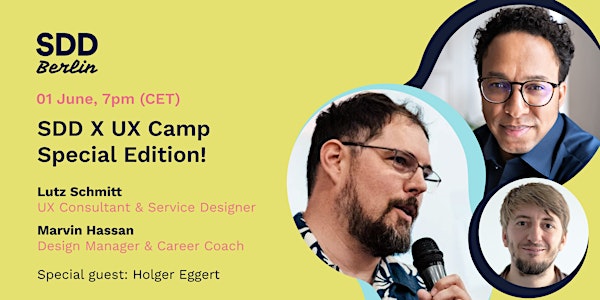 SDD x UX Camp Europe Special Edition
Gathering that brings together the vibrant energy of Service Design Drinks and the expertise of the renowned UX Camp Europe Speakers
By Service Design Drinks Berlin
Date and time
Thursday, June 1 · 7 - 10pm CEST
Location
Thoughtworks Berlin Deutschland GmbH Revaler Straße 29 10245 Berlin Germany
Agenda
6:45 PM - 7:15 PM
Doors Open
7:20 PM - 7:30 PM
Opening
7:30 PM - 7:40 PM
Talk from Holger Eggert - UX Camp
7:40 PM - 8:10 PM
Talk from Lutz Schmitt + Q&As
8:10 PM - 8:40 PM
Talk from Marvin Hassan + Q&As
8:40 PM - 9:00 PM
Wrap-up & Annoucements
9:00 PM - 10:00 PM
Networking
About this event
🍹 Service Design Drinks x UX Camp Europe Special Edition 🌍🚀
Join us for an extraordinary evening of insightful conversations and networking at the Service Design Drinks x UX Camp Europe Special Edition event! Happening on the 1st of June, this unique gathering brings together the best of both worlds: the vibrant energy of Service Design Drinks and the expertise of the renowned UX Camp Europe speakers.
🎉 About UX Camp Europe 🌟
UX Camp Europe is one of the largest BarCamps for User Experience Professionals, attracting over 500 active participants from across the globe. For more than a decade, we have been gathering in Berlin annually, thanks to the dedicated team of local UX enthusiasts who plan this remarkable event.
🙌 Speakers from UX Camp Europe 🎙️
This special edition event will feature esteemed speakers from UX Camp Europe who will share their invaluable experiences and insights with the attendees. Get ready to be inspired by their knowledge, learn from their successes and challenges, and gain a deeper understanding of the fascinating world of UX.
🎉 Join Us for an Unforgettable Evening 🎊
Don't miss out on this extraordinary event that combines the best of Service Design Drinks and UX Camp Europe! Mark your calendar for the 1st of June and get ready to immerse yourself in a night of exceptional knowledge sharing, networking, and camaraderie.
Secure your spot now, as spaces are limited. Remember, at Service Design Drinks x UX Camp Europe Special Edition, we believe that the true value lies in active participation and the willingness to contribute to the collective growth of our community.
Come prepared to share, connect, and be inspired. We look forward to seeing you there!
About the speakers
Strategic Experience Designer
Holger has extensive experience working with both large corporations and small startups. He is dedicated to helping teams create products that customers love, within organizations they love. With 25 years of industry expertise, Holger has contributed to the development of products used by millions of people every day.
Short fun fact: At the age of 12, I played Beatles songs on the London tube.
Topic of the speech/presentation: What is UXcamp Europe? A brief introduction to UX designers' favorite conference - A brief introduction to UXcamp Europe, the conference that holds a special place in the hearts of UX designers. Gain insights into what makes this conference a must-attend event for the UX community.
Consultant UX and Service Design @ LSD&CBio
Lutz is a freelance consultant specializing in UX and Service Design. With a background in web design and a passion for privacy and critical design, he brings a unique perspective to his work. Based in Cologne, Lutz is focused on research-driven consulting for digital services and products.
Fun Fact: Occasionally he makes people cry, and they are thankful for that.
Topic of the talk: Digital intimacy - Let's delve into the realm of sex, health, and other delicate topics that we may want to share with our chosen ones. Lutz will explore the concept of digital intimacy and its implications.
Links
https://lutzschmitt.com
https://www.linkedin.com/in/lutzschmitt
https://mastodon.world/@lutzschmitt
Design Manager & Career Coach
Marvin is passionate about building effective design organizations and guiding UX professionals through the challenges of their careers. He firmly believes in the power of collaboration over competition for long-term success.
Topic of the speech/presentation: Empowering design by fostering collaborative partnerships across disciplines - Insights on how to empower design teams by cultivating collaborative partnerships across various disciplines. Discover the benefits of collaboration and its impact on driving effective design outcomes.
The Location:
Join us at Thoughtworks, a global pioneer in distributed agile, as we host the "SDD X UX Camp Special Edition" event. Our brand new office space in Berlin serves as a creative hub for innovation, fostering collaboration and bringing together a vibrant community of passionate technologists. Get ready for an extraordinary experience in this cutting-edge venue.
Interaction and inclusion
This is an interactive event and all those that come are invited to connect, participate and network. In this way we encourage 'safe event' practices and all non-social behaviour will not be tolerated.
Photo consent
Please be aware that by attending the event, you consent to your image, name, and/or likeness being used, without compensation, in photographs, and you release BPD Meetup and our sponsors and partners from any liability whatsoever of any nature using those photos. Do not attend the event if you do not wish to appear in such photos. You might request copies of those photos to use for personal reasons.
DISCLAIMER!
Please note that although we have opened up to 200 tickets for this event, due to limited space, we can only accommodate the first 100 attendees who arrive at the venue. We apologize for any inconvenience this may cause and encourage you to arrive early to secure your spot. We appreciate your understanding and look forward to seeing you at the event.
About the organizer
We are 5 berlin-based senior designers from all around the world.
Mati is from Argentina, Dee and Adam are from Australia, and Mela is from Ecuador (and Germany)
Visit us on sddberlin.com
 Click follow below to get email notifications about upcoming events.