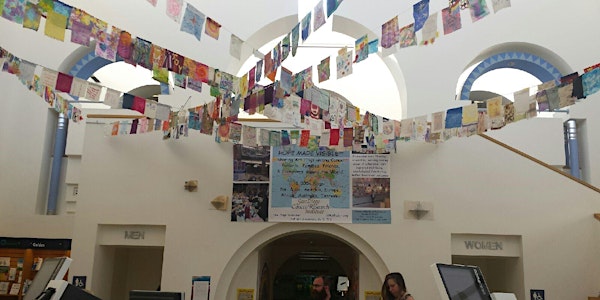 SDCRI's HOPE MADE VISIBLE™ Expressive Arts Therapy series via Zoom
Location
UCSD Cancer Center
1200 Garden View Road
Encinitas, CA 92024
Description
Expressive Arts Program co-created with SDCRI, facilitated by Alessandra Colfi, PhD. O

pen to all patients.

Flags have been used in Nepal and Tibet as a symbolic means to promote peace, compassion, strength and wisdom. Traditionally they are hung outdoors where the wind passes through the flags carrying the message and blessings to all people...words and symbols dissolving into the wind and being spread to all whom the wind touches. All over the world, people affected by cancer have been answering our call to join in making flags as living journals of hope, sharing dreams, victories, losses and concerns.
These flags as symbolic
blessings, wishes and visualized strengths, spreading good will and compassion, uplifting all beings.
PRE-REGISTRATION IS REQUIRED
All are welcome! No art experience necessary.
This is an 8-week series: attendance to all sessions is recommended to enjoy the benefits of being engaged in the creative process
Suggested Donation: $ 20- to cover material costs
Questions? Contact Alessandra at 858 735 5708 Alessandra@AlessandraColfi.com
Alessandra Colfi holds a BA in Linguistics, a Master in Fine Art, and a PhD in Expressive Arts Therapy. She's a member of the International Expressive Arts Therapy Association, Consciousness and Healing Initiative, and Art & Health Canada.
She is the Expressive Arts Therapist with UC San Diego Center for Integrative Medicine, UC San Diego Moores Cancer Center, San Diego Cancer Research Institute, and The Heart Way; she is a Faculty and the Chair of the Expressive Arts Therapy Department at IUPS. Alessandra has been facilitating and practicing the arts and their therapeutic benefits for over 20 years. cancer.ucsd.edu; www.sdcri.org; www.iups.edu