SD Design Trek is back for its first virtual edition ever, March 8-12, 2021! 10 companies over 5 days. You won't want to miss this!
About this event
*** Please be sure to grab a ticket for each virtual session you plan to attend. Event links will be sent out to registrants prior.***
Instagram takeovers do not require a ticket and can be viewed through the public Instagram account @sddesigntrek.
Design Trek 2021 Schedule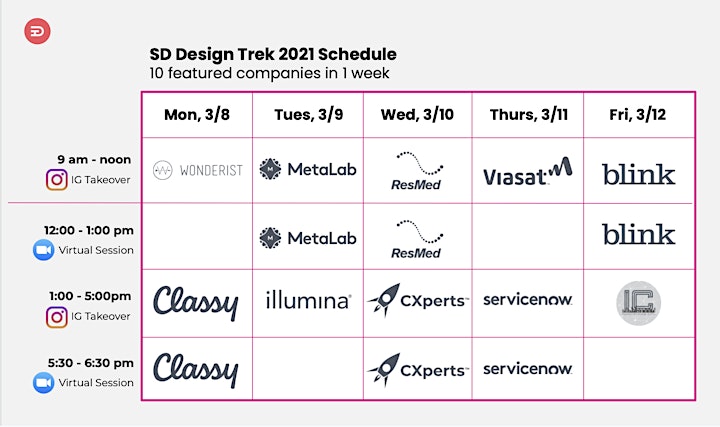 Check our Instagram (@sddesigntrek) for daily updates on what will be covered in each IG takeover and virtual session!
Here are all virtual session descriptions:
— MONDAY 3/8 - Classy —
In the evening of Day 1, join our Classy virtual session where designers from our brand and product teams will share our career journeys and tips on collaborating remotely on recent projects. Hear about what it means to design for good and processes behind designing for nonprofits + their supporters.
Don't miss out on this awesome opportunity with @classy_org 😍⁠
— TUESDAY 3/9 - MetaLab —
MetaLab is proud of a diverse group of employees. We hire based on talent, not time zone which means their Slack is active nearly 24/7 and our team is truly world-class. We also believe there is no one size fits all definition of design leadership. That's why @MetaLab created "Pinnacle," a growth framework based on focus, influence, experience, and skill.
Come listen to design leaders discuss career opportunities at MetaLab on March 9th. You won't want to miss this!
— WEDNESDAY 3/10 - ResMed —
Join us for an exciting look at the world of digital connected health and the awesome products designed to change lives and improve patient outcomes. Meet the UX team as they informally discuss a variety of topics: a product launch in response to the pandemic to help ventilation patients, life at ResMed, working with global team members, Q&A, and so much more!
— WEDNESDAY 3/10 - CXperts —
CXperts will introduce our co-founders, and you will hear about some of the work we do in digital experimentation and UX strategy & design. We pride ourselves in having a large community that shares unique designs. Our mission is to always supply our clients with the best work possible.
— THURSDAY 3/11 - ServiceNow —
For the ServiceNow virtual session you will learn how our fast-growing, global experience team is transforming enterprise and putting user-centered design at the core of our products. You'll learn what we do at ServiceNow, the many roles within our experience organization that drive our experience, and how we foster our thriving culture. We are excited to introduce you to the team and give a better understanding of the community we have at ServiceNow.
— FRIDAY 3/12 - Blink —
Blink is a user experience firm, inspired design that is informed by people. We use evidence-driven design to create products people use and remember. Join Blink, as we show you our company as a whole. We will be featuring special guests from each department to walk you through a day in the life at Blink. Learn about design, our experiences, company culture, and much more!