Discovering Possibilities is a conference for people with disabilities, family members, professionals, state, community & agency providers.
About this event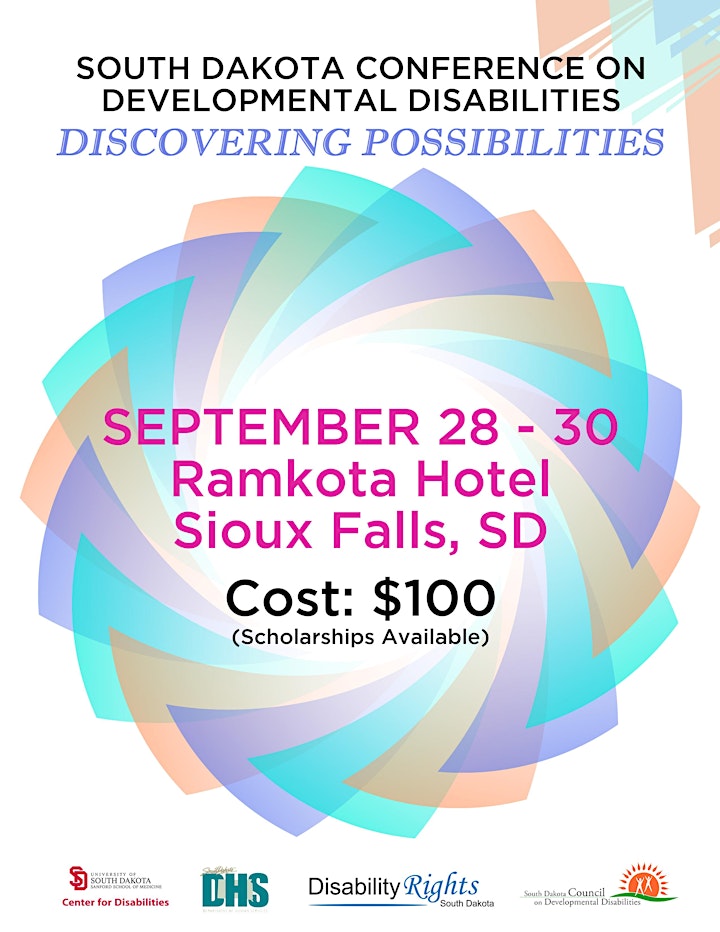 Join us for the first South Dakota Conference on Developmental Disabilities.
The theme of this year's conference is Discovering Possibilities and will focus on developing partnerships to improve the wellbeing of individuals with developmental disabilities in South Dakota. This is a joint effort across multiple agencies throughout South Dakota.
Over 25 sessions covering a variety of topics
the intersection between developmental disabilities and mental health
equity, diversity, inclusion
trauma informed care, addiction
telehealth, technology and the use of applications
building boundaries, managing grief, developing coping skills, applied behavior analysis
treatment concerns and collaboration with first responders
developing a Personal Profile using the Life Course materials
The conference is open to all and intended for people with disabilities, family members, professionals in the field of developmental disabilities (healthcare, education, mental health), state, community and agency providers.
The cost is $100 and will include a luncheon, breakfast, snacks and beverages.
Individuals with developmental disabilities and/or their family members are eligible to receive a scholarship for this conference. To get additional information or to register for a scholarship, please CLICK HERE
**If accommodations are needed, all requests are due by September 8th to guarantee services.
**Please register by September 8th.
Attendees are also welcome to join the Center for Disabilities' 50th Anniversary Celebration on Wednesday evening. Tickets to this event are available as a free add-on to your conference ticket.
**The Planning Committee, along with the Ramkota staff, are focused on ensuring the highest level of safety for conference attendees. The following safety protocols are available: hand sanitizing stations, masks and colored lanyards.
All attendees will be asked to identify their personal level of comfort with physical interaction(s), and will be given a color-coded lanyard so that each attendee may easily ascertain each other attendees' preferences.
• A black lanyard will indicate "comfortable with physical interaction, such as hand-shaking."
• A red lanyard will indicate "not comfortable interacting with less than 6 feet of social distance."