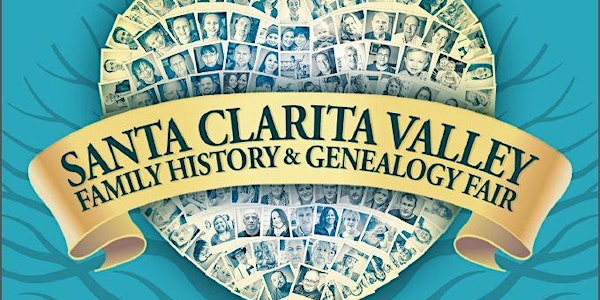 SCV Family History and Genealogy Fair 2020
Description
Due to the growing concern of Covid 19, we regretfully have been instructed to cancel the fair this year.
It is our hope that you will continue to look for ways to work on your family history research.
Many great resources can be found at FamilySearch.org
Join us for the Santa Clarita Valley Family History and Genealogy Fair
This free annual event is a wonderful opportunity to learn how to research and preserve your genealogy and family history. Both live and video presentations from experts and professionals in family history will help you discover tools and techniques for finding out more about your family tree and your ancestors.
Discover how to find names to add to your family tree


Learn new techniques to preserve your family legacy

Find out how to share your discoveries with others

Be inspired with new ideas
This event is free and open to the public
We welcome all who would like to learn how to better discover their family history. The day will consist of a number of workshops. The majority of the classes will be live with presenters recruited from the ranks of local experts in various areas of family history research. Others will be presentations by professional experts in family history and genealogy that come from Roots Tech 2019, the largest family history event in the world.
Whether you are a beginner and have never used the premier family history and genealogy tools at FamilySearch.org or are a bit more advanced, we are sure you will find something in our class offerings to help you in your research. For a list of presentations, please click here:

Handout Materials will be available for download after the classes are completed.
Lunch will be available
We will have box lunches available for purchase for $8.00 per person, payable the day of the event (cash only, please). Please let us know when you register if you would like to reserve a lunch ahead of time. There are also many options in the area if you want to go out for a bite to eat. You are welcome to come and go as you please.
Youth are welcome and invited to attend
All youth 12-18 are invlited to attend and develop their own skills doing family history research. It promises to be a day to build families.
A community event
Hosted by The Church of Jesus Christ of Latter-day Saints, the event is open to the public and all are welcome!
Registration and Tickets
While pre-registration here at this site is not required, if there is a class that you wish to attend that fills up, you will have priority admission to those classes if you have pre-registered. Please fill out your preferences on the order page when you register. Likewise, if you would like to purchase a box lunch on the day of the event, pre registering will help us make sure there is one available for you.
We expect registration to be available on about Feb 18, 2020, so please check back. If you would like notification when registration becomes available, please send an email to scvfamhistfair@gmail.com.
Organizer of SCV Family History and Genealogy Fair 2020