Scurvy Salon at The Interval: the History & Science of a Persistent Malady
Description
The Interval at Long Now presents
The Scurvy Salon at The Interval:
the History & Science of a Persistent Malady
A special group salon talk featuring:

Check-in begins 6:30pm; event start at 7:30pm
at The Interval at Long Now

Join us for a special night of short talks on the centuries-long efforts to understand and eradicate a disease of adventure that sadly persists in food deserts and developing nations.
Out of 184,899 men raised or rounded up for the war, 133,708 died from disease, primarily scurvy, while only 1,512 were killed in action. [...from the casualty list of British sailors in the Seven Years' War with France, 01763]
― Stephen Brown, Scurvy: How a Surgeon, a Mariner, and a Gentleman Solved the Greatest Medical Mystery of the Age of Sail

While it was identified by Hippocrates and the Egyptians as early as 1550 BC, the cure for Scurvy has been lost and re-discovered a number of times throughout modern history.
The story of scurvy is many things. A case study of the need for careful information preservation. A showcase of the challenges of scientific discovery. A quirk of human evolution...

For us it's also an excuse to invite back some of our previous Interval speakers for a night of short all new talks about the fascinating science and history of this disease.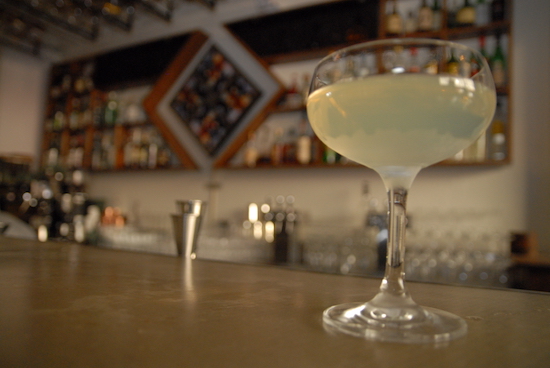 We'll have scurvy-healthy citric drinks from The Interval menu. And copies of some of our speakers' books will be on sale (Deep and We Have the Technology) if you'd like to get a signed copy.

A slightly different format and a great way to celebrate The Interval's 3rd anniversary this month. Here's a clip from our first talk ever, if you'd like to see how things have changed.

A near-fatal case of scurvy being the only reason I can imagine drinking something with grapefruit juice in it.
—James S.A. Corey, Caliban's War

Long Now members can view a free livestream of this event online. Join Long Now for access to live streams of our Seminars and Interval events.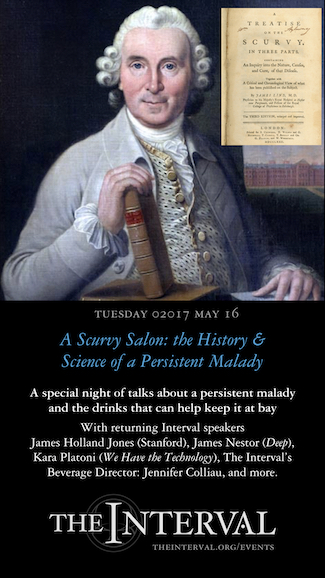 James Holland Jones is an Associate Professor of Earth Systems Science and a Senior Fellow at the Woods Institute for the Environment. His research projects combine themes from human ecology, infectious disease dynamics, social network analysis, and biodemography. These projects include: Climate Change, Mobility, and Infectious Disease; Ecology of Poverty; The Evolution of Human Life Histories; Behavior, Social Structure, and Infectious Disease Transmission; Demography of Violence; and Disease Ecology. He holds a Ph.D. in biological anthropology from Harvard.

James Nestor is a journalist and the author of DEEP: Freediving, Renegade Science, and What the Ocean Tells Us about Ourselves. His work has appeared in Outside Magazine, Men's Journal, Dwell, and The New York Times amongst many others. An inveterate adventurer, his work has taken him throughout Central America, the South Pacific, and even the Arctic Circle. His 02012 electronic book Half Safe: A Story of Love, Obsession, and History's Most Insane Around-the-world Adventure documents Ben Carlin's decade-long, around-the-world journey on land and by sea in the same vehicle. Watch a clip of his 02014 talk at The Interval.

Jennifer Colliau is Beverage Director of The Interval at Long Now and an award-winning bartender and authority on both classic cocktails and contemporary mixology. Her company Small Hand Foods was founded to revive century-old cocktail ingredients for today's bartenders. Small Hand Foods' line of hand-crafted bar syrups are now used in bars around the country. Jen has been interviewed in or written about cocktails and bartending for The New York Times, The Wall Street Journal, Wired, 7x7, Imbibe Magazine and many more. Her knowledge of ingredient history and food science is a key aspect of her bartending and bar program design.
Kara Platoni has a master's degree from UC Berkeley's Graduate School of Journalism, where she now teaches reporting and narrative writing. Previously she was a staff writer for eight years at the East Bay Express, an alt-weekly newspaper based in Oakland, and senior editor for the environmental magazine Terrain, a project of Berkeley's Ecology Center. Her book We Have the Technology: How Biohackers, Foodies, Physicians, and Scientists Are Transforming Human Perception, One Sense at a Time includes a section on The 10,000 Year Clock. Watch a clip of Kara's 02016 talk at The Interval.
Long Now members hear about Interval events first: become a member today