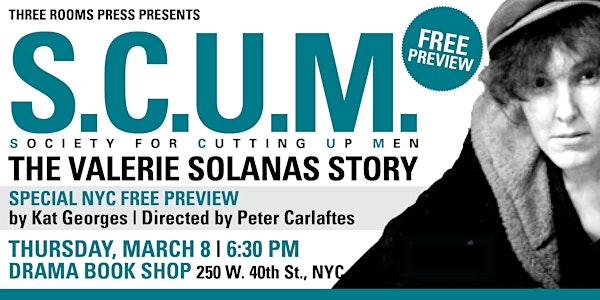 SCUM: The Valerie Solanas Story--FREE Preview
When and where
Location
The Drama Book Shop Inc 250 W 40th St #1 New York, NY 10018
Description
Catch a free preview of "S.C.U.M.: The Valerie Solanas Story," a radical new play by Kat Georges, at a staged reading on Thursday, March 8, 6:30 pm at Drama Book Shop, 250 W. 40th Street, New York. Admission is free with reservation.
NOTE: For tickets to the official NYC Premiere of SCUM on March 25 at Dixon Place Theater, please click here.
Solanas, author of the notorious S.C.U.M Manifesto—which foreshadowed the #metoo movement 50 years ago—shot and seriously injured famed pop artist Andy Warhol on June 3, 1968. The play brings her ideas front and center in a compelling juxtaposition with Factory "Superstars."
The play explores Solanas' radical views through the lens of a Factory "happening" featuring a cast of "Superstars," art critics, and outsiders. Call it "Waiting for Godot" on amphetamines: super-charged, multimedia, lights, cameras, action—an immersive experience that provides immediate proof of the impact and necessity of live theater. Furiously-paced and punctuated with slicing humor, whip dances, and anarchist ideals, "S.C.U.M." cuts through façades to capture the spirit and value of artistic imagination.
Cast members include Leah Bachar as Valerie Solanas, as well as Lois Kagan Mingus, Jane LeCroy, Jerry Goralnick, and Peter Collier.
A Three Rooms Press production, "S.C.U.M.: The Valerie Solanas Story," is the opening play in Georges' THREE SOMEBODIES: Plays About Notorious Dissidents (978-1-941110-54-6; Three Rooms Press; March 2018; $19.95), a trio of fascinating, cutting edge plays inspired by people who shook up the world—for better or worse. In addition to "S.C.U.M," the collection includes "Art Was Here," inspired by poet-pugilist and Dada godfater Arthur Cravan, and "Jack the Rapper," a mash-up of Jack the Ripper and T. S. Eliot. Copies of the book will be available at the reading for purchase and signing.
HIGH PRAISE FOR KAT GEORGES and THREE SOMEBODIES
"THREE SOMEBODIES is 3 spiked drinks which will take you places you've never been. Tangy and dangerous." —Dr. Larry Myers, playwright (Jack Kerouac: Catholic; Twitter Theater)
"Kat Georges hungrily devours love, politics, memory, sex, feminism and whimsy and transforms them into a muscular poetry . . . an homage—not an imitation—to that black humor both the Surrealists and Dadaists championed. . . . Georges can dance on reality's knife edge without becoming the sliding onion." —Ron Dakron, author, Hello Devilfish!, Hammers
"Georges' writing is urban and contemporary with humor in the mix." —Writing Thru It
"The works of Kat Georges pack a real punch. That's an understatement. I was reeled in by the energy and the layers of art apparent in each play." —Ashley Adams, author, teacher