Scrum@Scale® Practitioner

Wednesday, June 3, 2020 at 9:00 AM

-

Thursday, June 4, 2020 at 6:00 PM (WEST)
Event Details
Radtac Portugal is pleased to offer Scrum@Scale Practitioner Courses in select cities. Our expert trainers lived what they coach and worked alongside Jeff Sutherland and Scrum, Inc. at Toyota and a major oil and gas company during the initial Scrum@Scale rollout.


---

Why Scrum@Scale from us?
The Scrum@Scale Practitioner Course from Radtac Portugal covers standard Scrum@Scale fundamentals, its scale-free architecture, and uniquely weaves in interconnected lessons from the Science of Teamwork, High-Reliability Organizing, and the Cynefin Framework. Taken together, this holistic approach provides course attendees a deeper awareness of the factors that can limit organizational agility and how to overcome them. Seats are limited. Register today!


Who should attend?
This advanced Course is ideal for those who can truly influence change in their organization. Attendees should have experience with either Operational Excellence, Scrum, Agile, Lean, or People Operations (HR).
This advanced Course is focus to Entrepreneurs, Managers, Leaders and anybody with a leadership role inside their organization with Scrum practice:
Executive (CEO)
IT Executive (CTO, CIO, COO)
IT Manager
Project Manager
Product Manager
Team Leader
Technical Leader
Agile Coach
Scrum Master
Product Owner
What you will learn?
Scrum@Scale
In this highly interactive course, you will be taught to:

Facilitate cross-team collaboration and release planning with ten,
hundreds or thousands of people
Create and prioritize a transformation Backlog to overcome
impediments to scaling
Measure and improve key Scrum metrics at an Enterprise level
Twice the work in half the time without adding new teams
The Scrum@Scale® course teaches the responsibilities of the
Product Owner, individual Scrum teams, and enterprise leadership
in a variety of large-scale contexts.
There will also be multiple opportunities for participant-driven Q&A
sessions to explore Scrum@Scale in your context.
Real world case studies of the implementation of Scrum@Scale
Science of Teamwork
Identify and mitigate the factors limiting individual, team, and organizational performance

Learn the proven, known stable interfaces individuals need to come together as networks of high-performing teams, leaders, and organizations

Learn expert team planning and retrospective techniques

Foster psychological safety

Measure and improve team performance
Cynefin Framework
Apply lessons from the framework that's redefining how forward-leaning organizations make sense and decisions in VUCA operating environments

Apply basic Complex Adaptive Systems thinking to Scrum@Scale
High-Reliability Organizing
Create a generative culture

Anticipate threats and contain errors to help create a resilient organization
---


THE COMPONENTS OF SCRUM@SCALE FRAMEWORK



---

MEET THE TRAINERS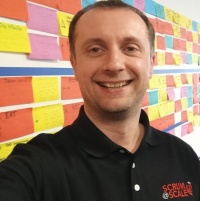 I'm a Business Coach, specialized in Scrum, Scrum at Scale, Kanban, Design Thinking and Lean Startup, helping European firms to uncover better ways of building products. Licensed Scrum Trainer, Certified Scrum@Scale Trainer, and Management 3.0 Facilitator.
Passion about Technology, Innovation, Mobile, Online Communities, Free Software, Events, Communication, Design, Marketing, Startups and Entrepreneurship.
I'm the author of Scrum for Hardware, the world's first significant publication of the topic.
It contains the stories of the pioneers of SCRUM for HARDWARE: from Wikispeed to the first "Global Scrum for Hardware Gathering", the "Agile Product Charter", and it's divided into two parts: one contains the stories, the other one presents the method with practical examples and case studies.
The book, released under the creative commons license BY-SA, is sold worldwide on Leanpub and Amazon and includes the foreword by Joe Justice, founder of Wikispeed and inventor of eXtreme Manufacturing and it's being endorsed twice on Twitter by Jeff Sutherland, co-author of Scrum.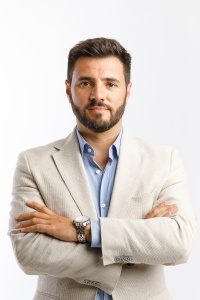 Hugo loves teaching and consulting in Agile, Lean and DevOps, using new governance approaches and Agile practices to change the traditional business model. For the last 10 years, he has been an enthusiastic and versatile Agile Learner all over Europe, and in 2014 he founded the successful conference Scrumday Portugal, now eXperience Agile conferences (eXperience Agile & DevOps, World Agility Forum and Agile Human Factors).
Hugo is also an Accredited Certified Trainer of DevOps Institute, Developments Agile Skills Association, Lean Kanban University, Project Management Institute and International Business Analysis Institute, and he is also a trainer in programs such as CBAP, PMP, RMP, ACP, COBIT, ITIL, Design Thinking, Leadership, Lean Kanban, SAFe, LeSS, and Scrum.
He was a marine in the Portuguese Navy, and his focus in adventures still holds today: he rides his motorbike, and has surfing and paddling as hobbies.


---
ABOUT THE CERTIFICATION


Attendance and participation across the two days will make you eligible for the Certified Scrum@Scale® Practitioner online examination. You will receive access to the online portal to register for the examination shortly after completion of the course. The certification includes a two-year membership at Scrum@Scale, where additional material, case studies and information are available.


PREREQUISITES


Ideally, attendees will have taken a Certified ScrumMaster course, or be thoroughly familiar with Scrum introduction materials, such as the Scrum Guide. They should also have experience in practicing Scrum. In order that you get the most from your training, we recommend that you read the Scrum@Scale guide before attending the course to familiarize yourself with the framework.


COURSE MATERIAL


Participants will receive printed material on the first day of class. The material is in English. The material will be enhanced by more slides, videos and other pictures in case the trainer find this useful during class. The class is delivered using Scrum itself, so the teaching backlog will adapt in response to students feedbacks.
---


Certifications, SEUs, PDUs
Upon completion of this course and the official Scrum@Scale exam, Scrum Inc. will provide a Certified Scrum@Scale™ Practitioner certificate signed by the creator of Scrum. The Scrum Alliance has also approved Scrum@Scale as a Continuing Education course. You can get up to 16 Category B Scrum Education Units (SEUs) in addition to 16 Project Management Institute PDUs by participating in our two-day course. Seats are limited. Register today!
---
ABOUT SCRUM FOR HARDWARE
Discover the SCRUM for HARDWARE pioneers: from Wikispeed to the first Scrum for Hardware Gathering and the Agile Product Charter. The book include a foreword by Joe Justice and is divided in two parts: the first one composed of stories and the second one with a methodological description and practical examples. Participants of the course will receive a free copy of the book.
SCRUM FOR HARDWARE ENDORSEMENT
«This book is the first significant publication on the topic, the most complete and
authoritative. If the Agile transformation of the Software industry has any parallels
outside software, and if the current client adoption rate is any indication, this book
will be the reference for executives, shop floor managers, and team members
globally.»
Joe Justice, Creator of Scrum for Hardware and eXtreme Manufacturing
---


FAQs
Do I need to have experience to attend?
This is an advanced Scrum course where attendees should be familiar with the Scrum Guide, Agile Manifesto, and have a basic understanding of teams.
What do I wear?
Wear what makes you feel comfortable while trying not to make others uncomfortable. We will be in jeans and golf shirts.
Will food be provided?
Yes, coffee breaks and lunch will be provided.
Are there ID or minimum age requirements to enter the event?
The course is open to anyone age 18 and up.
Do I need to bring a computer to the event?
No. Personal computers are not necessary. All course material will be provided.
How can I contact the organizer with any questions?
Use ptoffice@radtac.com.
What's the refund policy?
No refunds. If this is a concern, plese contact us.
Can the course be postponed/cancelled?
We reserve the right to postpone or cancel this course if there are insufficient registrations. If this is the case, you will be notified between 3 and 5 working days before the course start date. In this case, you will be offered an alternative date or a full refund. We will not be responsible for any other costs incurred.
Are there discounts for groups?

Yes, if you have a group contact us for a discount.

All trademarks mentioned are the property of their respective owners.
Save This Event
When & Where

Hotel Tryp Lisboa Aeroporto
Rua C, Número 2 - Aeroporto Internacional de Lisboa
1749-125 Lisboa
Portugal


Wednesday, June 3, 2020 at 9:00 AM

-

Thursday, June 4, 2020 at 6:00 PM (WEST)
Add to my calendar
Organizer
Portuguese entrepreneurs dedicated to change and improving through people. A revolutionary way in bringing together great speakers, cutting-edge Agile practices and exciting learning opportunities.