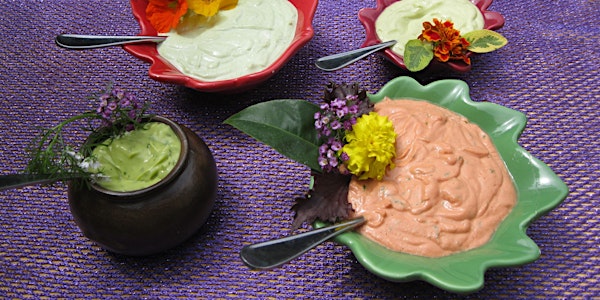 Scrumptious Sauces
Want to add pizzazz to your meals while enhancing nutrition? Master the art of making scrumptious, healthy sauces, bursting with flavor!
Refund Policy
Contact the organizer to request a refund.
Eventbrite's fee is nonrefundable.
About this event
Do you love the satisfying experience of eating a luscious, delectable sauce, but want to avoid the unhealthy ingredients that typically make such sauces so tasty? Let Rev. Chef Beth show you how!
Whether savory, sweet, spicy, creamy, chunky, thick or thin, most sauces get much of their flavor from a combination of three substances that have deleterious effects on health: Salt, Sugar, and Fat (especially animal fat and/or vegetable oils). But there is another way! You can enjoy the sauces you love and simultaneously take excellent care of your body.
It's a Win/Win/Win! Great taste, superior nutrition, and food that is sustainable and just for the Earth and all her inhabitants!
In this interactive online class, Rev. Chef Beth Love will share tips and techniques for avoiding unhealthy foods and incorporating nutrient-rich ingredients in a variety of sauces for dipping, pouring, smearing, and spooning. Learn to make four or more delightful, nutritious sauces. No sacrifice is needed with Chef Beth's wholistic approach!
With Guest Expert Sandi Rechenmacher, Nutrition Consultant and PCRM Food for Life Instructor.
In This Class, You Will:
Gain information about the health benefits of utilizing whole plant foods in your sauces,
Learn how to use vegetables, herbs, nuts, seeds, and fruits to amplify nutrition and tastiness,
Discover techniques for creating delicious sauces without reliance on added salt, sugar, or fats,
Observe a master chef in action,
Obtain recipes for four or more tasty sauces,
Learn about Whole Food, Plant-Based nutrition,
Get inspiration,
Enjoy connecting in community, and
Have a chance to get your questions answered.
Class Offered on a Donation Basis.
Choose the ticket price that is right for you, or choose the donation ticket to indicate an alternate donation of any amount.
All Proceeds Benefit Eat for the Earth.
Rev. Chef Beth Love of Tastes Like Love is offering a series of online food and nutrition classes for Eat for the Earth. In this series, you will learn to prepare food that is healthy for your body, environmentally sustainable, and compassionately produced. Each interactive class provides instructions, demonstrations, techniques, tips, and more! All foods created in the classes are delicious and nourishing Whole Food Plant-Based, and SOS-Free (free of added salts, oils, and sugars).

About Rev. Chef Beth Love:
Rev. Chef Beth Love is the author of the Tastes Like Love book series. A gifted speaker, facilitator, teacher, and ordained New Thought minister, Beth has motivated and educated people in diverse contexts such as nonprofit organizations, schools, churches, businesses, and the California State Prison system. She has inspired large and small audiences, in-person and through radio and television, from local community TV to the Oprah show.
Rev. Chef Love delights in helping people to create amazingly delicious and deeply satisfying foods that please the palate, nourish the body, demonstrate compassion for animals, and have a light footprint on the earth. Due to her concern about the contribution of animal agriculture to climate change and other environmental issues, she started Eat for the Earth, a movement that partners with institutions to adopt policies and practices that make it easier for people to eat more plants and less animal products to sustain all life on earth. Learn more and find out how you can get involved at EatForTheEarth.org.
About Guest Expert Sandi Rechenmacher:
Nutritional consultant, whole foods plant based chef, and a 10-year veteran PCRM* Food for Life instructor, Sandi Rechenmacher, has been following nutrition science for the past 40+ years. Former owner of a natural foods store in the 70's, Sandi's passion to deliver quality foods to her customers presents itself currently through her dedication of exposing marketing hypes and faulty science to her clients/students who ALL DESERVE to know how to attain optimal health and wellness as designed by Mother Nature.
With degrees in education, nutrition science, holistic health, herbs, and diabetes education, Sandi has taught nutrition in Santa Cruz schools from kindergarten through college level. She has delivered whole food plant based presentations to the Santa Cruz School Board, Corporations in Silicon Valley and Santa Cruz County, including a variety of wellness fairs. Her writings include Garden & Kitchen Notes for the California Grey Bears of Santa Cruz and chapters in numerous books. Since 2008 she has conducted PCRM Food for Life classes in Santa Clara and Santa Cruz counties and on St. John (VI). In 2018 she prepared and enjoyed a whole food plant based luncheon with President Jimmy and Rosalynn Carter in their home in Georgia.