Scrumptious Chef 9th Anniversary Party New Orleans Creole Gumbo Pop Up
Description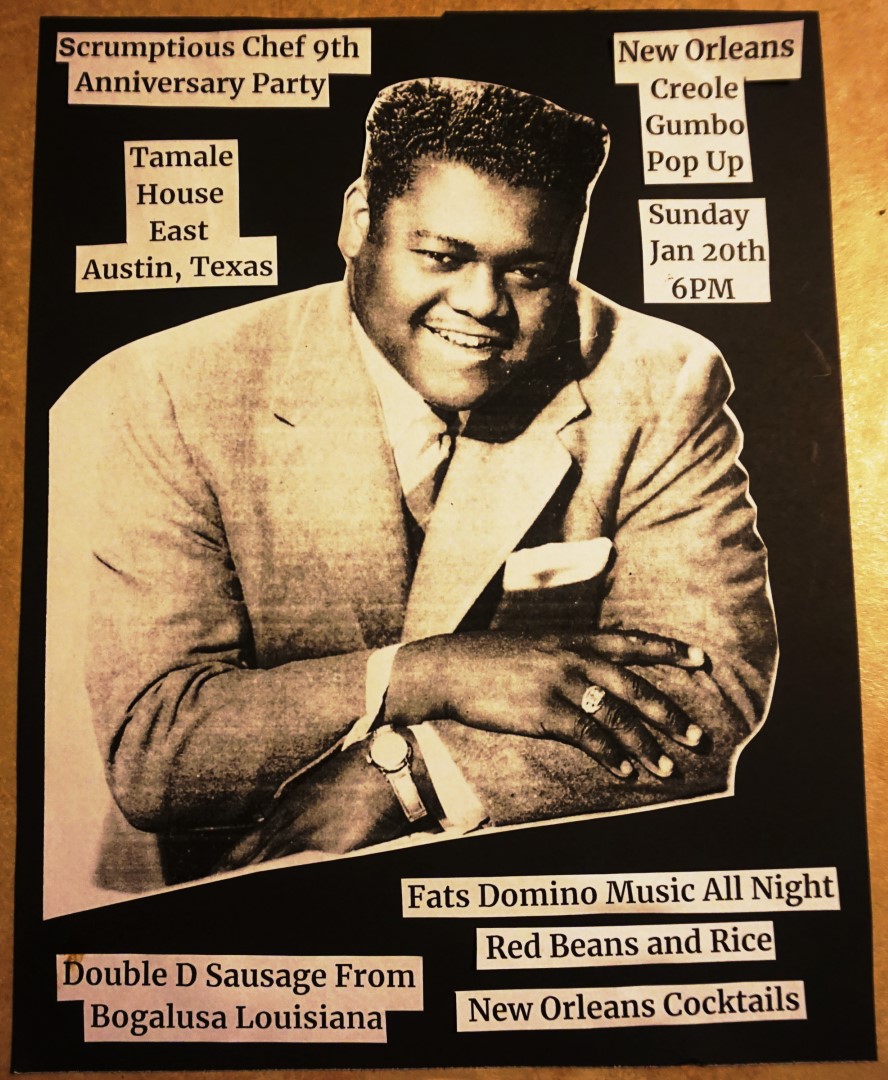 Update: Online ticket sales end at 12:30pm today (Sun Jan 20th 2019) tickets will still be available at the door tonite.

For the past five years I've been on a tour through professional kitchens and households across my neighborhood in New Orleans 9th Ward to see if I could possibly crack the code on New Orleans most treasured dish: gumbo.

On Sunday January 20th at 6pm the Scrumptious Chef cooking team will be putting these years of research to good use in the Tamale House kitchen in East Austin, Texas as we host our sprawling 9th anniversary gumbo party pop up.
It will be the best kettle of gumbo ever served in the great state of Texas.

We'll be serving hot bowls of New Orleans 9th Ward gumbo as well as red beans with smoked sausage, and pineapple bread pudding with New Orleans rum sauce.

We're smuggling a 20lb bag of rice from Crowley, the rice capital of Louisiana, and 40lbs of pecan smoked Double D sausage from Bogalusa, Louisiana on our trip into Austin. This is real Creole food cher.

We'll have a little lagniappe for early arriving guests, and Tamale House will feature a New Orleans-themed cocktail menu for purchase

9th Ward legend Fats Domino's Imperial Records singles box set will be on the hi fi.
Don't get there too late; we'd hate for you to not get fed
RL Reeves Jr
Food payment accepted: cash/check/Paypal

$13 Gumbo
$13 Red beans and rice
$5 Bread Pudding
$8 Cocktails
$5-$8 Beers
The Fine Print:
$5 Eventbrite ticket fee (minus any sales tax) will be applied towards your food bill the night of the party. $5 credit not applicable towards alcohol. No refunds for no show.
Thanks and look forward to seeing y'all

http://www.scrumptiouschef.com/
Organizer of Scrumptious Chef 9th Anniversary Party New Orleans Creole Gumbo Pop Up