Scrum.org Professional Scrum Master PSM II - Live Online Feb 1-3, 2022
Event Information
Refund policy
Refunds up to 7 days before event
Eventbrite's fee is nonrefundable.
Official Scrum.org Professional Scrum Master PSM II Advanced Workshop. With PSM II Certification Live using Zoom 3 part-time days.
About this event
Advanced Professional Scrum Master with PSM II Certification
February 1-3, 2022
8:30 am - 2:00 pm PST Los Angeles Time Zone
11:30 am - 5:00 pm EST New York Time Zone
About the Course
Relieve pain and make heroes of your Scrum Team and Product Owner, and learn how to help your organization.
The Professional Scrum Master II (PSM II) course is an advanced Scrum Master class designed by Scrum Masters for Scrum Masters to support them in their professional development. After the class, students are eligible for the PSM II assessment certification. If you pass the assessment, you will gain the industry-recognized PSM II certification. This certification will NEVER expire, and it makes you part of an elite community of PSM II badge holders worldwide.
This course will help you understand the stances that characterize an effective Scrum Master and servant-leader while diving deep into how they serve the Scrum Team, Product Owner, and organization. You will also have an opportunity to experience new tools and techniques helpful in facilitation, coaching, and teaching as well as share your experience with peers.
Note about payments: we accept all major credit cards. If you wish to pay for the course by check, please send an email to scrumoninfo@gmail.com. We also offer discounts for 3 or more people. Contact us at scrumoninfo@gmail.com.
Three shorter-day class schedule
What is the difference between a two-day class (whether in-person or virtual) and a three-day virtual class?
We cover ALL the same materials, and the class is consistent with the high-quality standards set by Scrum.org. Because the class is delivered virtually, many students appreciate the shorter days. At the end of the four days you receive:
The same high-quality content;
A manageable schedule that creates higher engagement and learning for you;
An opportunity to accommodate other commitments you might have at home or at work;
Zoom and Mural will be used to facilitate the activities. You'll receive a wealth of materials and dozens of techniques you can take back and use with your Scrum Teams right away to be an effective Scrum Master.
Who Should Attend
The advanced Scrum Master course is ideally beneficial for those with 1 year of active experience or more in the role.
While it is recommended, you do not have to have a PSM I certification or have attended a PSM I class beforehand. Your hands-on experience as a Scrum Master and strong knowledge of Scrum is a must to get the most out of this course.
What's included with the class?
Up to 2 free PSM II exam attempts (if you don't score at least 85% on your first attempt at the PSM II assessment within 14 days after the course, you will be provided with a second free attempt);
All materials, exercises and posters used in the course in digital format, which you can use with your Scrum Teams;
40% discount on PSM III exam after passing the PSM II assessment;
14 PDU credits for course attendance with Project Management Institute;
16 SEU credits (C category) for course attendance with Scrum Alliance.
Tell me more, what should I expect?
Over the 4 sessions, students will learn about areas critical to growing as a successful Scrum Master such as how the principles and values of Scrum help guide Scrum Masters in the decisions they make and how the Scrum Master can help change the environment of Scrum Teams, creating an environment for agility to thrive. The Scrum Master role is complex and often, a Scrum Master must be able to apply different stances in order to be effective, such as:
The Scrum Master as a Teacher
The Scrum Master as a Coach & Mentor
The Scrum Master as a Facilitator
The Scrum Master as a Change Agent
As a Scrum Master, being able to identify, and effectively apply, which stance would benefit your team the most depending on the situation or circumstance could prove to be the key to the success of your team.
As a Scrum Master, part of your role is to help management and other stakeholders across your organization understand the benefits of Scrum and Agile. Therefore, it is imperative that you have the information and background that is needed to gain credibility in order to be an effective change agent. Throughout the class, your PST will provide stories, exercises, facilitation techniques (such as "Liberating Structures"), resources, and more.
A computer with a webcam and audio is required for this online course.
Course Objectives
What practices, tools, skills, and stances make an effective Scrum Master
How the Scrum principles and values help guide Scrum Masters in the decisions they make
How the Scrum Master acts as a servant-leader and improves their ability in this role
What the Scrum Master can do to support Development Teams and Product Owners to become more effective
Ways that the Scrum Master can help to change the environment making it more conducive for Scrum Teams to be successful with greater agility
Provide tips and techniques for the Scrum Master to work with the rest of the organization in support of their Scrum Teams
About Your Trainer
This course will be facilitated by Chris Belknap - Professional Scrum Trainers (PST)
Scrum.org maintains a defined curriculum for the Professional Scrum courses and selects only the most qualified instructors to deliver them. Each Professional Scrum Trainer is a practitioner and brings their experiences and areas of expertise to bear, but all students learn the same core course content. This consistency and quality help students effectively apply Scrum in their organizations
What students say about Chris' courses:
Wow! Incredible teacher, fantastic content. Huge paradign shift! Scrum on!
Chris helped me gain a much stronger & more accurate understanding of the Scrum framework! The class was scheduled in the evening, which worked with my work schedule, too. The content was engaging, and well thought out. It included resources for Scrum Masters to function in this increasingly remote world. Before this class, I had MAJOR misconceptions on what was & was not "scrum" and Chris's teachings offered a welcomed paradigm shift from those ideas. He also offered reading material recommendations for improving one's Agile mindset & practices, which have been extremely useful. 5 Stars, all the way. Scrum On!
A Great Course and Coach!
A great course, led by a great coach! I've been "practicing" Scrum for several years, but as Chris stated in the beginning of this class...some of us found ourselves unlearning what we thought we knew, and absorbing the proper Scrum guidelines! I highly recommend this class, and Chris!
Confidence Booster!
One of the things that this class teaches you is how to become a more effective Scrum Master and servant-leader by working through challenging exercises. You learn how Scrum principles and values guide the decisions you make while serving the Development Team, PO, and the organization. I left more confident than ever knowing that I am applying Scrum in the way it was intended. I also really liked learning about different ways of interacting by utilizing Liberating Structures. I can't wait to introduce some of the things I learned in this class to my Team
The Best training class I have ever taken
Chris Belknap's Professional Scrum Master (PSM) training class is the best training class I have ever taken and Chris is the best instructor I have ever had. This is THE training class to take if you want to become a certified Professional Scrum Master.
Why Scrum.org?
Scrum.org is run by the co-creator of Scrum, Ken Schwaber. He also maintains the Scrum Guide. The organization is run by folks who eat, sleep and breathe Scrum and it shows in the carefully crafted curriculum and examinations.
It ain't easy. Your Scrum.org certification will hold more credibility with employers because you don't receive it automatically after taking a course. You must pass the certification exam. Your PSM training gives you an excellent shot at achieving certification.
Once you receive a Professional Scrum certification by passing the assessment, you keep that certification and remain listed on our website as being a Professional forever. You do not need to retest as you have already proved your knowledge, nor do you need to pay additional money to retain that certification.
Scrum.org's courseware is uniform and rigorously updated and fine-tuned to ensure every participant receives valuable and actionable training from Professional Scrum Trainers. To be clear, uniform doesn't mean boring! It means quality!
Scrum On LLC Cancellation Policy
In order for us to provide a superior classroom environment, we must ask you to adhere to our cancellation policy. If it is necessary to cancel, transfer or reschedule this registration, please notify us immediately at scrumoninfo@gmail.com.
Our cancellation policy is as follows:
You may transfer your course ticket to another student prior to the start date of the course at no additional charge. You must let us know about the transfer before the course start date.
Refunds up to 7 days before the course start date. Eventbrite's fee is nonrefundable
7 days from the start of a course, you will not be eligible for any refund, but may transfer to a future course if space permits.
Notice: We do everything we can to not cancel a course. If a minimum of eight students do not register for the course, the course may be canceled at the discretion of the instructor. In the event that we cancel a course due to low enrollment, you will be notified of the cancellation at least 14 days prior to course start date, and we will provide a full course refund including the Eventbrite fee.
If a course is canceled due to extreme weather conditions, we will reschedule the course to a later date, and give you the option to attend the rescheduled course or a one-time transfer to another one of our courses at no additional fee.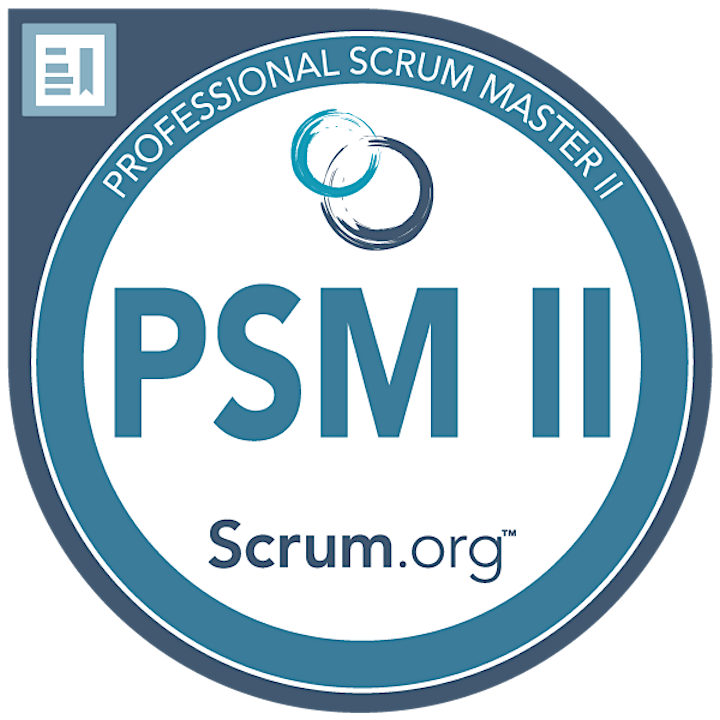 Date and time
Location
Refund policy
Refunds up to 7 days before event
Eventbrite's fee is nonrefundable.
Organizer of Scrum.org Professional Scrum Master PSM II - Live Online Feb 1-3, 2022
Chris Belknap is an Agility consultant providing Agile coaching, training and consulting in the Greater Boston and Seacoast New Hampshire area. He is one of the 270 worldwide Professional Scrum Trainers (PST) for Scrum.org, and a Scaled Agile Framework (SAFe) Program Consultant (SPC).
View my public profile and student reviews.
For the past 4 years Chris has served as an Enterprise Agile Coach and transformation leader at Liberty Mutual Insurance, coaching and training multiple Scrum, Kanban and XP teams and leaders, including managers and C-level executives. Prior to that he was involved in Agile transformations as Technical Project Director at Unum and IT Director of Software Development at Fidelity Investments.
Having dedicated his entire career to software craftsmanship, Chris has been working with Scrum for over 12 years, and has extensive experience working as a software developer, Scrum Master, Project Manager, and IT Director. He also has several years of experience delivering large scale web and mobile based applications, and leading and developing onshore and offshore software development teams.
Chris holds an MBA from Southern New Hampshire University and a BS from Bryant University. He is currently a part-time instructor at the University of New Hampshire, and in the past has served as a computer science instructor at the University of Massachusetts, Lowell.