Scrum Patterns Training - Cesario Ramos & James Coplien

Tuesday, March 24, 2020 at 9:00 AM

-

Wednesday, March 25, 2020 at 5:00 PM (CET)
Event Details
Putting Scrum into practice with James Coplien and Cesario Ramos. Join the exclusive Scrum Patterns course in Amsterdam on March 24-25 2019. 
Learn how to build your Scrum Team; your Product Organization and your Value Stream. This course provides Scrum Patterns for you to use in your daily work to grow your Scrum. This Scrum Pattern Course is a 2-day course for putting the Scrum framework into practice. Create successful products, happy customers and highly-effective organizations.
ABOUT THE BOOK A SCRUM BOOK
The Scrum Patterns are developed in the field and curated over 10 years by distinguished authors like Jeff Sutherland, James Coplien, Cesario Ramos and many more, they are an indispensable treasure for any skilled Scrum practitioner.
The book is written over the last 8 years by a mix of practitioners and academia, ranging from the creator of Scrum and Agile Manifesto authors, to professors, practitioners, and certified trainers. The authors are from Australia, Japan, USA, Denmark, United Kingdom, The Netherlands, Finland and Portugal and include the likes of Jeff Sutherland; James O. Coplien; Lachlan Heasman; Mark den Hollander; Cesário Ramos; Esther Vervloed; Neil Harrison; Kiro Harada; Joseph Yoder; June Kim; Alan O'Callaghan; Mike Beedle; Gertrud Bjørnvig; Dina Friis; Ville Reijonen; Gabrielle Benefield; Jens Østergaard; Veli-Pekka Eloranta; Evan Leonard and Ademar Aguiar. 
All participants of the course get a copy of the book.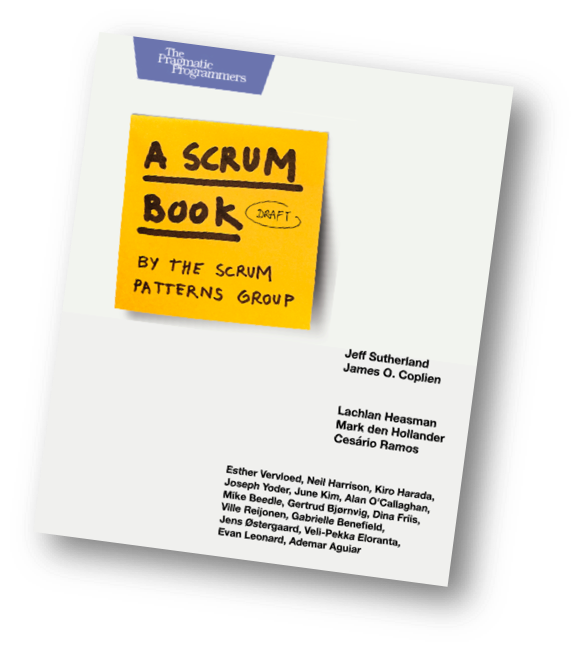 WHO SHOULD ATTEND A SCRUM COURSE
A Scrum Course is for anyone who is involved in small or large scale Scrum adoption. Above average Scrum knowledge is expected and required. This can be achieved by having experience in Scrum transformations, attending a Certified ScrumMaster course, Professional ScrumMaster course and by thoroughly reading Scrum introduction material such as the Scrum Primer and practicing Scrum.
AGENDA
In this two day training the following topics are discussed:
Scrum Patterns Principles & Fundamentals

Fundamental Pattern Theory

Patterns and Systems Thinking

How to use Scrum Pattern Languages & Sequences.

How to use Scrum Patterns?

Using Scrum Patterns to develop a Scrum Team.

Building your Product Organisation

More Systems Thinking

What is a Scrum Product Organization?

Using Scrum Patterns to improve your Organization

Building a Scrum Master

Building Your Value Stream

A Scrum Value Stream

Improving your Value Stream

Building a Product Owner

Expert Q&A
Save This Event
When & Where

Amstel Boathouse
Amsteldijk 223
1079 LK Amsterdam
Netherlands


Tuesday, March 24, 2020 at 9:00 AM

-

Wednesday, March 25, 2020 at 5:00 PM (CET)
Add to my calendar