Scrum Patterns Training - Ademar Aguiar & Cesario Ramos

Friday, November 29, 2019 at 9:30 AM

-

Saturday, November 30, 2019 at 5:30 PM (WET)
Event Details
As part of finishing our Patterns book, ScrumPlop offers a special edition of the Scrum patterns course to share all about the Scrum patterns we collected over the last decade or so.
Ademar Aguiar and Cesario Ramos will teach the course in Amsterdam on November 29-30 2019. 
about the trainers
Cesario Ramos
Cesario works as an organisational design consultant & product development coach for numerous companies worldwide. He is also a Certified LeSS Trainer in and a certified Professional Scrum Trainer from Scrum.org. He served as lead Agile coach at companies like ING, Raiffeisenbank, Powerhouse, NN, Thales and many others. 

In the past Cesario was the CTO at codecentric NL, a product manager at Atos, lead agile consultant at Xebia, a hard-core developer and the lead software architect at PANalytical. 
Over the years Cesario published numerous papers on Agile development, is the author of the book 'EMERGENT – Lean & Agile adoption for an innovative workplace' and co-author the book 'A Scrum Book'. He is a frequently invited keynote speaker at conferences around the world and organizer of the international Large Scale Scrum (LeSS) conferences.  
Ademar Aguiar
Ademar was an early adopter of lightweight methods in 2000, and has been training others to fine-tune their processes, in academy and industry. Ademar started the Agile Portugal conferences and related events, to develop the Agile community in Portugal.
He is a co-author of "A Scrum Book - the Spirit of the Game" (2019) a result of the work at ScrumPLoP's, identifying and documenting proven practices of Scrum, to uncover the "why's" and "how's" of successfully adopting and implementing Scrum. 
Ademar is a pragmatic software engineer, teaching software engineering, agile methods, and software design. He is also a Professor at Faculty of Engineering of the university of Porto, a researcher at INESC TEC, and co-founder of tech ventures, Presently, he serves Hillside Group as board member, and the steering committees of XP Conferences and conferences. He was General Chair of XP 2018 and will be the General Chair for 2020.
ABOUT A scrum book
The book is written over the last 8 years by a mix of practitioners and academia, ranging from the creator of Scrum and Agile Manifesto authors to professors, practitioners, and certified trainers. The authors are from Australia, Japan, USA, Denmark, United Kingdom, The Netherlands, Finland and Portugal and include the likes of Jeff Sutherland; James O. Coplien; Lachlan Heasman; Mark den Hollander; Cesário Ramos; Esther Vervloed; Neil Harrison; Kiro Harada; Joseph Yoder; June Kim; Alan O'Callaghan; Mike Beedle; Gertrud Bjørnvig; Dina Friis; Ville Reijonen; Gabrielle Benefield; Jens Østergaard; Veli-Pekka Eloranta; Evan Leonard and Ademar Aguiar. 
All participants of the course get a copy of the book.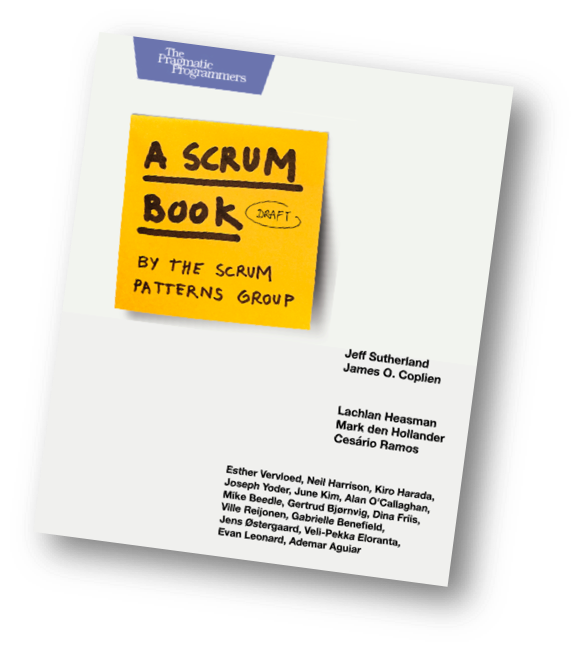 WHO SHOULD ATTEND A SCRUM COURSE
A Scrum Course is for anyone who is involved in small or large scale Scrum adoption. Above average Scrum knowledge is expected and required. This can be achieved by having experience in Scrum transformations, attending a Certified ScrumMaster course, Professional ScrumMaster course and by thoroughly reading Scrum introduction material such as the Scrum Primer and practicing Scrum.
AGENDA
In this two day training the following topics are discussed:
Scrum Patterns Principles & Fundamentals

Fundamental Pattern Theory

Patterns and Systems Thinking

How to use Scrum Pattern Languages & Sequences.

How to use Scrum Patterns?

Using Scrum Patterns to develop a Scrum Team.

Building your Product Organisation

More Systems Thinking

What is a Scrum Product Organization?

Using Scrum Patterns to improve your Organization

Building a Scrum Master

Building Your Value Stream

A Scrum Value Stream

Improving your Value Stream

Building a Product Owner

Expert Q&A
Save This Event
When & Where

Hotel Dom Henrique
Rua do Bolhao
Porto
Portugal


Friday, November 29, 2019 at 9:30 AM

-

Saturday, November 30, 2019 at 5:30 PM (WET)
Add to my calendar