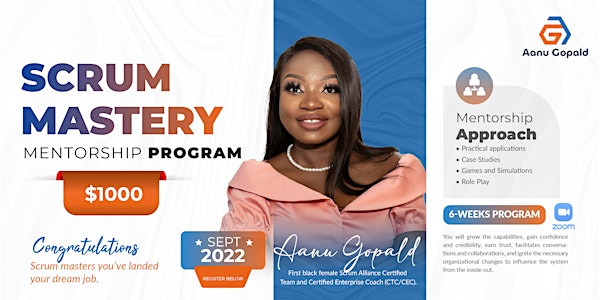 Scrum Mastery Mentorship Program
Grow the capabilities, gain confidence and credibility needed to be BEST change agent to your team & organization.
Refund Policy
Contact the organizer to request a refund.
About this event
Congratulations new scrum masters you've landed your dream job.
Yay you did it!
But the question that keeps lingering in your mind is HOW and WHERE do I START? How do I develop the right mindset, competencies, and the capabilities to enable a culture where my team(s) can flourish?
Or you might have been doing it for years but need help in mastery your crafts, honing your skills to demonstrate the competencies and the value you bring to your team(s) and organization.
Hmm And many MORE How questions!
Take a deep breath! I got your back!
At the 6 weeks Scrum Mastery Mentorship Program :
You will explore your perspectives, beliefs and behaviors, discover a previously unknown strength, and tap into your unique potentials
You will learn how to transform team of experts into an expert team.
You will understand how to focus each engagement with presence and awareness, listen for the team(s) needs, be intentional about your impacts, and help move challenging situations forward.
Understand the value you bring to your teams/organization.
Bridge the gap between your demonstrated skill and the skill required at your next level of credentialing.
Walk away with the new learning, new knowledge, tools, and confidence needed to productively coach your teams, leaders, and others in the organization.
You will grow the capabilities, gain confidence and credibility, earn trust, facilitates conversations and collaborations, and ignite the necessary organizational changes to influence the system from the inside out.
The Learning Journey Offers:
• Pre-work
• Interactive adult learning methods
• Social learning
• Post program activities and support.
Who Should Register?
• Newbies (New Scrum Masters)
• Experience Scrum Masters
For more information contact aanu.gopald@gmail.com