Description
Introduction
Learn the secrets to nurture Agile organizations and how to work on self-development to become an effective Agile Leader in this two-day Certified Agile Leadership℠ course.
What is an Agile Leader?
Since 2001, tens of thousands of leaders all around the world have been creating workplaces in the spirit of the Agile Manifesto. These workplaces were initially most evident in software development. But Agile leadership is now spreading to all parts of the organization and across all sectors of the economy, particularly as software itself has become a key driver of business success. Agile leaders are not just tinkering with the management practices that were once successful. They are creating something different — workplaces with a culture of agility and with Agile values, practices, and metrics.
An Agile leader...
Operates effectively amid uncertainty, complexity, and rapid change

Is knowledgeable about Agile values, approaches, and practices

Surfaces more creative solutions through increased self-awareness, a growth mindset, and engaging others

Aligns and empowers teams toward delivering more customer value

Personally integrates feedback and experiments, and adapts their ways

Takes a collaborative continuous improvement approach to organizational effectiveness

Catalyzes change in others and facilitates organizational change
Audience
Executives, middle management, and other leaders with organizational influence.

Leaders who support, lead, or interact with Agile teams.

Scrum Masters / Agile coaches

Any leader sponsoring, requesting, or involved with an Agile adoption within their organization
What you will learn
Understand context & complexity of Agile

Catalyze and facilitate organizational change

Discover personal dimensions of leadership

Align and empower teams

Understand collective dimensions of leadership

and more...
Content Outline
DAY ONE
Context of Agile

Leadership development in "The leader's Dancefloor"

Complexity

Collective dimension of leadership

Organizational culture

Organizational Structure

Agile processes
DAY TWO
Leadership Stiles (The leaders within you)

Leading organizational Change

Personal dimension of leadership

Interacting as a leader

Acting as a leader

Being a leader
Duration
2 full days (16 hours).
Certification
After successfully completing this course, participants will be entitled to take the online exam to obtain the Certified Agile Leader certification from the Scrum Alliance, plus a two year paid membership.
Trainer

Angel Diaz-Maroto

Angel is a very energetic Agile coach who truly enjoy challenges. Putting in place Lean and Agile concepts and practices in very complex environments is my specialty and passion. As as an Agile coach, trainer, and mentor, he's supported several multinational organizations in their Agile journeys in the last 10 years.
During his 18+ years of experience in IT Angel has worked in various roles: Agile coach, R&D manager, software developer, software architect, ScrumMaster, and trainer. Angel is a CEC (Certified Enterprise Coach by the Scrum Alliance), a Management 3.0 licensed trainer. Additionally, he teaches video game production at ESNE (University of Design, Innovation and technology) and Design Thinking at LaSalle University. Angel is also a frequent speaker having participated in more than 40 international conferences and Agile events in Europe, Asia and the Americas.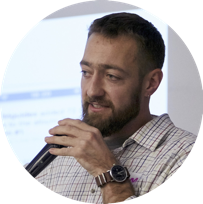 Kirill Klimov
Kirill Klimov is a generalising specialist in building human systems using modern management frameworks (Agile/Lean/Kanban), so that companies can deliver maximum value to their customers, and employees have a meaningful enjoyable professional life.
In the past, Kirill wore different hats – web developer, servers and networks engineer, project manager, general manager, people manager, consultant, trainer, and coach primarily within e-commerce and travel. Most of his professional career Kirill spent with distributed teams in this or another way. He started and was in charge of offshore development office of an international company in Kiev, Ukraine.
Kirill makes Agile transformations and adoptions in large distributed projects and small teams since 2008.
Kirill holds a mix of different certifications from various institutions; he is actively involved in the life of the Agile community as a speaker and organizer of various conferences, events, meet-ups and so forth.
Kirill is an accredited kanban trainer by LeanKanban University, which gives him the right to teach the LKU certification trainings on Kanban method. One of the stages of preparation for this status was in person training by David Anderson, author of the Kanban method.