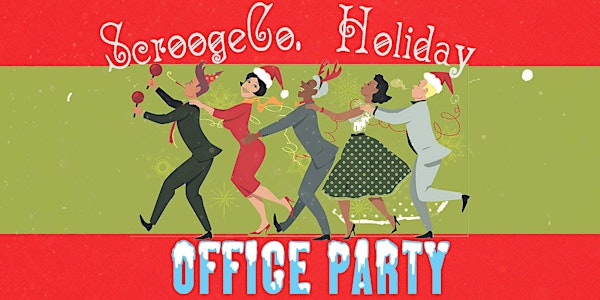 ScroogeCo. Holiday Party!
An immersive evening of entertainment, dancing, and party games at the ScroogeCo holiday party! Singing, burlesque, and more. 21+
When and where
Location
Chelsea Theatre Works 189 Winnisimmet Street Chelsea, MA 02150
About this event
Attention all ScroogeCo employees! You and your partner are invited to an immersive holiday adventure! Join us for a raucous, rambunctious theatrical experience that takes you up to the North Pole where Ebbie Scrooge (granddaughter of the original Mr. S) is celebrating the big merger with Kringle, Inc..
Whether you've been good or bad — get on the list! This will be the office holiday party to end all holiday parties. And don't forget your dancing shoes!
During the course of the two-hour immersive evening you can:
Dance the night away to our holiday DJ!
Jockey in the candy cane race!
Meet your perfect match during Gingerbread dating!
Help pick the winner of the annual ScroogeCo talent show!
Interact with some of your favorite holiday characters
And much, much more!
Brought to you by the creative team behind Wrathskellar Tales, V for Vixen, and Vamps After Midnite. Limited tickets available now!
Disclaimer – No holiday spirits (we mean ghosts) will be hurt during the course of this adventure
This event is 21+. Beer, wine, and malt beverages are available for purchase.
NOTES:
This is an interactive and immersive holiday party. There are a few chairs available for the general public, but not many. If you need a reserved seat, please purchase a VIP ticket.
Join in the fun! Got an eye for talent or a talent you want to show off? VIP ticket holders are eligible to upgrade to JUDGE or even PARTICIPANT in the Talent Show!
This event is 21+ a d features burlesque performances, adult humor, and is not intended for children. Due to limited space, tickets are sold on a non-refundable basis.
Doors open at 7:45PM and while there are activities and entertainment throughout the evening, we suggest you arrive early to get the most out of the event.