| | |
| --- | --- |
| SCRIPT ANATOMY: Marketing Tools for the Emerging TV Writer WORKSHOP (2) | |
Event Details
7 Spots Left!
Looking to secure an agent or manager?
Need to know what to expect from your new agent or manager?
Do you need help making industry connections and maintaining relationships with them?
Are you looking to learn what to expect/how to behave in a meeting with a network executive or a showrunner?
Learn how to efficiently navigate your journey as an emerging TV writer with…
MARKETING TOOLS FOR THE EMERGING TV WRITER WORKSHOP
Getting Repped, Taking Meetings and Building Your Industry Contacts List
Instructor: Gil Hizon
TV writing is not just a craft. It's also a business. In this tough and competitive industry, being familiar with the day-to-day aspects of managing your business, whether it's acquiring representation, dealing with your reps, knowing when to follow up with an executive, or just learning how to behave in a general meeting can make a huge impact towards getting ahead in your career.
In this 3 hour TV workshop, Gil will teach you how to efficiently navigate your journey as an emerging TV writer, between acquiring representation, getting more meetings, and building lasting relationships with your industry connections. Whether you have a couple of scripts under your belt or an entire body of work, the tools you'll learn in this workshop will help you come up with better strategies for managing your TV writing career path.
COST: $60
WHEN: Saturday, June 2nd, 2:30-5:30pm
WHERE: Blank Spaces - Culver City (formerly Culver Works), 9415 Culver Blvd. Culver City, CA 90232
**Some Comments About Last Year's Workshop:**
 

 

"I thoroughly enjoyed Gil's workshop and found it valuable. Gil is

 

meticulous, captivating and offers applicable, DIY knowledge that all

 

writers should know.   I would definitely recommend this workshop to

 

my writer peers." - Ariel Endacott


 

 

 

 

"Gil's class was great, he's so enthusiastic and well organized."

 

- Larry Pontius  

 

 

 

"I am grateful for taking Gil's Marketing Tools for the Emerging

TV Writer.  Two big takeaway tools from this workshop were his cold

call Cafe Press notecard that had the logline of his most recent and

targeted project printed within the notecard, as well as a brief

introductory statement to his writer brand and his recent

accomplishments.  The other great tool was his industry contact

spreadsheet where he listed various friends, acquaintances, and

contacts, and when he last met them, under what context, and with

what project he sent for a read.  I found this workshop invaluable to

break away from the limitations of what people say you can and can't

do.  What was most relevant, for me, are the central relationships you

build around you and how you create your village and  community of

support.  Longevity in the writing field is predicated on people

knowing your writing, knowing who you are, and liking

you.  Gil's workshop helped anchor practical and useful ways in

which the care and feeding of your career can happen in a tangible

and systematic fashion. In addition, Gil created a safe space in which

to do some deeper exploring of your own writing brand, and he gave

personal examples of how "getting a break" works in this town

through your relationships.  Do take this workshop if you are in need

of a shot-in-the- arm with regards to "what should I do now?" 

- Celeste Wolfe
******* 
ABOUT THE INSTRUCTOR -- Gil Hizon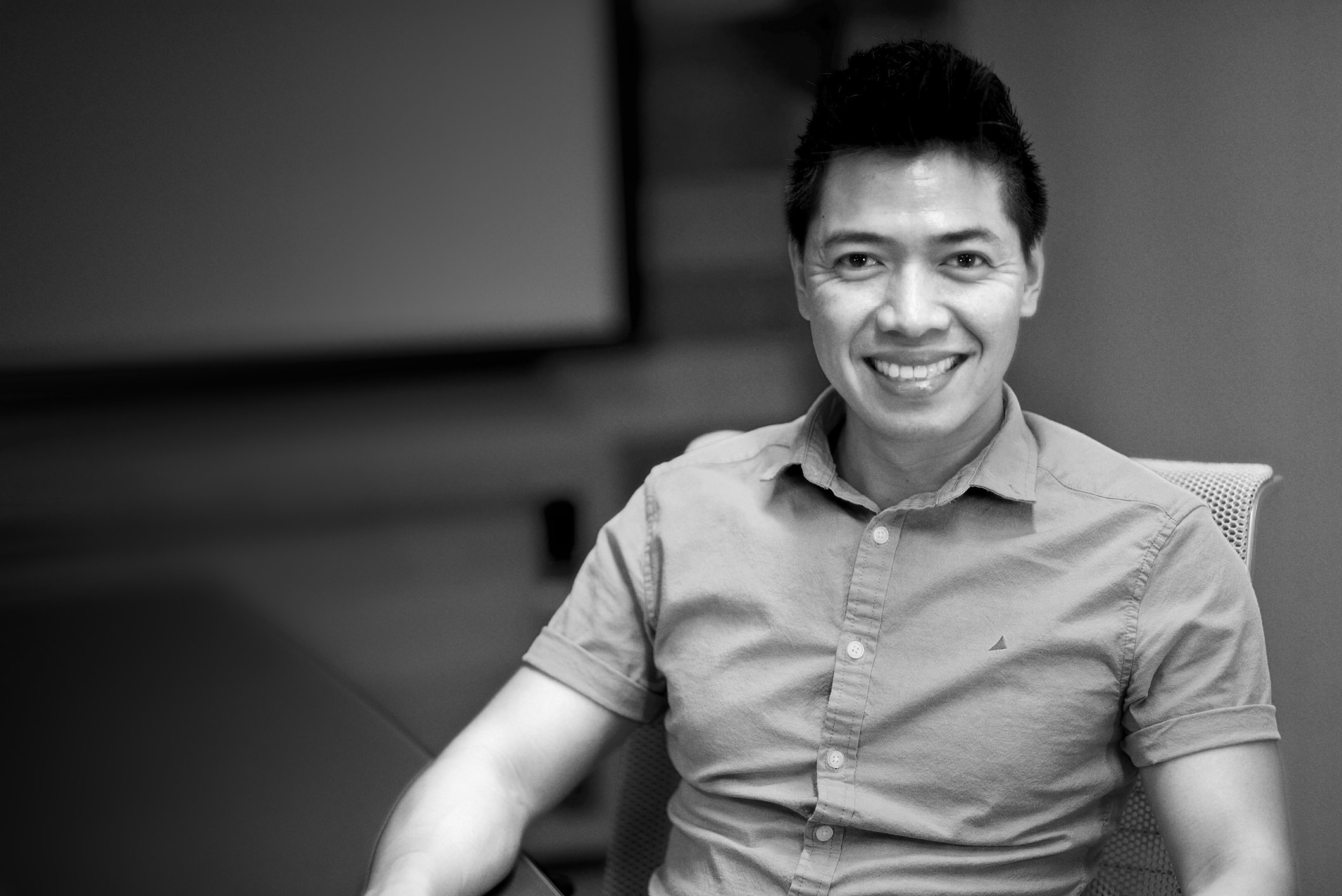 Gil Hizon was born and raised in Manila, Philippines. As an infant, the only way his mother could keep him from crying was by placing him in front of the TV. In the late 90s, his family moved to the "exotic" shoreline town of Branford, Connecticut. The first of many culture shocks, Gil has lived in multiple cities – Chicago, London, and eventually Los Angeles.
Exposure to various unfamiliar environments caused Gil to express himself in different ways. Since graduating from Fairfield University with B.A. degrees in Theatre and Psychology, Gil has had many incarnations: poet, playwright, improv comedian, fashion designer, metal factory secretary, barista, editor of bar mitzvah videos, post-production coordinator and talent P.A., but TV writing is Gil's one true north. He went back to school at Columbia College Chicago and graduated with a bachelor's degree in Television Writing/Producing.
Since 2014, Gil has written four specs, a web series, two features, and nine original pilots, most of which have placed in various contests and fellowships. Most recently, his romantic comedy feature, FINDING JAMES, was optioned. Gil is beyond thrilled to be a part of the 2018 CBS Writers Mentoring Program.
Gil currently lives in Miracle Mile with his partner, William Schneider, a successful interior architect – and their two dogs, Duncan and Sebastian. In his spare time, Gil makes up sassy weekly horoscopes for his 5,700+ followers on Tumblr and volunteers at pet adoption events. He is petrified of raccoons.
  -----
TESTIMONIALS
"I've had the pleasure of receiving Gil's insightful notes. He quickly gets to the heart of the matter and helps writers think about their scripts from a completely different angle. Gil is meticulous and an endless source of encouragement. I can't recommend him enough!"
-  Sabrina Almeida, 2017 CBS Writers Mentoring Program, 2015 NHMC TV Writers Program
____________________
"Gil understands that it's not only writing that makes you a writer, but also a clear understanding of the industry -- he uses strategic business knowledge for the independent writer, incorporating networking and an organized business plan that'll move your career to the next level."
- Eli Benavidez, TV Writer
___________________
"Gil is one of the hardest working writers I know. His tireless commitment to the craft not only shows in his multitude of completed projects, but in his contribution to the development of other writers. Gil's insight and razor-sharp humor add a unique perspective to even the most polished of scripts."
- Paul Ditty, TV Writer
______________________________________
ABOUT SCRIPT ANATOMY'S FOUNDER
Tawnya Bhattacharya is a writer, writing instructor and founder of Script Anatomy, a writing school that helps television and screenwriters reach their writing goals and elevate their craft through classes, workshops and private consultations.
Bhattacharya, a screenwriting teacher for the past 12 years, launched Script Anatomy in 2011 just as her professional writing career was getting off the ground. Her objective: to use her experience of breaking into the industry and building a career to help other writers do the same. 
Currently writer/supervising producers on Famous in Love (Freeform), Bhattacharya and her writing partner Ali Laventhol have written on The Night Shift (NBC), Perception (TNT), The Client List (Lifetime) and Fairly Legal (USA). They are repped by UTA, Heroes and Villains Entertainment and Morris Yorn. Former NBC Writers on the Verge fellows, they were also semi-finalists for the ABC Disney Fellowship (before getting a job that took them out of the running), and Bhattacharya was also a FOX Writer's Intensive fellow (FOX optioned her semi-autobiographical pilot).  
Bhattacharya's teaching days began in 2005 when she taught feature writing.

 Upon starting Script Anatomy, Bhattacharya decided to focus solely on television and developed her own practical tools of writing and rewriting based on her own process. Over the years she finessed these tools into the unique Script Anatomy curriculum, which has helped hundreds of writers succeed, whether getting staffed, representation, selling pilots, screenplays and novels. She has guest-taught workshops with ISA (International Screenwriters Association), Stage 32, the TV Writers Fund, and the Disney | ABC Writing Program, and was most recently a mentor for the 2017 CineStory TV Writers Retreat in Idyllwild. She also writes a column in Script Magazine called "Your TV Guide."

With Script Anatomy, Bhattacharya has helped hundreds of writers succeed. Some have won contests, festivals, and fellowships, others secured representation, or been hired for assignments. Others still have graduated from Script Anatomy to go onto their first staff jobs on network and cable shows, even selling TV pilots, screenplays, and novels as a result.
For more about Script Anatomy, visit www.scriptanatomy.com
  -----
TESTIMONIALS
"I wrote the first draft of my original one-hour drama pilot in her workshop and a few months later sold it to Universal/NBC! I really believe that writing that script in Tawnya's workshop gave me the encouragement, motivation and insight I needed to get my script into tip-top shape."
Tawnya is a total pro. Her years working in television have clearly helped her design a unique curriculum for all the workshops offered by Script Anatomy. These workshops are run just like a real television writers' room with plenty of opportunity for feedback and ideas from other writers. They also provide you with a concrete set of tools to help you realize your story vision and capture it on the page. I wrote the first draft of my original one-hour drama pilot in her workshop and a few months later sold it to Universal/NBC! I really believe that writing that script in Tawnya's workshop gave me the encouragement, motivation and insight I needed to get my script into tip-top shape. Television writing is such a competitive space, so any edge you can acquire going in is crucial. Tawnya and Script Anatomy provide that edge.
– Barbara Curry (sold legal drama REVERSIBLE ERROR to NBC with FAST AND FURIOUS' Chris Morgan attached, Writer of the movies THE BOY NEXT DOOR & ANYTHING FOR LOVE, Hired to rewrite THE JURY at Fox 2000)
__________________________
"If you want to jump start your writing career, Script Anatomy is the perfect place."
If you want to jump start your writing career, Script Anatomy is the perfect place. Tawnya's tools for structure and story pushed me to take my work to the next level. She showed me how to channel my ideas in an organized and systematic way. In her advanced pilot lab she aligned us as a team from day one, coached us from presenting an idea from concept, to pitch, to script. She ran the class like a writers' room so we could get a sense of the real world requirements of working on staff. Because she has worked as a TV writer for years, Tawnya brings her experience and all the lessons that she's learned into class and gives you the tools to navigate the room. Tawnya's approach is keenly-sharp and nurturing in a professional and enthusiastic way, all while keeping an eye on delivering the best story possible. Script Anatomy delivers tenfold.  
- April Fitzsimmons (Story Editor, CHICAGO JUSTICE, 2014 Disney | ABC Writing Program Fellow, Repped by APA & Brillstein)
__________________________
"I had high hopes walking into Tawnya's Script Anatomy Televisionary Workshop. My expectations were blown out of the water."
I had high hopes walking into Tawnya's Script Anatomy Televisionary Wor
Have questions about SCRIPT ANATOMY: Marketing Tools for the Emerging TV Writer WORKSHOP (2)?
Contact SCRIPT ANATOMY
Save This Event
Where

Blank Spaces (formerly Culver Works)
9415 Culver Blvd
Culver City, CA 90232


Organizer
SCRIPT ANATOMY helps screenwriters elevate their writing and reach their goals through script consultations, private coaching sessions and group classes. www.scriptanatomy.com