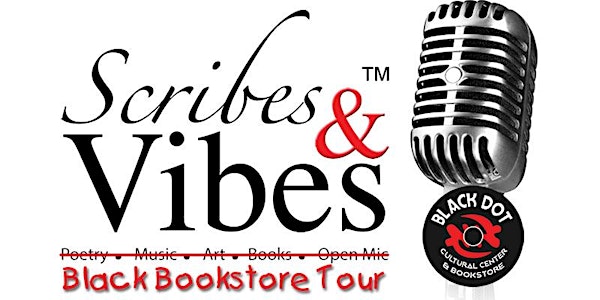 Scribes & Vibes LIVE on Main Street at Black Dot Bookstore
bookstoreandchill.com presents... Scribes & Vibes ™ LIVE on Main Street "A Celebration of The Arts" at Black Dot Bookstore
When and where
Location
Black Dot Cultural Center & Bookstore 6984 Main Street Lithonia, GA 30058
About this event
Bookstore & Chill presents...
Scribes & Vibes ™ LIVE on Main Street "Black Friday Celebration" at Black Dot Cultural Center & Bookstore on November 25, 2022.
The next performing arts concert will be held on the following date:
Saturday, November 25, 2022 | 7:00 p.m. – 9:00 p.m.
Scribes & Vibes ™ LIVE on Main Street at Black Dot Cultural Center & Bookstore
hosted by P. Monae
starring Unknown Lyric and Latajah
featuring Jackie Penrice and Michee Madonna
with Tarra L Ray MALPC, LLC
Join us for a celebration of the arts as we explore culture through the lens of literature, poetry readings, instrumentation, performance, and fine art. Meet local authors and enjoy a beautiful blend of poetry, music, art, books, and open mic. The November 25th program focuses on the theme, "Black Friday Celebration " in an effort to amplify Black voices and resound Tracy Sherrod's call to turn the Bestseller Lists Black. To participate in the Black Friday edition of the #BlackoutBestsellerList challenge, readers are encouraged to purchase two books written by Black authors and visit two Black-owned bookstores — either in person or online.
The community arts program, which includes live music, spoken word, artist talks, author readings, and open mic performances takes place from 7:00 p.m. to 9:00 p.m. Unless otherwise noted, ticket pricing only includes admission to the event and concert goers are welcome to participate in both the open mic and pop-up shop portions of the program.
Bookstore & Chill at 7:00 p.m. | Scribes & Vibes 7:15 p.m.
Reservations Recommended • FREE Parking Available
Sponsored in part by: @blerdandbeautiful, @liveonmainstreet, and @scribesandvibes
*This program is for informational, educational, and recreational purposes and the contents are not endorsed by participating bookstores and book clubs.
Address:
Black Dot Cultural Center & Bookstore
6984 Main Street
Lithonia, GA 30058
Authors and Artists Welcomed:
If you are an author or artist and would like to sell your work, you may email info@scribesandvibes.com or text 678-404-1644 to register.
Information: scribesandvibes.com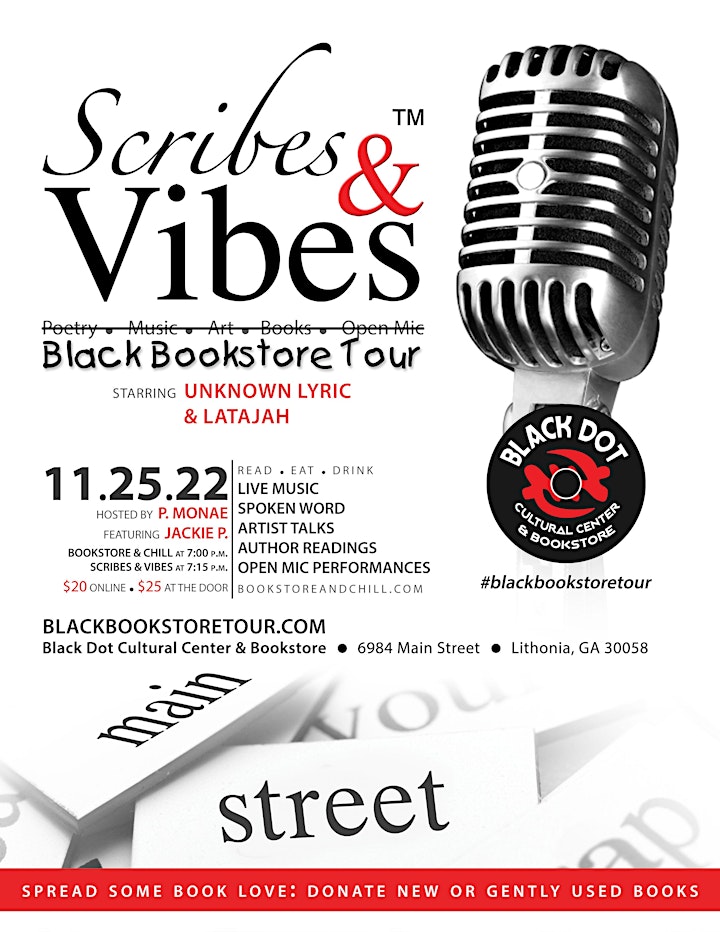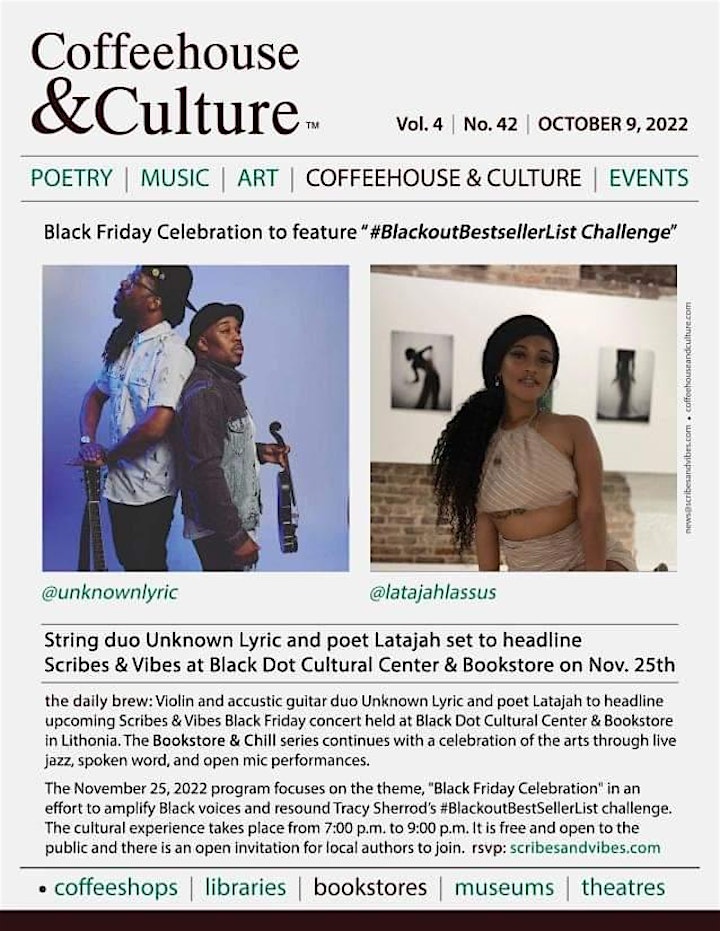 Get a taste of coffeehouse culture and discover what's brewing in the arts! Join us at Coffeehouse & Culture.