Description
Thinking about quitting your job and working on our dreams? Bored of the 9-5 and want to be your own boss? We bring you the success stories. People who have taken the plunge and made it happen. Learn from their mistakes, challenges, and success.

Speakers :
AJ Agrawal - Founder, Verma Media and Marketing Consultant to Fortune 500 companies
AJ is a growth marketer for start-up and publicly traded companies. He is the Founder of Verma Media, a leading growth marketing agency in San Francisco that specializes in content marketing, increasing organic traffic, and improving conversions. AJ has written about the marketing strategies he's used to help companies 10x their growth in Forbes, Fast Company, Fortune, Inc. Magazine, Entrepreneur, The Huffington Post and over a dozen more outlets.
Martha Shaughnessy - Founder, The Key PR
Martha started her career in public relations. She leads programs for the opening of Union Square, the Asian Art Museum and other iconic San Francisco institutions. She got her feet wet in tech there and went to explore tech PR. Because of the team's success launching companies like Mint.com and LivingSocial, the team grew and Martha was selected to run its flagship office in San Francisco. A lumpy acquisition and two kids later, Martha was the big boss lady and felt too far from the impact that had drawn her to communications, so she laid herself off to create the kind of company she thinks the world needs. Martha now owns her own PR firm.
Wyatt Moss - Founder, Digital ad agency, Wyatt LLC
Wyatt worked at Google for 3+ years as an Account Manager. Tired of corporate structure, Wyatt took the plunge to start his own digital ad agency in 2016. Today, they have grown to manage over $200K in client ad spend and specialize in helping companies grow.
Janet Wu - Co-Founder and CEO of SilkRoll

Janet is the Co-Founder and CEO of SilkRoll, a sustainable and digital exchange for high-end women's fashion through a point earning system. Prior to that, she was the CFO and Head of Strategy at One Earth Designs, a clean tech startup based out of Hong Kong. Janet was an investment banker for 10 years before she headed down the startup path, and worked in London, Singapore, and Hong Kong where she helped over 30 publicly listed companies raise more than $30 billion dollars in the international capital markets.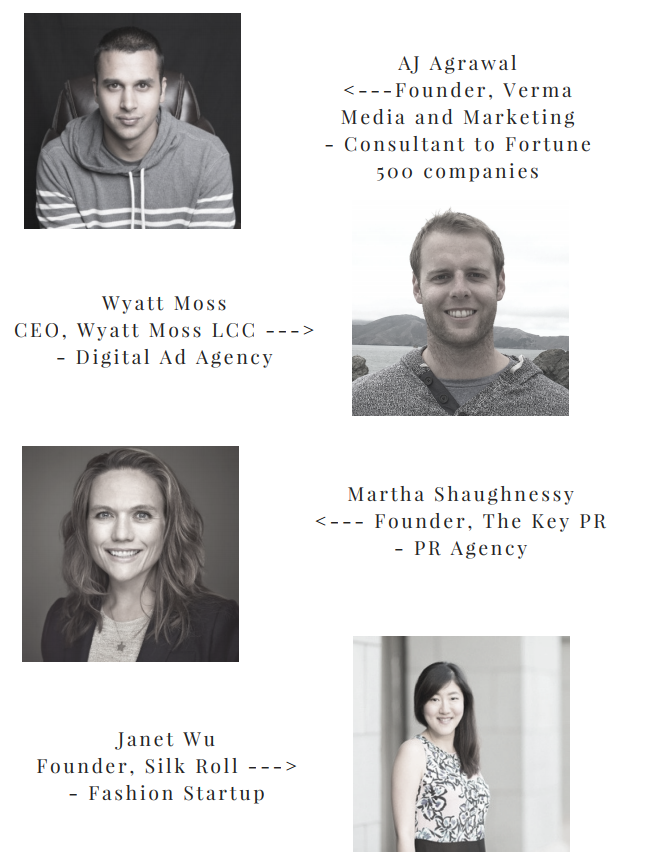 Come meet inspiring individuals who chased their dreams and started their own brand/startup from scratch. Hear their stories. Network with them and ask them all the questions you ever had on starting your own company, funding, marketing or sales.
Host:
This event is brought to you by Young Founders Connect, an invite - only network which empowers founders, individual, and influencers with knowledge and connections through workshops and events. YFC is founded by Nupur Singh who is a social media and a growth strategist. She is a public speaker and an influencer herself. She currently serves as the President of SFFAMA, which is the official host of SF Fashion Week and Digital Tech Fashion Week. She has more than 6+ years of experience in building effective social media presence for brands and individuals.