Description
SCREENWRITING THAT WINS!
WORKSHOP OPEN TO STUDENTS AND COMMUNITY MEMBERS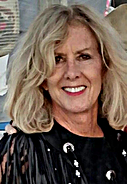 Sheri Davenport
Join award-winning screenwriter Sheri Davenport as she leads you through the steps to create an award-winning screenplay. Be prepared to particpate in interactive exercises! Bring your concepts!
Sheri Davenport has won screenplay contests internationally. Sheri has:
co-writtten the published novel On The Way To Woodstock,
written, directed and produced a number of videos for non-profit organizations
optioned ten screenplays over the past six years
her romantic comedy, Lucky Christmas, is an annual holiday favorite on the Hallmark channel
two produced shorts and a TV pilot to her credit
two short films currently in pre-production.
won or reached finalist status in dozens of international writing competitions and film festivals including the Copa Shorts Film Fest.
Free workshop, but pre-registration is required.
Register now!