Description
For more info: brandlabkc.com or follow us on twitter: @scrnlandpopcorn
When & Where: Saturday, 3/23 (9am Registration) at Screenland Armour
Screenland Armour Theatre

408 Armour Rd, North Kansas City, MO
Saturday, March 23

Enter event space above Screenland Armour

Use door to left of theatre entrance and go to 2nd floor.

9am - registration & breakfast

10am - kickoff intro w/Butch Rigby

>>Guest speakers Aaron Draplin of Draplin Design Company and Danny O'Neill of the Roasterie to immediately follow Butch Rigby at 10am.<<

12:30ish - lunch

6pm-ish - dinner

Evening movie break. Participants/mentors/volunteers invited to step away from your computer & take a movie break. Choose between 3 options:

Oz

Identity Thief

Labyrinth

10pm-Midnight - warm cookies
Sunday, March 24

10am - pencils down, brunch will be served and bloody mary specials available

Presentations start around 10:30ish (5 minutes max)

Judging & prizes to immediately follow
CASH PRIZES for 1st, 2nd and 3rd
Other Swag Up for Grabs

4 - VIP Passes to Screenland for the rest of 2013 (pass for you and a guest, valid for any Screenland movie through 12/31/2013)

$100 in gift cards

3 passes to KC Design Core April Adobe Meetup
---
UPDATE: ROCK STAR DESIGN GUEST TO JOIN
BRANDLABKC WELCOMES AARON DRAPLIN AS GUEST JUDGE & SPEAKER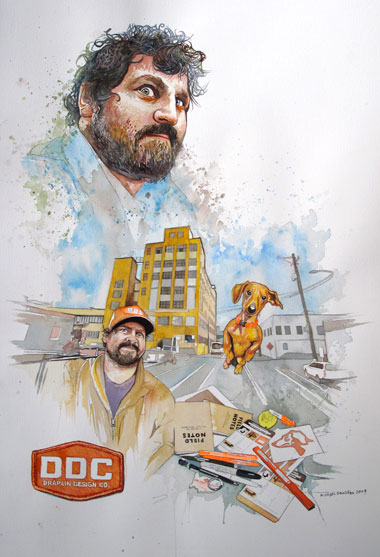 Aaron Draplin of Draplin Design Company (Portland, OR) will now be joining BrandLab as an All-Star Guest Judge and Speaker.
Aaron has been called one of the top designers of our generation. ESPN has even deemed him snowboarding's most recognized (and imitated) designer. His client list includes companies like Nike, Target, Coal Headwear, Union Binding Co, Esquire, Wired, Timberline, Red Wing, Incase, Ford Motor Co., and even the Obama Administration. Yes, that's right. Aaron helped design the stimulus logo that you've probably seen a time or two posted on highway signs. Aaron is also the creator of Field Notes (fieldnotesbrand.com). He travels the country and speaks regularly. Aaron's talks are inspiring and insanely uncensored. We are lucky to have him on board.
To help cover fees, we will be charging for any additional signups to participate, or for people who just want to hear him speak.
On behalf of Butch Rigby, owner of Screenland, and the rest of the organizers for Brand Lab, thank you for being part of something really special. We're ready to rock next weekend. More details to follow in the coming week.
---
UPDATE - Danny O'Neill to Speak at Brand Lab:
We're excited to announce that Danny O'Neill, founder of The Roasterie, will be our guest speaker on Saturday, 3/23. Danny is no stranger to the startup scene. He picked his first batch of coffee beans while studying abroad in Costa Rica in 1978. It was then that he fell in love with the country, the people and of course, the coffee. Fifteen years later, Danny founded The Roasterie in the basement of his home. This year, The Roasterie will celebrate its 20th Anniversary as a Kansas City startup.
---
What is Brand Lab?
Brand Lab is a partnership that aims to take the hackathon concept and apply it directly to businesses in our community. Our main goal is to connect local business with local talent to create a local brand...in only 24 hours. Businesses will receive direct access to local creatives. Participants will get the chance to work on a real case study while showing off their skills and competing for cash and other prizes.
Brand Lab: Screenland

Screenland Theatres is our first Brand Lab project. The purpose of this event is to help build a great local brand for "Screenland's Famous Popcorn," new gourmet popcorn that will launch in Kansas City later this year. Screenland's goal is to sell their gourmet popcorn throughout the year during the corporate / gift-giving seasons.
Who Should Sign Up?
We are looking for local creative talent to participate in our 24-hour competition. Participation is open to graphic designers, developers, marketing, social media, creatives, artists, students, and geeks alike. From logo design to packaging, marketing to website, mobile app to social media strategy, we are looking for the best ideas to help Screenland launch the next generation of popcorn.
Why Am I Paying $15 To Work on Somone Else's Brand?
$15 is one of the lowest fees you'll find for a hackathon. More than anything, the entry fee and RSVP help us to determine who is serious and who we can count on to show up so that we can plan accordingly for food and other resources. Every participant will also receive 2 tickets to Screenland valid for future use ($16 value). We also plan to feed you, provide beverages, and an awesome working environment where you'll have access to experienced mentors. We're even going to take an evening movie break and let you snack on warm cookies later in the evening. Last but not least, did we mention the prizes? See below.
Who Owns What?
Questions have been asked regarding ownership. For specific questions, please email the organizers at info[at]brandlabkc[dot]com.
For those who win a prize for design (logo, packaging, etc.),

the design would be the exclusive property of Film Row, LLC (Screenland) and all copyright will belong to Film Row, LLC.

For those who win a prize in regard to code, the designer / developer may re-use pieces of the code, but Film Row, LLC (Screenland) will own the specific app as designed for the competition, and shall have the right to reuse and modify code as they choose.

Any subsequent work needed after the competition would be the result of a separate financial or other arrangement worked out by Screenland and the designer/developer.
BRANDING / HACK IDEAS
Logo Design. We want a logo that resembles classic 1920s - 1930s branding.

Watch the video with Butch to learn more about exactly what he's looking for (bit.ly/popcornvid or on homepage at brandlabkc.com).

Design or Develop a Prototype for Retail Packaging

Screenland wants to sell their new gourmet popcorn throughout the year at Screenland Theatres, in grocery/market & during the corporate or gift-giving season.

We want the vessel or container that the popcorn comes in to be something unique and different -- something

that people keep around.

Design some sort of collectible that would come inside the packaging

Prototypes would be great, but this could also be achieved or illustrated through graphic design.

Design a branding toy, monster, mascot, etc.

(i.e. think gnome (Travelocity), gecko (Geiko), duck (Aflac), etc.)

Design marketing campaign that leverages social media and / or viral photo & video contests

Design or create a commercial for Screenland's Famous Popcorn

Use vine, animoto, youtube, vimeo, etc. to create something catchy

Come up with a way for customers to recommend popcorn flavor combinations.

This could be done through a website, mobile app or even via social media campaign.

Create an app that shows the locations that have fresh popcorn inventory available
Feel free to email us or follow brandlabkc.com for any questions or to bounce ideas around.
Brand Lab: More FAQs
What do I need to bring?
Bring whatever you normally design on -- laptop, pen/paper, etc. We are not providing any laptops, computers or software for public use. However, mentors will be available on Saturday to help you with questions or input on design, coding, etc. There are also outlets every 12 feet or so around the room. Extension chords are available but in limited supply so it's always a good idea to bring your own.
Will there be free WIFI?
Yes, you will have access to free WIFI. The pass code will be given out on Saturday morning.
What is the room like?
The room is the event space above the Screenland Armour, often used for receptions and events and has nice, big room with hardwood floors. There are tables and chairs and plenty of room to find your own nook for the next 24 hours. There are also outlets every 12 feet or so around the room. Extension chords are available but in limited supply so it's always a good idea to bring your own.
Will you give us Caffeine?
Yes, you will have access to plenty of caffeine. Roasterie coffee will be on hand throughout the event, and you'll also have access to soda. Snacks will be available in between breakfast, lunch & dinner.