Event Information
Location
Quad Cinema
34 West 13th Street
New York, NY 10011
Refund policy
Contact the organiser to request a refund.
Eventbrite's fee is nonrefundable.
CineCina, NY4HK, Lion Rock Café, HKSAG-NYU, GID at CUIMC, and HKDC present REVOLUTION OF OUR TIMES. All proceeds will go to the filmmakers.
About this event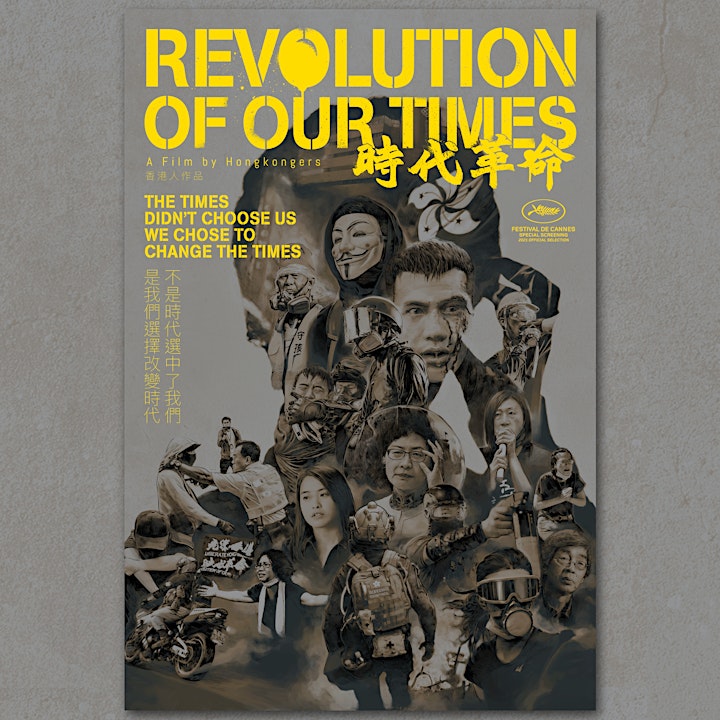 REVOLUTION OF OUR TIMES 時代革命
Kiwi Chow | 2021 | Hong Kong | 152 minutes | Cantonese with English subtitles
Showtimes:
Friday, April 1 at 7:00 PM, Q&A with activist Sunny Cheung 張崑陽
Saturday, April 2 at 1:00 PM & 7:00 PM
Sunday, April 3 at 1:00 PM & 7:00 PM
"Hong Kong is on the frontlines of a global battle for freedom." --TIME Magazine
Over the past fifty years, Hong Kongers have fought for freedom and democracy but have yet to succeed. In 2019, the "Extradition Bill" which would have allowed the extradition of Hong Kongers to China opened a Pandora's box, turning Hong Kong into a battlefield against the Chinese authoritarian rule. Kiwi Chow, the award-winning director of Ten Years: Self Immolator, made this documentary to tell the story of the movement, both with a macro view of its historical context and up close and personal on the front lines.
The 2019 movement is always labelled with the characteristics of "decentralized leadership", "be water" (flexible tactics), "do not split" (unity but in different ways) and "blossoming everywhere" (protest all over the territory). The film covers seven teams of protestors with different stories which are put together as a comprehensive picture of the versatile movement:
A group of netizens formed a sentinel station which spread first-hand information from the frontlines and coordinated "parent-cars" to help protestors to escape;
A 73-year-old farmer with other elderlies formed the "Protect the Children" group. He persisted to shield young protesters with his own body, even after having been knocked to the ground, and pepper-sprayed in the eyes by riot police;
A high school voluntary first-aider witnessed a subway terror attack by the police and was barred from entering the station to save the wounded. The nightmare made the once peacefully minded first-aider more prepared to accept violent means to fight against authoritarianism;
A team of university students used relatively violent means like Molotov cocktails and flare guns, to protect their own campus, fearlessly countering over 2,000 rounds of teargas from the police;
A teenage valiant protestor was trapped in the "Poly-U Siege" with his schoolmates. He tried to escape through the sewers but failed. In desperation, he left his last words in a voice message;
A grown up frontline protestor became a father figure to a small squad of twenty young protesters. This group of strangers turned into a big family which eventually fled to Taiwan.
Democracy and freedom are now facing an unprecedented crisis all over the world. The film "Revolution of Our Times" is not only about the battle of Hong Kongers but is about a war between all freedom lovers and dictatorships of our globe.
這場發生在 2019 年的抗爭運動,有著不少突破以往群眾運動想像的特色,例如「無大台」、「be water」、「不割蓆」、「遍地開花」等等。紀錄片追訪了七個不同人物或團隊,為這個波瀾壯闊卻又靈活多變的運動,拼湊出一幅全面的圖畫:
一群互不認識的網民組成了網上群組,提供抗爭現場的一手資訊,又協調大批「家長車」,幫助示威者離開;
一個網媒記者,親身目擊「佔領立法會」及「元朗恐襲」,並即時網上直播,成為抗爭重要的歷史紀錄。她本人亦因此成為標誌性人物,變成推動運動發展的極重要一員;
年屆 73 歲的老農夫,與一眾銀髮族組成「守護孩子」,專門保護前線的年青人。他不惜用身體作為保護盾,抵擋防暴警察的衝擊,甚至被推倒在地,雙眼被胡椒噴霧所傷也堅持下去;
一個高中生成為義務救護員,經歷了一次由警察發起的地鐵襲擊,他想進入站內救援卻被拒絕。這場惡夢令本來堅持和平抗爭的他,變得更能接受暴力方式對抗暴政;
幾個大學生,用汽油彈、訊號彈等武器對抗警察,面對超過 2000 發催淚彈仍毫無懼色,誓要保護自己的大學校園;
年僅 16 歲的勇武抗爭者,與他的同學們被困理工大學,想從下水道逃亡卻不成功,絕望下透過聲音短訊留下遺言;
一個壯年人在前線集合了二十多個年青抗爭者,成為他們的「爸爸」,變成一家人。最後,這個「家庭」卻要一同流亡台灣。
此刻,全球的民主與自由正面臨前所未有的威脅。《時代革命》並非只是香港人抗爭的紀錄,也同樣是這個時代下,全世界追求民主自由的人,如何抵擋獨裁者的革命故事。
Location
Quad Cinema
34 West 13th Street
New York, NY 10011
Refund policy
Contact the organiser to request a refund.
Eventbrite's fee is nonrefundable.